In many ways, the "Everything's Coming Up Mellie" episode of Scandal belongs to Bellamy Young. The title is a big clue (duh). We see Mellie in new ways, learn some important backstory, and Bellamy Young enjoys an opportunity to stretch beyond her usual boundaries.
Quinn's (Katie Lowes) story is important to the overall arc of this week's Scandal as well. I'll mostly recap what these two do and leave out some other bits of the episode in the process.
As the episode begins, Mellie is trying to redeem her image in the public's mind after ratting out her cheating husband on live TV. She's showing a female reporter around the White House, acting cheerful and bright and happy and supportive of her man.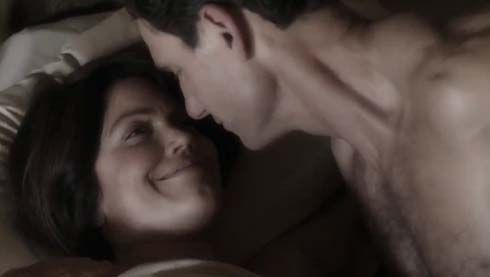 Flashback to California 15 years ago. Mellie and Fitz (Tony Goldwyn) in bed, in love. A man yells at them to come downstairs.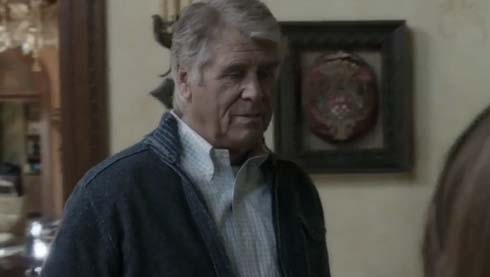 The man is Fitz's father, Fitzgerald Grant II (AKA Jerry) played with horrible, dissolute intensity by Barry Bostwick.
Mellie and the elder Grant want Fitz to run for Congress. We learn how much of what Fitz has achieved is because of Mellie's ambition. Mellie made him what he is with sheer force of will, and with Cyrus Beene (Jeff Perry), whom Mellie and Fitz meet for the first time here. We knew about Mellie and Cyrus (with Olivia) deciding to cheat on vote counts to win the Presidential election, but now we are seeing where it all began with Mellie and Cyrus.
Young Cyrus has a full head of hair, a beard, a wife of the female variety, and a chart of California on a tripod that he uses to explain how Fitz will win the state.
Cut to Quinn at the shooting range with Leo (Paul Adelstein). She's finally starting to hit the target. She's also getting sexually interested in Leo. Quinn has been attracted to the dark side of Huck (Guillermo Díaz) for some time, and handling a gun is part of her journey into some other place which we haven't seen yet.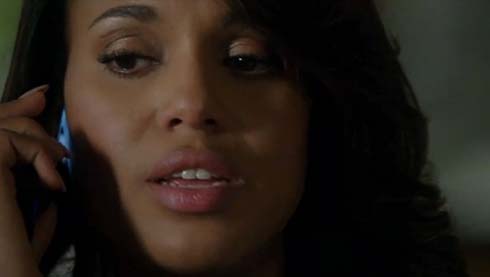 At Olivia's, the special phone rings. The one connected to the POTUS. She ignores it, then runs back to answer. She lets Fitz know how angry she is. She discovered (in a previous episode) that he was the Navy pilot who shot down the plane her mother died in. (We got a tiny glimpse of Olivia's mother in a flashback in an earlier episode. She was played by Khandi Alexander, whose name appears in the credits for this episode. Will she be in another flashback?) Olivia also discovered that her father (Joe Morton) gave the order for the plane to be shot down. Olivia has been digging into this whole mess for a couple of episodes and is not happy about any of it. Fitz begs her to leave it alone for her own safety.
At the office, Olivia tells the gladiators that their new client is her mother, and pastes a photo of her on their case wall.
Mellie is showing the reporter paintings in the White House, bringing up a discussion of the Grant political dynasty, leading us into another flashback of 15 years ago in California. Cyrus wants Fitz to run on his record as a war hero. Fitz says running on his military experience is off limits.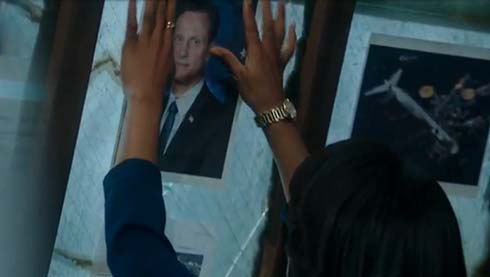 At Olivia's office the conversation is about the plane getting shot down and her father's role in it. That's when she pastes a photo of the plane's pilot up on the case wall. It's the POTUS.
Quinn follows Huck (Guillermo Díaz) into his office and says she is interested in what he does "for the right reasons." He's been trying to keep her from going into his particular rabbit hole full of hell but she keeps pressing.
The gladiators discover two important things. Someone was taken off the flight at the last minute. They are tracking down the gate agent. Fitzgerald Grant II was the head of the congressional committee investigating the plane crash. First Olivia's dad and now Fitz's Daddy dearest were in on the whole thing.
In California, 15 years ago. We learn that Fitz joined the Navy in perhaps the only independent decision of his entire life. His father berates him, belittles him and generally shows us what an ass a father can be. They talk about shooting down the plane and his father says he owns Fitz because he covered up the shooting down of the plane. Fitz doesn't want to run on his war record because of this incident.
Quinn is spying on Leo while he spies on someone. He catches her at it, kisses her, and says she should give him a call. She's hooked.
Mellie takes the reporter into the Oval Office to show her how the baby and his daddy say goodnight. Fitz isn't there. Flashback to 15 years ago. Cyrus is leaving the Grant house because he doesn't do family drama. Mellie begs him to stay. Cyrus says that if Fitz is going to be governor, he is Mellie's full time job. She promises to make him ready to work. This is it, the moment when Mellie gives up her own life in order to make her man President.
Mellie's in Cyrus' office. She is livid because Fitz didn't show up for the good night baby scene with the reporter. Cyrus doesn't know if he will show up tomorrow for an interview.
The gladiators find out the name of the man they took off the plane.
Leo calls Quinn and asks her what she's doing tomorrow night. She smiles.
In California 15 years ago, the elder Grant is ranting to Mellie about how he's a decent father. He talks about the flight Fitz shot down. He says there was a dirty bomb on board, Fitz was stationed in Iceland and he shot it down. If it had reached its target it would have taken out half of London. Mellie says everyone died, but the elder Grant explains what would have happened if the plane reached London. Then he sits down next to Mellie and says, "Good God, you're a beautiful woman."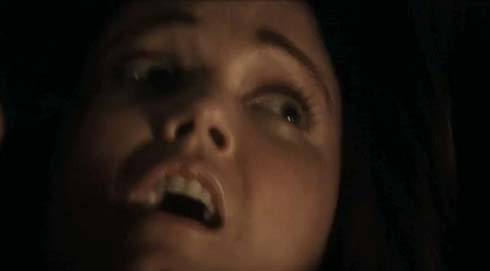 He grabs her, she objects, says no, pushes back. He says, "You know you want it." He rapes her.
Back to now, Mellie waits for Fitz in the Oval Office.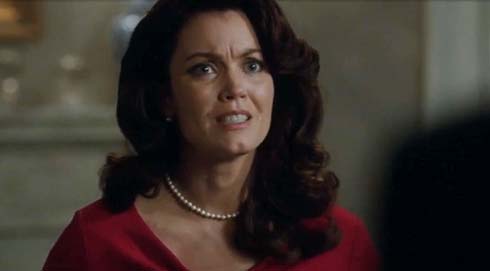 Mellie gives Fitz hell, tells him she's tired of doing everything herself, they are supposed to be partners, talks about her sacrifices. He treats her like shit and all she's ever done is fight for him. She says he doesn't have to love her but he needs to be her friend and show up for her. It's a long, powerful scene for Bellamy Young. When she finishes this, we flash back to moments post-rape, when she came into the bedroom where Fitz was waiting in bed. She wanted a shower desperately but Fitz made her lay down beside him. She hid her emotions from him, hid what had happened, and endured his whining. Fitz says, just once he wishes his father would apologize and be on his side.
In the present, Mellie is surprised when Fitz shows up for an interview with the reporter. The reporter asks Mellie why she went on live TV to talk about her husband's affair and says many Americans think she's insane. Mellie can't give the reporter a good comeback.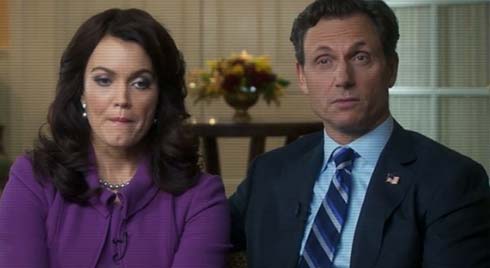 Fitz takes over the interview and says, "I had the affair, I should bear the responsibility. I made the mistake. Don't blame Mellie for what I did." Wow, he did step up. Mellie is a bit amazed but grateful.
Leo and Quinn are in a car, watching a security guy on the ground floor of a high rise office. Leo shows her a syringe and asks her if she wants to give the security guy enough of a shot to put him to sleep and then disable the security cameras. She says yes. They get it on right there in the front seat. Afterwards, Quinn enters the high rise, stabs the guy with the syringe. Blood pours out of his mouth and he drops dead. She panics, touches him, gets blood on her hands, and runs out.
Back to 15 years ago, Mellie uses the rape to force the elder Grant to apologize to Fitz and tell him what he needs to hear in order to get him to run for Governor. He does it.
Jake (Scott Foley), who is working for Olivia now, shows up outside the high rise. Police are everywhere and they are carrying out a body. Seems the guy Quinn was tricked into killing is the guy the gladiators were looking for to learn more about the flight Fitz shot down.
Quinn's in an alley trying to call Huck. Leo appears, shows her video of her committing the murder, and says, "You belong to B-16 now. Welcome to Wonderland." Quinn is now trapped in the same hell as Huck, plus she killed the only clue Olivia had to the case. Damn.
Olivia's father strides through a jail, enters a cell. Interspersed with this, we see Fitz examine intel that lets him figure out that the guy who ordered the plane to be shot down is Olivia's father and that one of the passengers was Olivia's mother. In the jail, Olivia's father sits down and says, "Our daughter's been asking about you."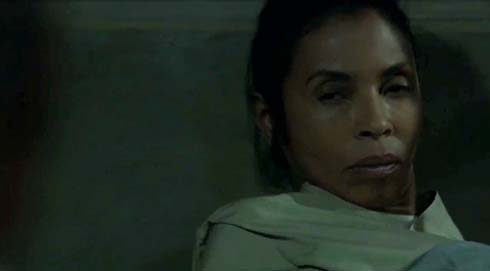 Olivia's mother turns over on her cot and looks at him.
Fifteen years ago in the governor's race: Mellie is thanking everyone who worked on the campaign for being so much help. She tells Fitz she's pregnant, he kisses her and says, "You know if it's a boy, he'll make us name it Jerry."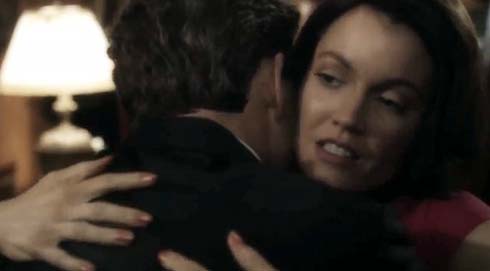 Mellie's expression is enough to make us wonder if the elder Grant is the father of the child. Oh, oh.