Smiley is a light-hearted comedy about the romantic entanglements of a group of friends in Barcelona, Spain. The smiley face emoji plays a significant part in the storyline, hence the title. A full range of LGBTQ+ characters fill the series with plenty of positive queer vibes.
Smiley began as a two-man stage production. The cast expanded considerably when it was adapted for television, but the two central characters are still Àlex (Carlos Cuevas), a fitness hunk who works in a gay bar, and Bruno (Miki Esparbé) a serious architect.
When Àlex and Bruno meet there are sparks. They like each other but they also can't stand each other. They want each other but they don't think they could work. The series is a lot of push and pull between them as they secretly long to be together while keeping each other away.
Javier (Pepón Nieto) owns the bar. He entertains on stage in drag – telling jokes and singing.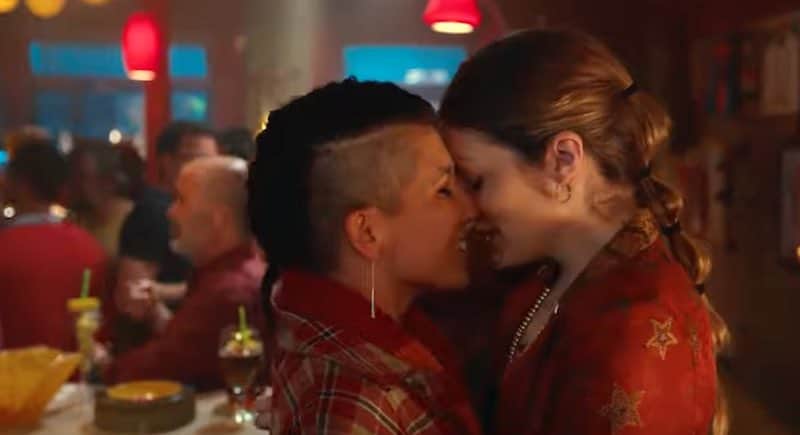 Vero (Meritxell Calvo) runs the bar with Javier. She and her girlfriend of 7 years Patricia (Giannina Fruttero) are buying a new apartment together.
The main characters include a straight couple, Albert (Eduardo Lloveras) and Núria (Ruth Llopis). Albert is an architect who works with Bruno. A character from Àlex's past named Ramiro (Carles Sanjaime) is important. There are parents and other relatives in the story, as well as men Àlex and Bruno are with while trying to pretend they don't want each other. It's a big cast, filled out by many positive LGBTQ+ characters in the background in the bar scenes.
This series is typical romantic comedy, soapy drama with predictable results. But it's a terrific representative of an under served genre: well-rounded LGBTQ+ material presented in a positive way. If you are hungry for that type of entertainment, check this series out.
Barcelona is beautiful and we get to see plenty of it in the series. Marta Pahissa directed half of the 8 episodes.
The trailer makes it look like the series is only about Àlex and Bruno, but it's more than that. This trailer doesn't have English subtitles, but, of course, the Netflix series does.