Spin Me Round is a mix of comedy and suspense. Amber (Alison Brie) is the manager of an Italian restaurant in California. She wins a trip from the corporation to Italy to a manager's school. Some strange and mysterious things happen in Italy.
Spin Me Round was co-written by Jeff Baena and Alison Brie, with Jeff Baena directing. The plot sags in the middle of the film, but the cast is made up of excellent people. I'm here to remind you, now that Alison Brie is writing, producing, and starring in her own new stuff, that I sincerely miss GLOW.
Other managers who are at the week long session with Amber include Deb (Molly Shannon), who loses her suitcase and her meds. By week's end she's gone over a cliff mental health-wise. Jen (Ayden Mayeri) is super cheerful. Susie (Debby Ryan) just wants to have a good time. Two men with women's names, Dana (Zach Woods) and Fran (Tim Heidecker) are there. The fact that they weren't actually women threw a spanner in the works.
Leading the management training were Craig (Ben Sinclair) and Liz (Lauren Weedman).
The managers were surprised by the arrival of the owner of the corporation, Nick (Alessandro Nivola). With him was his assistant Kat (Aubrey Plaza). That's when the mystery and suspense began.
With Kat as the errand girl, Nick takes Amber for a day on his yacht. She thinks she's special. Kat tries to discourage her from thinking it but Amber has stars in her eyes. Nick invites her to a party at the home of Ricky (Fred Armisen) and his wife Sofia (Tricia Heifer). Everyone there acts oddly and compliments Amber repeatedly on how open minded she looks. Unexpected people kiss her.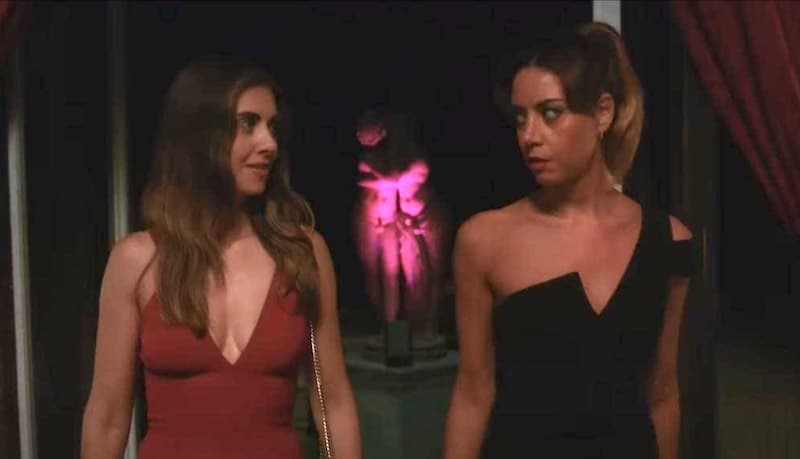 Then other women from the managers are taken to the yacht instead of Amber. She's jealous. Wasn't Nick just kissing HER on his yacht? Amber ends up going out with Kat for a wild night of dancing and making out in alleyways. What is the deal with Aubrey Plaza, anyway? She is so compelling, so magnetic, so enigmatic. She's one of the most engrossing actors ever and she hardly has to do anything but stand there with a sardonic look on her face to pull you in.
Finally, finally, Amber get suspicious of Nick. It doesn't play out the way you think it will, because Amber's suspicions are way off the mark. But it's fun in a debauched and piggish sort of way.
Amber does learn some things in Italy. Maybe not about how to run an Italian restaurant, but important things, nevertheless.
There were some very funny scenes, but the humor wasn't consistent. Molly Shannon just stole it all in a scene where she was borrowing some of Amber's clothes while Amber's best friend Emily (Ego Nwodim) called. In another scene, Susie casually asks Amber, "Was that a dildo gun?" to which Amber casually answers, "Yes." The suspense wasn't consistent either. The comedic and the suspenseful finally gelled in the final scenes in Italy.
This film is streaming on AMC+ or can be rented through Apple TV. A trailer is available on YouTube.