The regular cast for season 2, in each episode:
Jennifer Beals: Bette Porter
Leisha Hailey: Alice Pieszecki
Laurel Holloman: Tina Kennard
Mia Kirshner: Jenny Schecter
Katherine Moennig: Shane McCutcheon
Pam Grier: Kit Porter
Rachel Shelley: Helena Peabody
Erin Daniels: Dana Fairbanks
Eric Mabius: Tim Haspeth
Sarah Shahi: Carmen de la Pica Morales
Take a good look at this season 2 poster. Was there some other actress as Carmen who dropped out and they brought in Sarah Shahi? Because that just doesn't look right.
Everything you need to know about The L Word can be learned from the opening credits. I take you from the first moments up to the director credit and leave you there. What more do you need to know?
Life, Loss, Leaving (S2, E1)
Previously on The L Words clips start this season. Takes a very long time to recap season one.
Los Angeles, Present Day: Tina is the doctor's office and very obviously pregnant. Although, Lord knows, some people just can't see the obvious.
Cutting into Tina's conversation with the doctor, we see Bette having sex with Candace the carpenter. Even after enough long, long months for Tina to start to show, Bette is still schtupping the carpenter.
The song everyone loves to hate starts with this episode's credits, along with a photo montage of the characters.
Bette's in bed alone.
Alice has Dana on the back of her motorcycle.
Kit is singing into a microphone
Shane has her tongue in Jenny's ear. Seconds later Jenny is bare-breasted by herself.
Alice is writing madly in front of The Chart in her apartment.
Lounging by the pool we see Dana and an as yet unidentified Hispanic looking woman.
Tina gives us a sidelong glance, makes phone calls from the pool.
Bette makes phone calls from a rooftop.
Shane flashes by and then a camera with a big lens appears that seems to be filming Shane.
Jenny waves her arms around.
Bette puts on makeup and looks in a mirror.
Dana glances around.
Bette and Kit are in a red convertible.
The full cast walks toward the screen. The Hispanic looking woman we haven't identified has boobs practically hanging out. Who designed that dress – they forgot part of it.
A bunch of faces flash by really fast. Too fast to count. We see Jenny bleeding from the mouth. Is this an allusion to how she writes or that she's a vampire or what? Always stumps me.
Miss Boobs-out-of-the-dress is now looking like a DJ.
Various cast members turn to look at 3 pieces of art behind them, but when we see them as a group the art is different. Looks like Victorian postcards of women with their "special friends."
Shane pulls someone into the men's room for a little hanky panky.
More faces flash by too fast to identify.
Bette is getting just a little lovin' early in the mornin' while half asleep. Then she wakes up and sees the person under the sheet is Candace. This makes her unhappy, as if she only just remembered that the person she likes under her sheets early in the morning is actually named Tina. As if she just realized that this whole getting-over-the-miscarriage-by-having-an-affair plan isn't working.
Sarah Shahi's name appears in the cast list.
Arianna Huffington is a guest star.
Meredith McGeachie is in the cast. Anne Ramsay is back, too. So is Kelly Lynch.
Ion Overman guests.
Tygh Runyan guests.
Candace detects a chill from Bette. What's wrong, Bette? Is it me?
In The Planet, Alice knits while Shane watches. Then Shane asks how Tina is – because Alice always knows all the gossip – and we learn that Bette hasn't even called Tina yet. Shane can't believe God lets things like that happen. Alice says the coffee tastes like poopie shit and asks where Marina is. Then Alice asks if Shane has anything she wants to talk about – hinting gets her nowhere – Shane is mum. I can't believe God lets writers expect us to assume that this is months after the end of season one and Alice and Shane are talking about the Bette and Tina breakup as if it were yesterday. Or was it yesterday? The timeline is fuzzy.
Directed by Daniel Minahan appears at 7:24 minutes in. The credits end.
As of this episode the openings are set into this pattern of recapping previous action (which I'm not including here), showing cast members quickly, the motorcycle, the mirror, the lounge chairs, and the group in front of the art – it remains this way for the rest of the series. The L Word theme song accompanies these credits.
For the remainder of the episodes, I'm only going to list the parts of that opening that change.
Lap Dance (S2, E2)
Mendocino, California – 2003: Robin leaves a church in a handsome white tux, sans bride. Oops, bride is in the church having wall sex with a dude.
Miss Boobs-out-of-the-dress turned out to be Carmen.
Tina is talking to a lawyer about the financial aspects of her former relationship with Bette. There's a baby coming, y'all. Child support has to come from somewhere.
Anne Ramsay is a guest.
Kelly Lynch is a guest.
Jane Lynch is a guest star.
Sandra Bernhard is a guest star. So is Chris William Martin
Meredith McGeachie is here.
Alice and Shane walk down the street. Alice is explaining to Shane that she hooked Tina up with the lawyer – Joyce Wischnia. Shane doesn't think Tina needs a lawyer. She thinks Tina needs a lap dance.
The arrive at The Planet, which has a closed sign out front. What?
Directed by Lynne Stopkewich at 4:32 minutes in.
Loneliest Number (S2, E3)
Present Day – in your wildest dreams: Alice types in a lush garden. Tonya appears and gives Alice a big smackeroo. Alice says "What about Dana?" and we see Dana crawl up between Alice's legs. Dream on, Al.
Sandra Bernhard, Jane Lynch, Michael Tomlinson, Chris William Martin, and Meredith McGeachie are guests.
Tina, Bette's lawyer, Bette, and Joyce are in a conference about the upcoming "divorce." Bette wants to give Tina everything she needs. Bette sends Tina pleading messages with her eyes. Joyce nixes everything.
Bette says she doesn't want the relationship to end. She gets down on her knees and begs Tina to take her back. Joyce is the awesome defender of Tina's interests. Joyce ushers Bette and her lawyer out the door.
Directed by Rose Troche at 5:48 minutes in.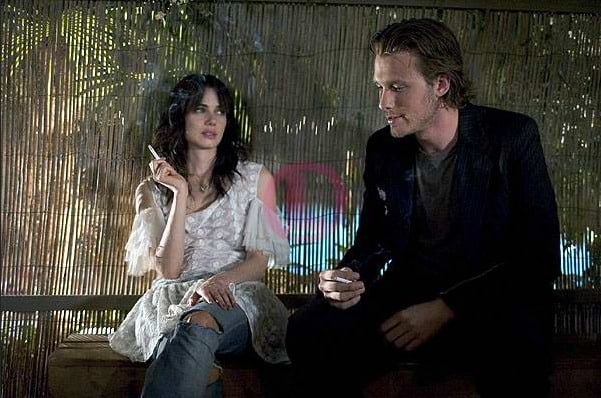 Lynch Pin (S2, E4)
 New York City – Present Day: Gorgeous brunette seduces her therapist. Poor woman tries to resist but doesn't quite make it.
We see gorgeous brunette in the character flash-by montage. She cavorts in her underwear. When Bette finishes her make up she opens her mirror. When the mirror closes we see gorgeous brunette instead. (Another interjection: are they suggesting that one Type A control-freak is interchangeable with another? Two sides of the same Tina sandwich? One gorgeous brunette looks just like another? Give me an easier metaphor.)
Another new face in the character flash-by montage is a man with a movie camera.
Eric Lively joins the cast.
Rachel Shelley joins the cast.
When the characters group in front of the art, gorgeous brunette is among them.
The Planet. What would you do if you had a penis for 24 hours is the topic of the day.
Camryn Manheim is a guest star.
Mimi Kuzyk is a guest star.
Holland Taylor is back in this episode. So is Meredith McGeachie.
Back to the penis for a day discussion. Shane comments that Carmen knows whether or not Jenny is really a lesbian. Oh, really, how?
Charles S. Dutton is a guest star. (Editorial Interjection: so wonderful to see Charles S. Dutton in a role where he is a smart businessman and gets to play kissy-face with the goddess of all womankind, Pam Grier.)
Kit slips up and reveals to Tina that Bette went to New York.
Cut to New York where Bette is on the phone about an appointment with Helena Peabody.
Directed by Lisa Cholodoenko at 6:30 minutes in.
Labyrinth (S2, E5)
Los Angeles – Present Day: Skeezy looking building security guard is watching people boinking in the stairwell. He records it and calls his buddy Mark to gloat.
Guests include Camryn Manheim, Charles S. Dutton, and Meredith McGeachie.
Tina shows up at Bette's and says she needs to stay in the guest bedroom. Bette is happier than a kid with an ice cream sundae. Tina says, "I gained some weight." Bette doesn't care. She's also strangely blind for a woman who makes her living off her skills at visual discernment.
Mark and Gomey are looking at the video from the stairwell. They call it an award winner. Mark announces he's starting a new project.
Directed by Burr Steers at 4:06 minutes in.
Lagrimas de Oro (S2, E6)
Los Angeles – Yesterday: Kit and Benjamin Bradshaw are having lunch. He gets lonely on the road. They share. They touch. When they say goodbye it turns into a very long lip-lock kind of goodbye. Charles S. Dutton gets the most perfect expression of desire on his face. It's beautiful. Yikes, it's into the sack for Kit and Benjamin, which seems to require giggling.
Alice is helping Tina move into a new apartment.
Melissa Rivers is a guest star. Sandra Bernhard is back.
Michael Tomlinson and Chris William Martin are guests.
Alice and Tina dance to "Hit me With Your Best Shot." Helena walks in and Tina goes all atwitter. Helena presents Tina with paperwork about putting money in the bank account of the headquarters for social justice.
Directed by Jeremy Podeswa at 5:42 minutes in.
Luminous (S2, E7)
Les Rues Montmartre – some other time: Charlotte Birch and Hunter Kirby walk the street at night. We see a windmill like the one from Moulin Rouge. They come upon a prostitute who looks just like Jenny and speaks beautiful French. They propose a threesome. Prostitute worries whether she can satisfy Charlotte. Writer's nightmares suck big time.
Guests include Camryn Manheim, Melissa Leo, Sandra Bernhard and Chris William Martin.
Alice and Dana are spending so much time doing the horizontal mambo that Dana is neglecting her training regimen. They discuss whether or not to reveal their sexy times to their friends.
Mark is outside Jenny's door and she goes outside to drink her morning coffee. They are friendly. How long will that last?
Directed by Ernest Dickerson at 5:19 minutes in.
Loyal (S2, E8)
A rocky mountainside. Two cowboys and a woman in a bonnet. Six shooters and big hats and "a man's gotta do what a man's gotta do." The girl kisses one of the cowboys, then slaps him. Someone shouts, "And cut."  We discover that we are on location with Burr Conner in 1985.
Cowboy now dressed in street clothes comes out of his motor home. Notices nearby motor home rocking. Investigates to find two men banging wildly. Throws one out – naked. The two cowboy stars argue about keeping their sex lives secret. Shades of Montgomery Clift.
Alice and Dana asleep. Alarm wakes them. Don't you love how characters in TV shows never have morning breath? They can't remember what day it is. They haven't been doing their jobs. All they do is fuck. (Do you feel sorry for them? Poor things.)
Tony Goldwyn guest stars.
Melissa Leo guest stars.
Lauren Lee Smith and Michael Tomlinson are also guests.
Sara Botsford is a guest.
Shane stares at her beat up face in a mirror. Mark is watching on his hidden camera.
Directed by Alison MacLean at 7:03 minutes in.
 Late, Later, Latent (S2, E9)
LA – This morning: Jenny and Carmen shower together. Pee together. Mark needs to pee too but can't get in the bathroom. Shane knocks and says let Mark in, then opens the door and sees two naked ladies on the toilet. Not a happy sight for our Shane. Mark must pee outside.
Mark films himself introducing his new video project. It's about living in a house with two lesbians. He's got some video he shot with permission. Gomey wants to know where the pussy is. This interview crap isn't gonna sell, Mark.
Kelly Lynch is back in this episode. So is Tony Goldwyn.
Sandra Bernhard and Camryn Manheim are guests.
Marks has visions of going to Sundance. His boss tells him to get some lesbian sex or give all the money back he spent on the film.
Directed by Tony Goldwyn at 5:45 minutes in.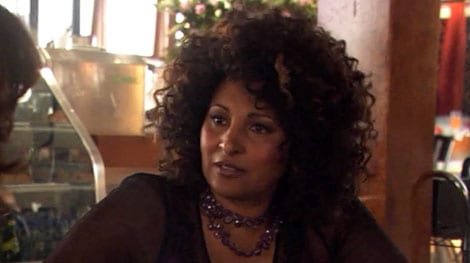 Land Ahoy (S2, E10)
We're on a ship off Key West listening to a cello. It's Amy Ziff playing – I guess we aren't supposed to remember we saw her earlier as a member of Betty.  The ship's full of women. Two of the listeners ask a sex books author about orgasms. She shushes them to listen to the cello. After the concert the cellist and the author have sex all over the ship. The power of good cello.
Jenny is performing for Mark's hidden camera. Oops. The jig is up.
Mark goes to talk to her. "Is This What U Want" is written on her naked body.
Katy Selverstone guest stars
Amy Ziff plays herself.
Sara Botsford guest stars.
Charles S. Dutton is a guest.
Ossie Davis is a guest.
Jenny took Mark's camera. She says he is violating them. He tells her his dreams about a documentary. She says, "Do you have any sisters?" She talks about being intruded upon and how painful it is. I love feminist Jenny.
Mark promises to take down the cameras and move out.
Jenny says she will decide when he can take the rapey cameras down.
Directed by Tricia Brock at 8:26 minutes in.
 Loud and Proud (S2, E11)
Scene opens in a club where people get tied up and whipped as part of sex. It's Pride 2005. Don't ask me how those two things go together.
Ossie Davis is special guest star.
Cobie Smulders is a guest.
Tina steps off hospital elevator carrying flowers.
Bette argues with a doctor who says her father is refusing treatment. Plus, the doctor cannot do anything more.
Tina hugs Bette, who says her dad has advanced prostate cancer. Bette cries. (Jennifer Beals is such a good crier.) Bette wants the doctors to find a new treatment.
Directed by Rose Troche at 4:55 minutes in, even before we get a look at Ossie Davis.
L'Chaim (S2, E12)
LA, present day – Jenny walks into a strip club in the early morning. They knew she was coming.
Jenny's bedroom. Jenny is singing something that sounds like a prayer in Yiddish or Hebrew and drawing pictures of a girl and a crowd of men.
Ossie Davis is special guest star.
Lauren Lee Smith is back.
Michael Tomlinson is back.
Bette and Kit are at Bette's house moving in hospital equipment for their father's last days. Kit isn't happy that Bette made the decision to move him there without consulting her.
Shane brings food and coffee from Mark to Jenny. He's trying to make amends. Shane mentions they need rent money.
Directed by John Curran at 5:23 minutes in.
Lacuna (S2, E13)
Sunset Strip – present day: Jenny strips in front of a crowd of screaming men. Flashbacks of a horrific scene from her childhood keep coming up.
Holland Taylor is back.
Melissa Leo is back.
Gloria Steinem guests as herself. Super wow for that!
Lauren Lee Smith and Michael Tomlinson are back.
Shane picks up Jenny from the strip club and wants to know what the hell Jenny is doing. Jenny says she likes being in control of what happens.
Directed by Ilene Chaiken at 4:18 minutes in.
See Also: Season 1, Season 3, Season 4, Season 5, Season 6.
Image Credits: Shane and Carmen meet cute from The L Word Online (http://www.thelwordonline.com). Season 2 poster via Showtime.