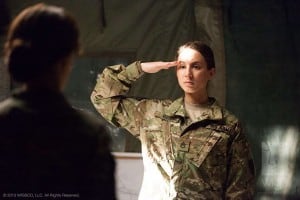 Some of the best stories you'll find anywhere are now playing on your computer on a YouTube channel called WIGS. WIGS offers original series, short films, and documentaries, all starring female leads.
There are numerous offerings on WIGS. Some films are one episode, some 3, some 12, some with more than one season. All feature well-known female leads such as America Ferrera, Virginia Madsen, Maura Tierney, Julia Stiles, Jennifer Beals, Troian Bellasario, Anna Paquin, and more. The many male actors who populate these tales are well-known, too, but the purpose of the films is to feature the women. The documentaries feature women.
I'll mention my favorite series. I hope you'll explore them all, because they are all good.
Lauren
Lauren is a drama about rape in the military. It stars Troian Bellasario as Lauren, the soldier who is raped. Jennifer Beals is Major Stone, the officer to whom Lauren turns for justice.
If you've paid attention to the headlines recently, you know justice for crimes of sexual assault does not automatically happen in military culture. Lauren is not an easy series. It's tense and full of unfairness that makes you want to scream.
Here is episode one.
There were 3 original episodes in Lauren. It was so well-received and so important a topic that 12 more episodes were shot as a second season. The story doesn't end at the end of season 2. I'm hoping there will be a season 3 to bring closure to the story.
Jennifer Beals and Troian Bellasario are fabulous together in Lauren. There's great chemistry and tension between the two, as you can see in the first episode.
Blue
Blue features Julia Stiles as a single mom who supplements her income as a call girl. There were 12 episodes in season 1. Season 2 had 26 episodes. There is room for a season 3 in the story, which was unresolved at the end of season 2. Blue may end up being a full blown movie. Here is the first episode.
Julia Stiles is remarkable in this role. Blue is so complex and has so much to hide (and so much to lose) that it's fascinating to watch her life open up a little more to the viewer in each episode.
Julia Stiles wrote and directed a series of her own on WIGS, called Paloma, which features Grace Gummer. Yeah, it's that kind of woman-power.
Ruth and Erica
Ruth and Erica features Maura Tierney and Lois Smith. Tierney is trying to get her parents out of the family home and into a facility where they can care for her father (Phillip Baker Hall) who has Alzheimer's disease.
There are 13 episodes. Here is the first.
Ruth and Erica is told and acted and shot with great tenderness and love. The scenes between Lois Smith and Phillip Baker Hall as the loving old couple dealing with Alzheimer's are beautiful and tender and heartbreaking. The two of them are exquisite together. I'd love Ruth and Erica for this couple alone, but Maura Tierney has her own storyline independent of her parents' drama that is intriguing as well.
This series was resolved at the end of 13 episodes, so I don't think another season is in the works for it. It would be wonderful if someone would write another series for Lois Smith and Phillip Baker Hall with a story to tell that was about elders living life fully.
Susanna
Susanna features Maggie Grace and Anna Paquin. The two play sisters. Anna Paquin is a new mother with postpartum depression. She is scary-wonderful in this role. She had me holding my breath during most of her early scenes. Maggie Grace is the sister who gets called in to help when things get impossible.
Here's episode 1 of 12.
I've been watching Anna Paquin perform marvels on a screen ever since The Piano so I wasn't that surprised by her wonderful performance. However, I'd never heard of Maggie Grace (I've never watched Lost or Californication or Taken – unbelievable, right?). Seeing Maggie Grace was an education. She's really gifted and does some revelatory things with her part as Susanna.
A second season for this story is a must have. I don't think one has been announced yet, however. Come on, WIGS, bring it.
Why WIGS is among my favorites
It's all about the women. The women are the center and the source of all the interestingness.
WIGS has men, too. Unlike shows that are all about the men, where the women are just cardboard cutouts by the man's side, the men in WIGS are developed characters. This kind of equality makes for a better set of stories. We need millions more stories like these just to catch up with all the stories about complex, real men.
It's about life. Real life. It isn't about explosions or saving the world by killing great swaths of people without ever thinking about the consequences. It's about the way real people live.
Have you watched any of the WIGS web series? What were your favorites?
Get over to YouTube or Watchwigs.com and check out these great stories.