7 Days from the Duplass Brothers is about two people on a first date who get stuck together when the first COVID lockdown hits. It was funny and charming and often realistic feeling. It had all the quirkiness you associate with the Duplass brothers.
The premise of 7 Days sounds like a romcom setup. It isn't a romcom although it's comedy with a dose of potential romance. It's about two people who accidentally get to know each other well as real people, not as dating profiles. They begin to care about each other and speak honestly.
Two traditional Indian mothers push their children Ravi (Karan Soni) and Rita (Geraldine Viswanathan) to use dating apps to find mates and get married.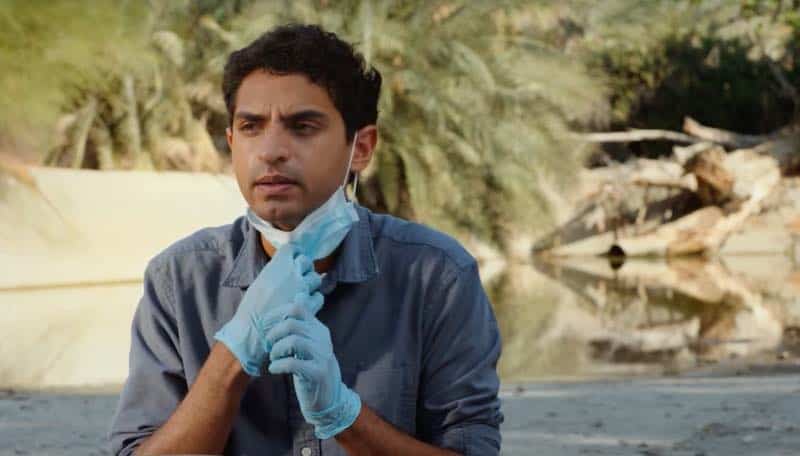 Ravi was traditional like his mother. Vegetarian, no drinking, good job. And annoying in a multitude of ways. Karan Soni did a masterful job with this character.
Rita's dating profile showed her to be as traditional as Ravi wanted. In reality she was a slob, she ate meat, she drank, and she was having an affair with a married man.
They met in an outdoor location for their date. They were masked. By the end of the date their phones were popping out messages about lockdowns. The trains weren't running. A rental car wasn't available. Ravi couldn't get home.
Rita invited him to spend the night on her couch. Her house was an alarmingly filthy mess, but he didn't have much choice.
The slow getting acquainted process they went through was charming and real. They actually saw each other – possibly something neither of them had experienced before. I thought the slow acceptance and genuine caring that developed between them was the strongest part of 7 Days. They were both lonely and flawed with disapproving mothers.
The unrealistic part was that Rita caught COVID, went to the hospital and was on oxygen and unconscious, then recovered and walked all the way home. All in about 4 days! Another unrealistic detail that bothered me was the magical appearance of food in Rita's kitchen when she clearly never ate anything but take out.
The story about two mismatched characters who learn to see the value in each other was echoed by several documentary like bits from couples who had been married for years. They hadn't known each other when they got married, but now they loved each other.
The film is available on Hulu.