American Born Chinese brings an excellent adaptation of the graphic novel by Gene Luen Yang to the small screen. A majority Asian cast builds this tale of heroism, finding your place, Chinese mythology, and magic into an exciting teen coming of age story. It's perfectly suited to its Disney+ streaming home.
American Born Chinese was originally written as three distinct stories in the novel. But the adaptation here blends the three elements into a continuous story. It's heartwarming and affirming and will resonate with young Asian viewers especially, but this old white lady enjoyed it very much, too.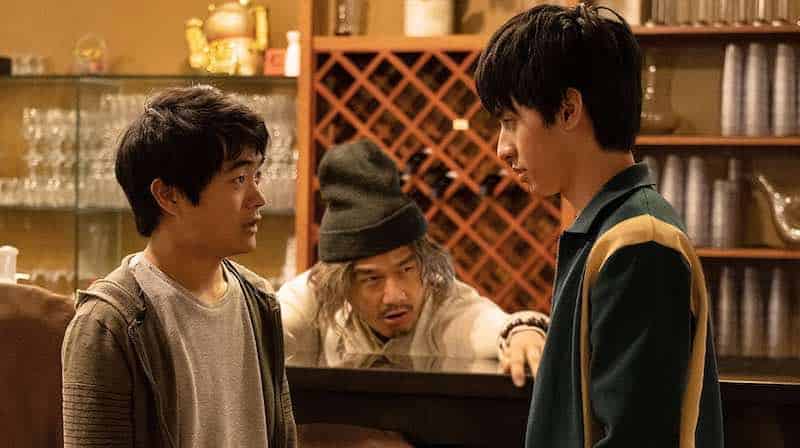 Some of the characters are on earth, some are gods and goddesses in heaven. There's a uprising going on in heaven. The boy on the right above, Wei-Chen (Jimmy Liu), has come to earth to stop the uprising. He's come to the high school where Jin Wang (Ben Wang), the other boy above, is trying to fit in as one of the few Asian kids in his school.
Wei-Chen thinks Jin is his guide and will help him find the Fourth Scroll, which will bring an end to the uprising in heaven. Jin has no interest in whatever Wei-Chen is talking about. He wants to play soccer and catch the eye of Amelia (Sydney Taylor).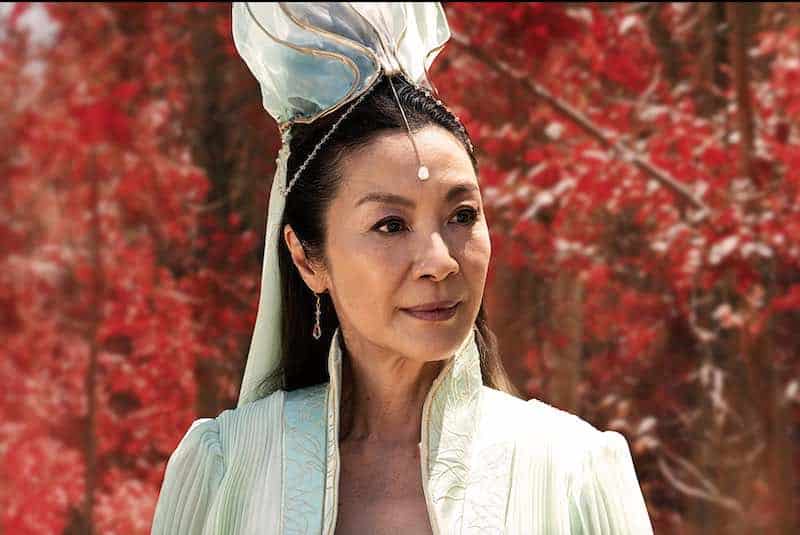 Guanine (Michelle Yeoh) – she's actually a god of compassion – has come from heaven to offer support to Wei-Chen in his quest. Michelle Yeoh has a smaller part in this series, but she's a welcome addition to the cast.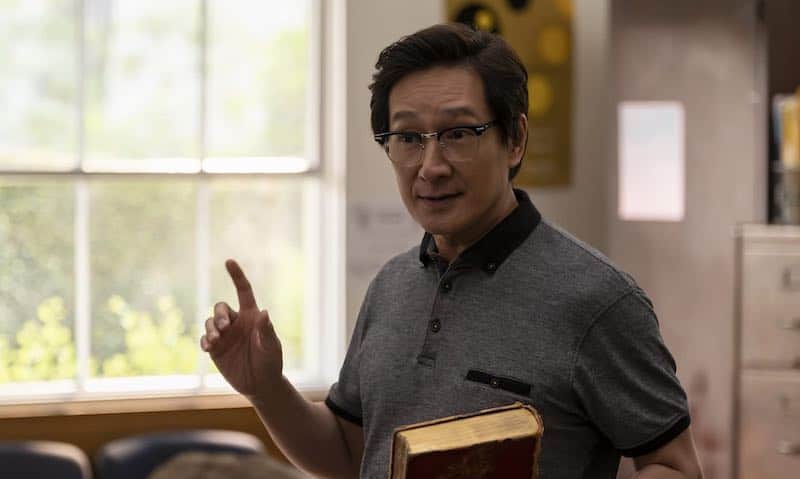 To Jin's story of wanting to fit in at his high school and Wei-Chen's story of wanting to save his heavenly world of gods and myths, we add in the story of a former TV star, Jamie (Ke Huy Quan). Years ago he played a stereotypical Chinese character who was the butt of constant jokes and demeaning tropes about the Chinese. Now, he teaches drama to college kids. Like the part Michelle Yeoh played, Ke Huy Quan wasn't the main focus of the story, but his character became important to the story in the end.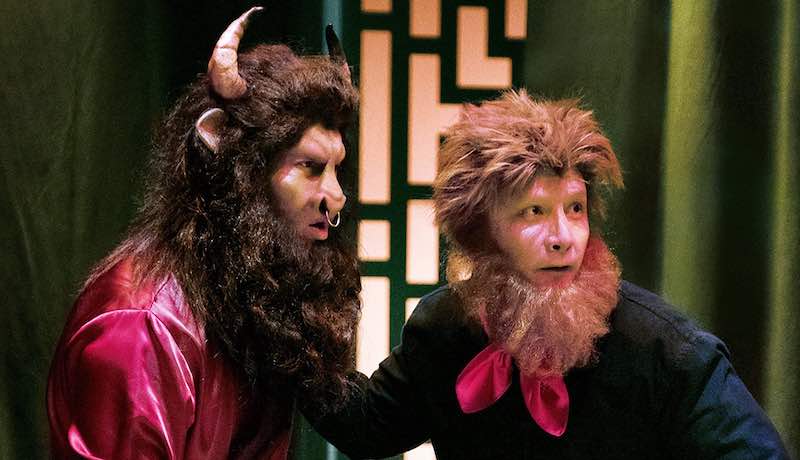 Two of the feuding gods who were at odds in heaven were Bull Demon (Leonard Wu) and The Monkey King (Daniel Wu). The Monkey King was Wei-Chen's father.
Jin's mom (Yann Yann Yeo) and dad (Chin Han) were crucial to the plot as well, as was Jin's cosplaying friend Anju (Mahi Alam).
Each of the 8 short episodes included Chinese mythology, lots of dialog in Mandarin Chinese, and Chinese family life and sensibilities. There were the stylized kind of fight scenes where people fly, twirl, and do impossible stunts while kicking, shoving, and wielding magic weapons.
Women directors include Lucy Liu and Erin O'Malley.
Overall, I thought the series offered excellent representation of the Chinese characters and made them the heroes of the story. It honored Chinese mythology, and issues facing Chinese Americans. It was clever, fast paced, and told its story in a creative way. Very good.