Asking For It puts a group of women together who have been misused, mistreated, and damaged by men. They find ways to take revenge on their tormentors and on men who hurt women in general.
Asking for It uses a style of storytelling that is visual, modernistic, and sometimes almost cryptic. There's no exposition about anything, just action.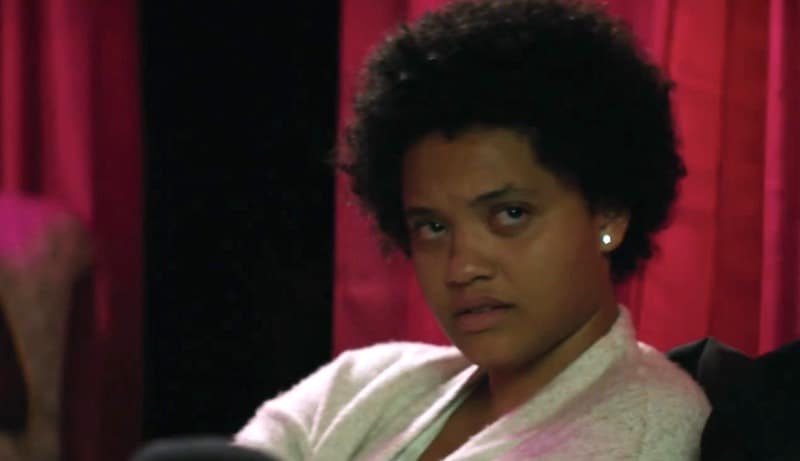 We are taken into the story when a young waitress is roofied and raped at a party. She is Joey (Kiersey Clemons), who lives with her grandparents and gets around town on a bike. Her realization and reaction to what happened to her is shown in a montage of emotional breakdowns that was unusually filmed but effective. You can definitely see the influence of Tik Tok in parts of this film.
One of Joey's regulars at the cafe is Regina (Alexandra Shipp). Regina recognizes the symptoms Joey is displaying and asks her out for a drink. She takes Joey to an isolated house that is filled with women. They are doing all sorts of things. Regina introduces Joey to Fala (Casey Camp-Horinek), an older woman who apparently owns the place and is a leader, and Sal (Radha Mitchell) who seems to be the second in command.
Regina takes Joey out of the house and into a barn where there is drinking, dancing, rapping and more women. Joey meets Bea (Vanessa Hudgens) who plays with a switchblade knife and looks tough. In fact, a lot of the women look tough. Joey begins to realize that although there's a lot going on among all these women, the one thing they have in common is a desire for justice and revenge against the men who have wronged them.
The style of the film put me off at first, but by the end I was celebrating the victories and mourning the losses.
The women plan commando raids. Joey wants to go. They go after a fraternity that kept videos of all the women they've raped. They go after a well-known men's group leader named Mark Vanderhill (Ezra Miller) who preaches men's dominance over women (and anyone who isn't a straight white man). They go after a murderous and corrupt sheriff who traffics women in a sex slave scheme.
The bad men in the film are almost cartoonishly evil. At first it seemed exaggerated. But when you realize the extent of the problem the film is showing, the depictions of evil feel right.
Not all the men in the film are bad. There's a sheriff named Vernon (Luke Hemsworth) who is a good guy. He was at the police academy with Sal and once asked her to marry him. Cuzco (Demetrius Shipp Jr.) leads a group of young men who live together in an abandoned warehouse. They help the women with their objectives.
Asking for It is little over an hour and a half long. In that time it tells an action-packed war story about women who have figured out how to take back their power and claim their agency in the world. The film was strong and effective. It's a different kind of story telling, or perhaps a new-to-me kind of story telling, but a powerful one. The style of the film put me off at first, but by the end I was celebrating the victories and mourning the losses.
I'd actually like to see a series like this about a group of women who find ways to bring down the powerful men who have harmed them. A group like the team in Leverage: Redemption, but instead of targeting the rich, the women target abusers and predators.
You can see the film on Hulu.