CODA is emotional, touching, authentic, and moving. It's a masterpiece of filmmaking from writer and director Sian Heder. CODA means Child of Deaf Adults. It's a coming of age story for a hearing 17 year old girl whose mother, father, and big brother are deaf. It's in theaters and streaming on Apple TV+.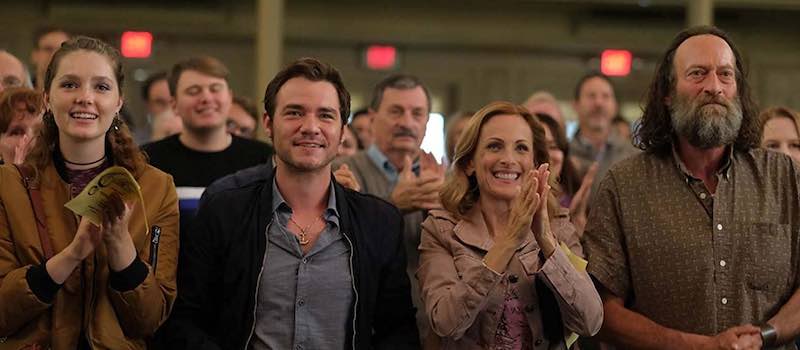 CODA stars deaf actors who speak American Sign Language. They are Jackie Rossi (Marlee Matlin), Frank Rossi (Troy Kotsur) and Leo Rossi (Daniel Durant). The hearing girl in the family is Ruby Rossi (Emilia Jones).
Ruby has been the family translator since she was three years old. Now she's 17, she loves to sing, and she's torn between helping her family and following her own dreams. She impulsively joins the choir because a boy she likes, Miles (Ferdia Walsh-Peelo), signs up for choir.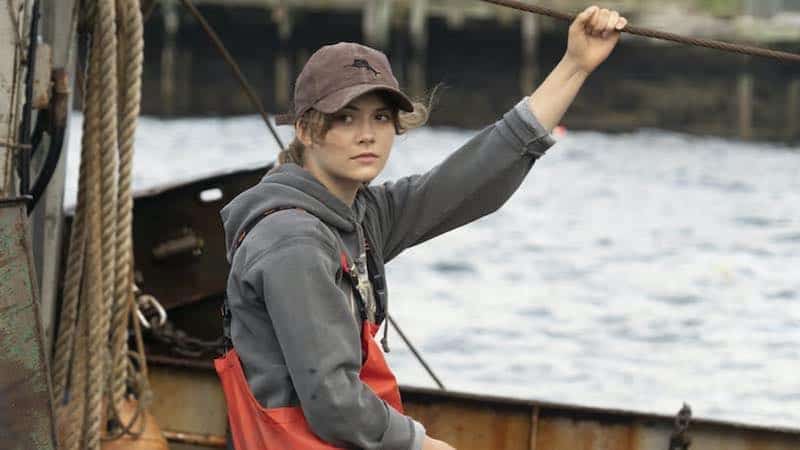 Ruby's family earns its living fishing. She goes out on the boat with her father and brother every day. She negotiates the selling price of the fish with buyers on the docks. Then she goes to school. It's difficult and exhausting. Her older brother wants to start a co-op among the fishermen to sell their catch at a better price, but his parents are not aggressive about dealing with the hearing world. They depend entirely on Ruby.
The choir director, Bernardo Villalobos (Eugenio Derbez), is a brilliant teacher. He recognizes Ruby's talent immediately. He assigns her a duet with Miles, which has its funny moments. He talks to her about college and coaches her to audition for a music school. She doesn't know how to tell her parents that she wants to go to college and study music. It's so far from anything they would think of for her.
Ruby's best friend Gertie (Amy Forsyth), a chock-full-o-hormones 17 year old herself, decided brother Leo was hot, hot, hot. That new relationship didn't really please Ruby.
The portrait of the life of a deaf family was beautiful and real. Ruby's dilemma was real. It was both gut-wrenching and full of love. I'm not one of those people who cries a lot at movies, but tears were streaming down my face for almost the entire second half of this film – the truth and reality in it was palpable.
Two scenes I found especially tender and touching: one when Ruby and her dad sat on their truck tailgate and he asked her to sing for him. The other was during her audition when she began to sign the Joni Mitchell song as she sang it.
American Sign Language is so expressive that it created some comic moments. When Ruby's father described his jock itch to a doctor, his signing was so funny and Ruby's translation was so mortified and inhibited. The same is true of a later scene when her father signed to Miles that he better wear a condom with Ruby. The conversation was even more hilarious since Ruby and Miles had only been making awkward attempts at working on their duet.
The central question of the film was how much sacrifice Ruby had to make to her family vs. the pursuit of her own dreams. Once that decision had been reached, the final moments were rushed through. There was just enough wrap up to make it clear how life would work in the future.
The music was perfect. Emilia Jones is an outstanding singer as well as actress. She should have a bright future and will be a joy to watch. I recommend this marvelous film 100% and hope everyone will be able to see it.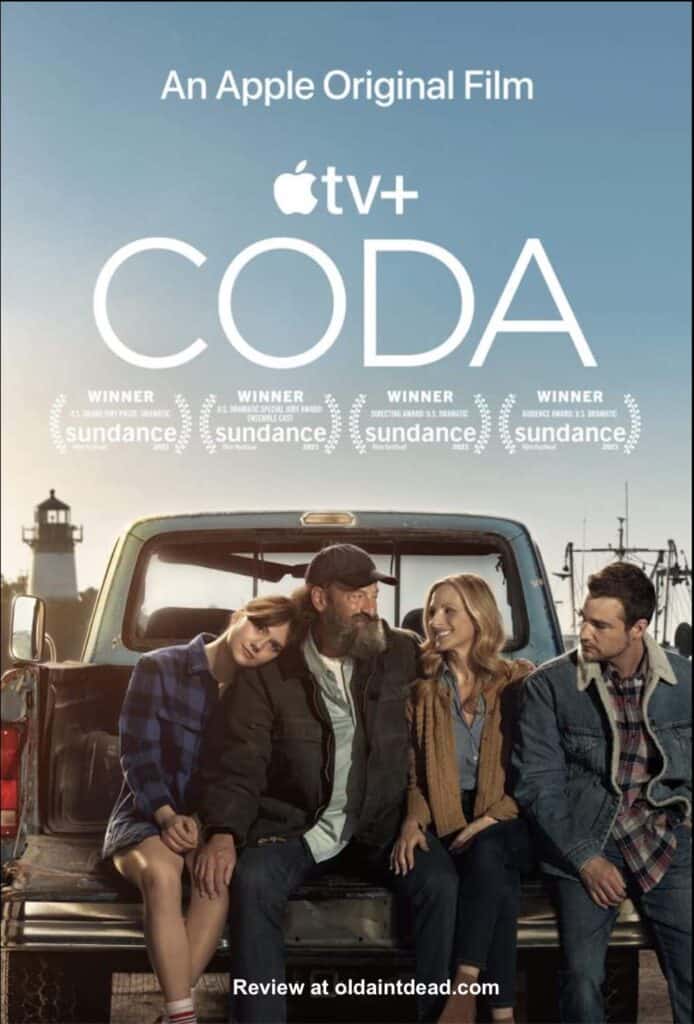 Here's the preview.
There's an excellent article in the LA Times about how the director and other behind the camera crew worked to make this film authentic to deaf culture. It also describes the way things worked on the set to be sure the sign language was shown in the best way. These accommodations should be industry standard, perhaps this film will help make them so.
Have you seen CODA? Are you as enthusiastic about it as I am?