Everything's Trash is a new comedy on Freeform (and Hulu) about a podcaster who shares her life in a podcast she calls Everything's Trash. It's not perfect, but it has a good core and personality.
Everything's Trash was created by and stars Phoebe Robinson. She and her friend Malika (Toccarra Cash) host the podcast. They are very good friends and know everything about each other's lives. Phoebe shares waayyy too much information about her personal life in the podcast. She redeems it by being funny, philosophical, and wise in her comments.
The series is several episodes into season 1, and I plan to keep watching.
Phoebe is flat broke and behind on all her bills. Her life is definitely messy. Her brother Jayden (Jordan Carlos) is running for state representative. He wants Phoebe to tone it down and help him get elected. Phoebe is not a tone-it-down kind of woman.
Jayden and his wife Jessie (Nneka Okafor) are caricatures, as is their sarcastic and snarky young daughter. I know their antics are supposed to add to the comedy, but I found them mildly off-putting. Phoebe Robinson, on the other hand, really shines.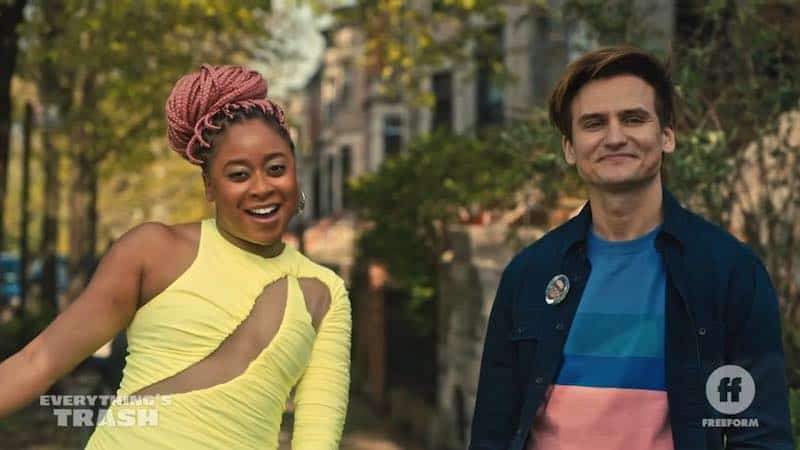 Moses Storm plays Michael, who is always around Phoebe and Malika. His main job so far in the series is to flirt with Malika, who isn't interested.
I can see some interesting themes developing. Racism, sexism, body positivity, being true to yourself, sexuality, family loyalty, and many more subjects have come up in just a few episodes. Here's the trailer to help to decide it it looks like something you'll enjoy.
The series has a Facebook page with lots of photos. Meredith Dawson, Shahrzad Davani, and Gillian Robespierre are the women directors in season 1.
Have you been watching this one? What do you think?