Happy Valley S2 E6 resolves all the crime stories in this series, but it leaves us with Catherine Cawood (Sarah Lancashire) in emotional tatters. This brief review will have spoilers. I've tried to keep the spoilers to a minimum, but my American readers will find the series on Netflix starting March 16, so the need to avoid spoilers is lessened.
The police figured out that Frances (Shirley Henderson) is the one visiting Tommy (James Norton), and the one who left the present for Ryan (Rhys Connah). She's using a stolen identity and is charged with fraud for that.
Catherine and Shafiq (Shane Zaza) go to the Garrs about the bullying attack and discover Daryl with his head blown open and Alison (Susan Lynch) moaning beside him full of pills and alcohol. The rifle Alison shot Daryl with is in plain sight.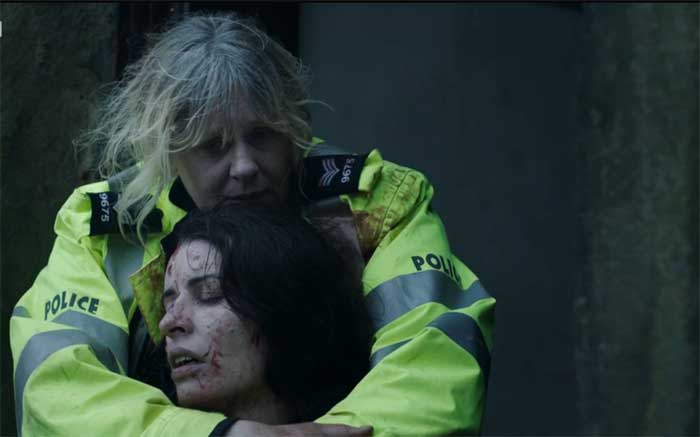 Catherine does her best to revive Alison after calling for help. She tries to keep her talking and get her to throw up. When she asks Alison who shot Daryl, Alison answers "I shot Daryl." When Catherine hears that, she sort of expands to create a cone of love around Alison. Catherine cradles Alison as she arrests her. She recites the caution with great gentleness.
Catherine notices the banged up fender on Daryl's car and calls in CID for the serial murder case, too.
Jodie Shackleton (Katherine Kelly) talks about the news that Daryl's mother says he wasn't responsible for Vicky's murder. Maybe it was a copper, covering his crime with a fire. John (Kevin Doyle) listens to Jodie's phone conversation about the possibility a copper might be responsible for Vicky's murder. They have a briefing and John realizes he's going to be caught. He feels awfully sorry for himself.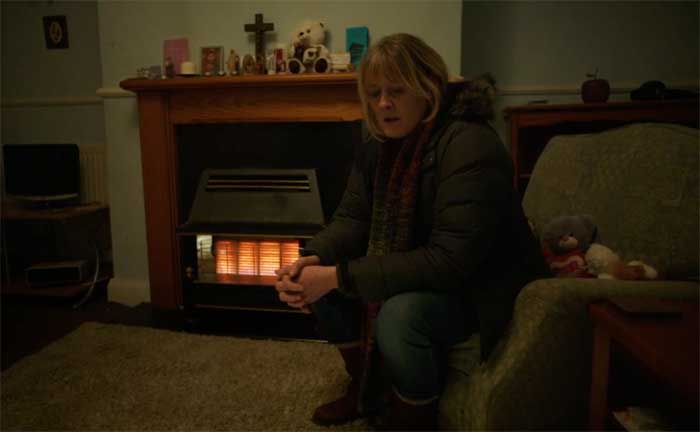 Catherine goes to Frances' house and tries to explain why she's misjudged Tommy. Frances says she and Tommy are engaged. All Frances can do is mutter about how she believes no one is truly evil and how with love and kindness Tommy can be a good person. She's obsessed with him having a good relationship with Ryan.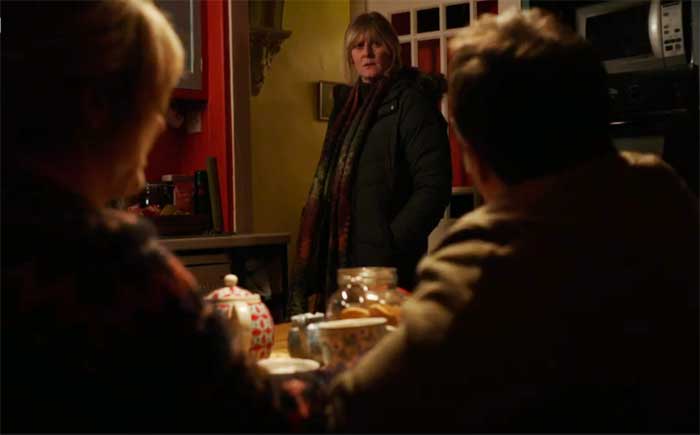 Clare (Siobhan Finneran) finally convinces Neil (Con O'Neill) to tell Catherine about Vicky. Catherine goes to the police station and gives Neil's information to John, because he is working the case. Not the right choice, there, but she hates Jodie Shackleton and never speaks to her.
Ann (Charlie Murphy) tells Catherine about how strange John has been acting. As Ann and Catherine are talking, Catherine is called away to take a statement from Graham Tattersall (Steve Edge). He wants to report that his affair with the wife of a cop makes them think that the cop had something to do with Vicky's murder. The cop in question? John Wadsworth.
When John sees Catherine with Graham, he knows it's the end. He runs. Catherine and Gorkem (Mete Dursun) pursue him by car, then in a long foot chase down the railroad tracks. John finally climbs a wall about 30 feet above the road.
At first Catherine tells him not to jump because he'll only break his legs and make a mess. Then she confesses she's never had negotiation training and asks him how she should be talking to him. John tells her what she should be doing. He's had 17 such cases in his career and never lost a one. He's engaged in conversation and she has some hope, but it's raining and the wall John's on looks slick.
Then John purposely goes over. He lands on a passing car and is thrown into the road, dead.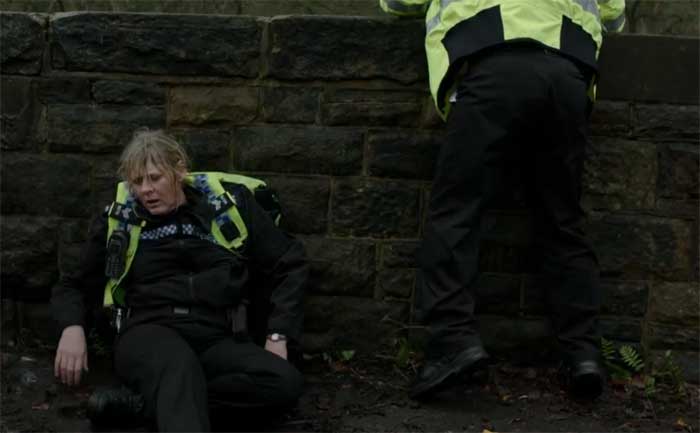 Catherine slumps to the ground herself because she thought she was going to talk him down. She cries – the last thing he said was that he loved his kids. It's the second emotionally shattering suicide situation she's had in as many days.
She's certainly had a shit week, but as they walk away from the scene later her supervisor tells her about the other visitors Tommy has at Gravesend.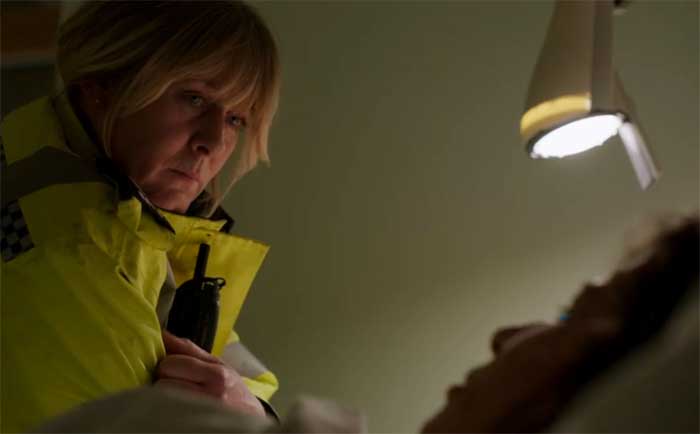 Catherine goes to the hospital to see Alison. She offers her friendship and an ear to listen. She tells Alison about losing her own child, even though it isn't the same. Alison clutches her hand and starts to talk.
Another loose end gets tied up when Winnie installs an alarm. Catherine will no longer need to sleep in the conservatory. Ilinka found a job and will continue to live with Winnie. Those two are having a happy ending.
Catherine pays a visit to Frances. She tells Frances about 4 other women Tommy was engaged to who have been visiting him at Gravesend. She tries once again to make Frances see how she was manipulated. Before she leaves, Catherine tells Frances to take care of herself. Catherine's kindness is everywhere in this episode.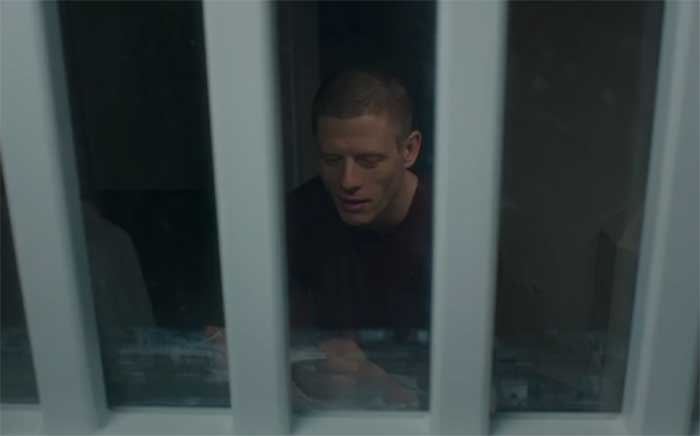 Tommy will have no more visitors and get no more phone calls now that the guards figured out what he's up to. However, all is not lost in Tommy's manipulative mind, because he receives the letter Ryan secretly sent.
At Catherine's daughter's grave, Catherine and Clare talk as Ryan and Daniel (Karl Davies) cavort in the background. Catherine tells Alison's story to Clare. Alison's father raped her. She raised Daryl, but never told him who his father was. Lately, she thought Daryl might have figured it out.
Alison's story and Catherine's story run so parallel. Both raising children born of rape, children with horrors for biological fathers. It brings Catherine and all of us right back to the nature vs. nurture question from series 1. Is Frances right – can love and kindness overcome?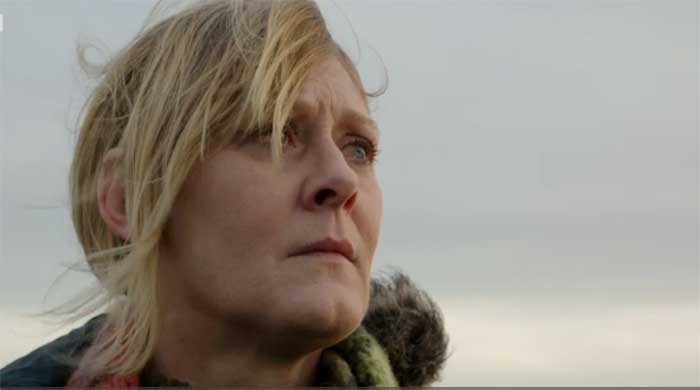 Series 2 ends as series 1 did, with Catherine on a hill, the wind in her hair. But she's under a cloudy sky and she's looking at Ryan with an expression of worry and pain.
Sally Wainwright wrote and directed this episode.
Some Thoughts
All the plot lines were resolved nicely in the final episode of season 2, but the episode was really about Catherine. About her kindness and love for Alison when Alison confessed to murdering her son. About her efforts to convince Frances how misguided she was to believe in Tommy. About her pain at the failure to talk John down off that wall. Most of all, about the way she looked at Ryan after telling Clare about how Alison killed her own son, the aberration she'd raised and both loved and hated.
Kevin Doyle had a few boffo scenes, but Sarah Lancashire was brilliant in every scene. She is so nuanced, so capable of conveying emotion with her eyes, her expression, her voice. She doesn't ham it up in the least – she's subtle but effective. It's a pleasure to watch such an outstanding actor perform such well-written material.
I love that they can say fuck on BBC One. The word was well used in this episode.
Couldn't have said it better myself
Thank you thank you thank you @spiceyw & @RedProductionCo for such a bloody wonderful series!!! #HappyValley

— SarahLancashireFans (@Fancashires) March 15, 2016
I want to add my thanks to that. Thanks to all the excellent cast and everyone else involved in Happy Valley. Well done!
Be sure to press play on this tweet.
We hope you enjoyed #HappyValley. Thanks for watching with us. pic.twitter.com/QlU1bfXNGk

— BBC One (@BBCOne) March 15, 2016