I love you, Sally Wainwright. I know it's a one-sided relationship. I'm the fan. You're the creative genius behind great television. I know you have other fans. It isn't an exclusive arrangement I have with you. But, still – I love you.
I have a reason for letting you know that I love you. I have seen two references (hints, really) that you might not write any forthcoming episodes of Last Tango in Halifax, should there be any forthcoming episodes of Last Tango in Halifax.
The most recent reference (hint, really) that you might not write future LTIH episodes was in Anne Reid: 'Why am I cast as dreadful mothers? I'm adorable!' in The Guardian. This was an article about Anne Reid and her latest work, but there was this quote,
She [Anne Reid] doesn't know if there will be more Last Tango In Halifax, but says its creator, Sally Wainwright, won't write any more episodes. "I don't think she has the foggiest idea how many people come up to me every week, every day, and say, when's it coming back? They usually just say 'it', and I know what they mean – when's it coming back? She hit something gold there, and I don't think she realises it."
These hints make me unhappy for several reasons. A good writer could try to imitate your voice, but could never really be you. I would gladly watch future episodes of Last Tango In Halifax because I love all the characters. But it wouldn't be the same without you, would it?
I'm an American. Until social media, until Netflix, until the BBC starting sharing things across the pond, I'd never hear of you, Sally. (May I call you Sally? I hope it isn't disrespectful.) As an American, the first thing I knew about you was this story about two people my age who find each other on Facebook, fall in love, and get married. They were played by Anne Reid and Derek Jacobi. There's kissing, there's cuddling, there are scenes in the bed – not sex scenes, but it's implied. Elders rock, in my opinion, and so do you for writing about them as normal human beings.
In this wonderful story about love among elders there were some actors I'd never heard of: Sarah Lancashire, Nicola Walker, Nina Sosanya. Now, Sally, you may not know this about me, but I'm very partial to stories about women. Women like Anne Reid, Sarah Lancashire, Nicola Walker, and Nina Sosanya who are grown up, mature, smart, complicated, and very human. The quality of acting from  them all, especially Sarah Lancashire and Nicola Walker was AMAZING. I was wildly impressed. I fell in love with all of them immediately.
A writer who could insert so many female characters into a brilliant story; it's obvious why I love you, Sally.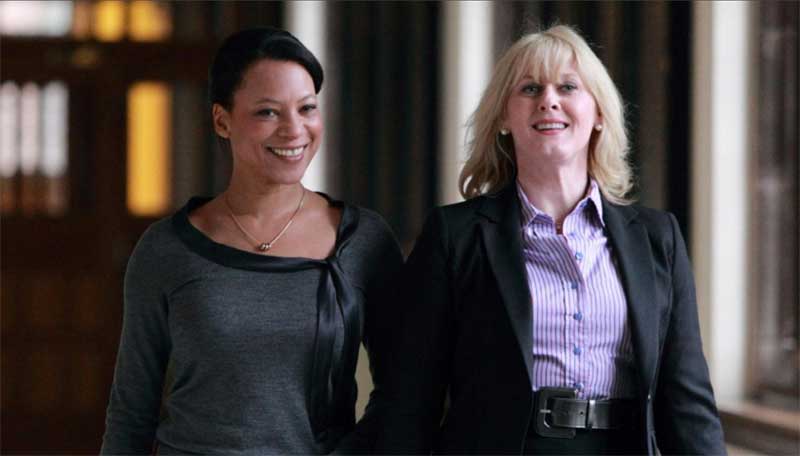 But wait, there's more! Sarah Lancashire's character and Nina Sosanya's character fall in love. Women discovering their love for women later in life. An interracial couple. It had everything – drama, heartbreak, joy. When Nina Sosanya's character died so that adorable Annie Reid could be a dreadful mother for a while, it broke the fans' hearts. I myself wrote quite a rant about the bury your gays trope.
But you're the writer. It seemed to you like the thing to do at the time. You've since apologized and made amends.
No you did right; it was a mistake, I should never have done it and I'm sorry.

— Sally Wainwright (@spiceyw) November 10, 2017
I love your humble apology. I also nearly had the vapors when you responded to a tweet of mine. Love does that to me.
Even without the apology, I was ready to let Sarah Lancashire as Caroline move on to a new relationship with Olga (Lorriane Burroughs) in the Christmas special. Caroline has a life to live, so let's get to it.
Even more reasons to love you, Sally Wainwright
There's more to you than just Last Tango in Halifax. You also wrote (and directed) Happy Valley.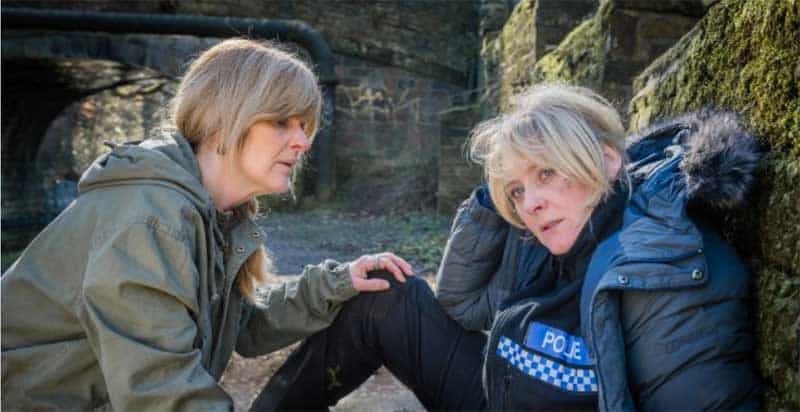 Happy Valley is the best written and acted series ever on television. There is no equal. You can point to wonderful American TV like The Handmaid's Tale or Mad Men or whatever favorite anyone promotes. But they are not equal to Happy Valley. The writing is superb. Sarah Lancashire's performance is somewhere in the firmament far above mere amazing. The next series of Happy Valley will be even better. It will answer the nature vs. nurture questions you've raised for 2 seasons, right?
Say it will.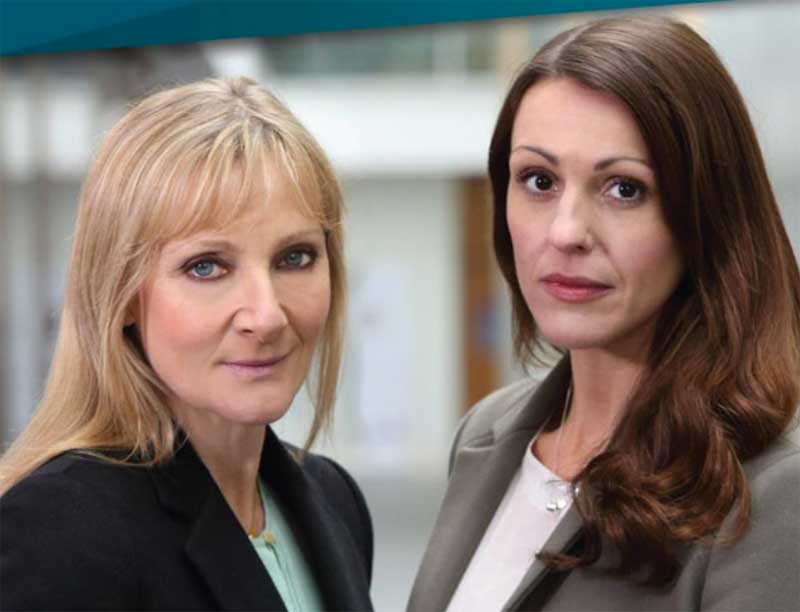 Sally, you also wrote Scott & Bailey, another wonderful series populated with women who are smart and brave and perfectly human.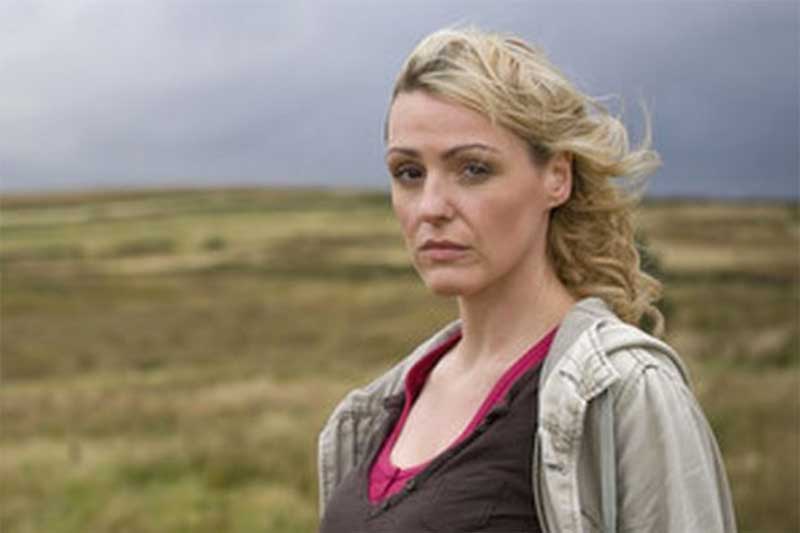 Before that you wrote Unforgiven which should have gone on forever, it was so excellent.
Very recently you wrote and directed To Walk Invisible: The Brontë Sisters. Although this great series about the Brontë sisters was on PBS earlier in the U.S., it just reached Amazon video. This weekend my friends and I had pizza and wine night with the Brontë sisters to celebrate its availability on Amazon video.
Look What You're Doing Now
I have so many reasons to love you, Sally, so many unforgettable female characters to thank you for. But there's still one more thing. You're writing the story of a famous lesbian from your beloved Yorkshire named Anne Lister. It's called Gentleman Jack and will star Suranne Jones.
Here's what I think you're going to do with Anne Lister. I think you are going to write the best freaking story about a real lesbian ever written. I think it's going to atone for any missteps you may have made with lesbian characters in the past. I think the world is going to love Gentleman Jack and Suranne Jones is going to kick ass in it.
Nobody writes women for television like you do, Sally. That's why I love you.
Sincerely,
Virginia, your biggest fan
P.S. Could you find it in your heart to give us one more round of Last Tango In Halifax?