I saw a tweet the other day recalling when someone first got hooked on Lost Girl. It included a photo of Bo and Lauren. It started me thinking about when that moment was for me – when did I know that this show, this character, would be one I would really like?
For me, that moment came about 3 minutes into episode 1 of season 1. At that point we didn't know any character names. All we knew was that a gorgeous bartender served two drinks to a creepy guy. Creepy guy secretly tossed a pill in one of them and then drugged a young woman who was pickpocketing wallets as she toured the bar. The bartender watched as creepy guy followed the young woman out of the bar.
Creepy guy followed young woman into the elevator, where she reeled from the drug and he prepared to rape her. Ding goes the elevator, the doors open, and there's the gorgeous bartender.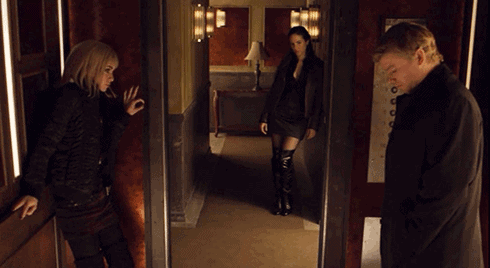 Gorgeous bartender leans against the wall, looking kickass and dangerous as hell. She enters the elevator and checks on the young woman. On my gosh, gorgeous bartender is a savior, a protector, a promise of hope for mistreated and misguided young women. That's it. That's the moment. I'm Bo's forever. She's my hero. She's my woman. She's my avatar. I will watch anything she wants to do until the end of time (or for 5 seasons, sob).
Of course, immediately after I swear fealty to her forever, she succubus kisses creepy guy to death and things get complicated.
I had so much fun thinking about this magic moment. It's something that happens early in any show you commit to. Something grabs you. We could play the magic moment game for any show, but I thought it would be interesting to play it for Lost Girl.
Do you remember? What was your magic moment?