Transparent was fascinating and compelling. I watched it all the first weekend it was out on Amazon Prime. It's a coming out story for the character brilliantly played by Jeffrey Tambor.
I'll try to review it without giving away too many surprises that can't be gleaned from simply watching the trailer. The review has some mild spoilers.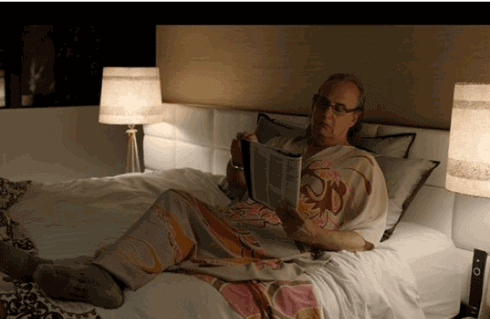 Late in life, Mort decides to come out and live full time as a woman – Maura. Season 1 was about coming out. If there are hormones or other options in Maura's future, that will come later. It's more than Maura's coming out story. It's a story about the repercussions for everyone around the transgendered person, particularly the children and the ex-spouse.
Tambor plays Maura with great dignity and sadness. There is occasional joy, but also considerable pain. I've seen Tambor in many parts where he is ridiculous, but here he is quiet, vulnerable and stately.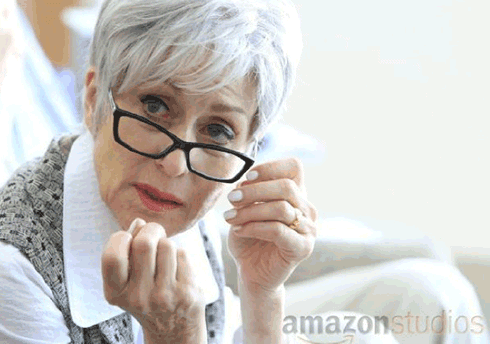 Judith Light as the ex-wife, Shelly, is absolutely outstanding. In my opinion, it's the best role she's ever had in many years as an actor, and she doesn't waste a second of it. She's wonderful in the part.
Each of the children has their own particular anguish to deal with in addition to the big news from dad. The 3 children of Mort and Shelley are Sarah (Amy Landecker), Ali (Gaby Hoffmann) and Josh (Jay Duplass). Maura comes out to each child in a different way, and each of them deals with it in a different way. There's a lot of gender stuff in this story, and not all from Maura.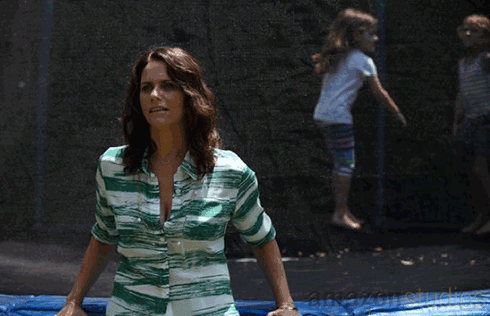 Sarah leaves her husband Len (Rob Huebel). She takes up with a former lover named Tammy, who is played with verve and charisma by Melora Hardin. Melora Hardin is so good in this part I'm making up a new rule: Melora Hardin should play only butchy parts from now on! As the season progresses, Sarah wobbles a bit between Tammy and Len and the negotiations between her kids and Tammy's kids. One of Tammy's ex step children enters the story late in the season and may turn out to be significant in Josh's life. That isn't the only child who may turn out to be important in Josh's life.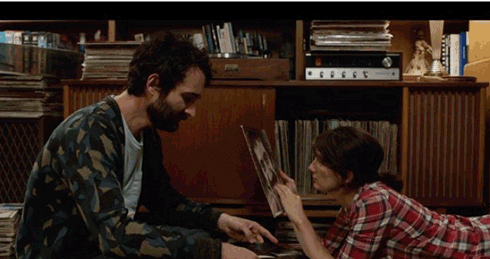 Josh screws just about anything that moves but not for particularly good reasons. He has sexual issues going back to his early teens that still haunt him. Toward the end of season 1 he meets and falls for a rabbi, played by Kathryn Hahn, but this romance is confused by Josh's past. Here's wishing Josh and the Rabbi some good luck for season 2!
Ali is the flake. Rootless, jobless, confused, frequently high, self-centered and perhaps the most loyal and loving of the bunch. She's clueless about who she is or what she should do with her life, but she's trying really hard to get it figured out. She might have an undiagnosed mental illness. Carrie Brownstein plays Syd, Ali's best friend.
Jill Soloway
Transparent was created, written, produced, and sometimes directed by Jill Soloway. Soloway has a trans parent and the story has been brewing in her for years. That's her in the photo at the top during an interview with Jeffrey Tambor.
Soloway's other credits include Six Feet Under and United States of Tara.
Issues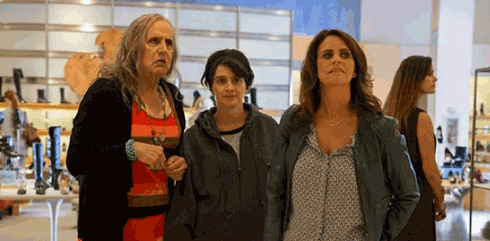 Most of the issues in the series revolve around gender identity and sexual orientation, or both at once. I mentioned that a lot of the story was about the kids' reactions to dad switching gender roles, but there are moments showing what Maura goes through. For instance, Maura, Ali and Sarah go shopping. Where does Maura go to pee without causing a riot?
There are issues with getting the right gendered pronoun, questions about what you call your dad when dad is a woman or when Uncle Mort is now – what – Uncle Maura?
Maura and friend Marcy (Bradley Whitford) have some wonderful scenes in flashbacks to the 80s when they identified as cross dressers. Marcy thinks he's a man who likes dressing up like a woman. But Maura doesn't feel like a man and she doesn't know what to do about it when cross-dressing is as close as she can come to what feels real. The flashbacks add understanding to what Mort had to endure to finally decide to become Maura to the entire world.
Jeffrey Tambor is not a Trans Actor
Before the series came out, there was a considerable amount of criticism because Jeffrey Tambor is not a trans actor. There were, in fact, 12 speaking parts for trans actors in the series. Among them, Alexandra Billings plays Davina, one of Maura's closest friends in the trans community and the trans support group Maura attends.
Soloway has been quoted as saying that she always had Tambor in mind for the part because he reminds her of her father. Her father came out as transgender several years ago, just as Maura struggles to do in the series.
After seeing all of season 1, I think the criticism over the choice of Tambor will fade away. So much of the story is flashbacks to times when Tambor is seen as Mort. Even as the story begins, Mort is still there, struggling to explain to his 3 adult children that he is actually she.
Soloway was quoted on NPR saying about the criticism,
The world knows so little about being trans, and I know very little about being trans — I just know what it's like to be the child of a trans person. But there's so little trans representation [and] so few trans people who are creating content, so we really depend on the trans community to help us get it right.
If you have Amazon Prime
you should definitely watch this series. It's listed as a comedy and has comic moments, but it's also about real and powerful issues that are much on the national consciousness now. Every performance is masterful, the writing is brilliant. As a bonus, the music choices for every episode were perfect. This show needs a soundtrack album. Watch it if you can.
Update
I just discovered this short video, which I think is relevant to the review and adds to it.