Never Have I Ever, season 3, left behind the topic-loaded excellence of season 2 and went back to concentrating on coming of age. It was junior year for Devi (Maitreyi Ramakrishnan) and her friends. They were concerned with shedding their virginity and finding relationships.
In this season of Never Have I Ever, Devi is still dealing with grief about her father. She has regular therapy sessions with Dr. Ryan (Niecy Nash). But she's moved along enough to again be obsessed with having a boyfriend, deciding if she's ready for sex, and hoping not to be the most unpopular nerd in school.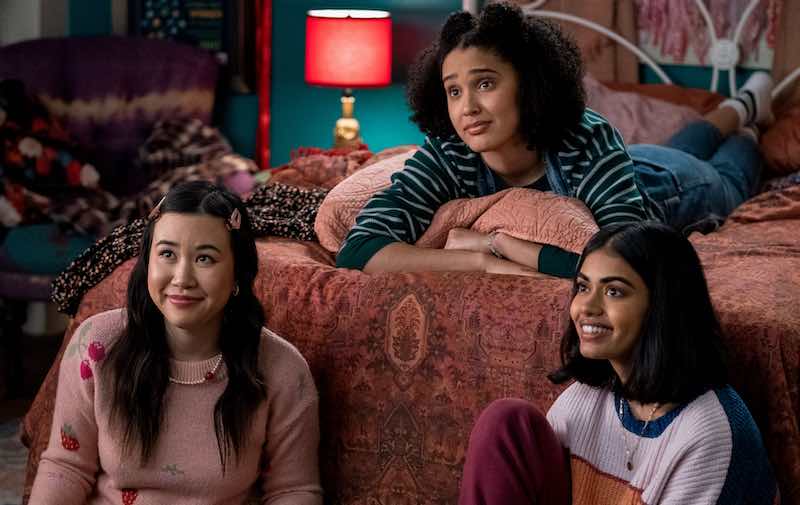 Eleanor (Ramona Young), Fabiola (Lee Rodriguez), and Aneesa (Megan Suri) are still Devi's best friends. Their romances are also part of the story. Eleanor dates Trent (Benjamin Norris). Aneesa and Ben (Jaren Lewison) date a while. Then Fabiola and Aneesa try dating each other but it's a bad fit. Especially after Fabiola is gobsmacked by the stunning nonbinary character, Addison (Terry Hu).
I thought they dropped the ball on Aneesa's character this season. She had so much in common with Devi that could have added depth, but the opportunity was lost.
Devi actually achieves the goal of dating the hottest boy in school, Paxton (Darren Barnet). All the while Ben watches in snarky (read: jealous) condescension.
Devi's mom (Poorna Jagannathan) makes a new friend, Rhyah (Sarayu Blue). Much to Devi's surprise, her mom's new friend has an absolutely gorgeous son, Des (Anirudh Pisharody). Des is smart and handsome like the best of Ben and Paxton combined. And he's Indian. What a bonus!
I won't spoil the season by telling you which of these three boys win Devi's heart (or virginity), if anyone does.
I've reviewed seasons 1, 2, and now 3, here on the Old Ain't Dead. From my elder perspective, I thought season 2 was the strongest and best of the lot. However, for the story creator Mindy Kaling was trying to tell about high school and coming of age I can see why season 3 went the way it did. A few words of wisdom still squeezed into the lightweight teen romance storyline.
John McEnroe once again did the voice-over commentary, except for one episode about Ben, which gave the voice-over mic to Andy Samberg.
There will be a season 4, which will be Devi's senior year. You can see it all on Netflix.