Orange is the New Black season 5 was both an emotional thrill ride and a disappointment. I want to discuss my likes and dislikes about the latest season. This is not a detailed review. There might be a few spoilers along the way.
Thumbs Up
Performances
The Performances across the board were outstanding in season 5 of Orange is the New Black. Everyone stepped up to do pitch perfect, completely believable work. The top three big wow, Emmy worthy performances in my opinion were Kate Mulgrew on speed, Uzo Aduba's mental breakdown, and Selenis Leyva's moral dilemma. They can't all win an Emmy, so I'm casting my non-binding vote for Selenis Leyva. It's time for a Latina to take home a prize.
The main characters, as usual, were brilliant with Taystee (Danielle Brooks) leading the charge for justice.
Lesser characters got the chance step up in season 5 and show their stuff. That included Ouija (Rosal Colon), Pidge (Miriam Morales), and Zirconia (Daniella De Jesús). The Nazi/White Supremacy crowd including Brandy (Asia Kate Dillon), Kacey (Kelly Karbacz), and Helen (Francesca Curran) got a chance to be bigger and more horrible than ever, too.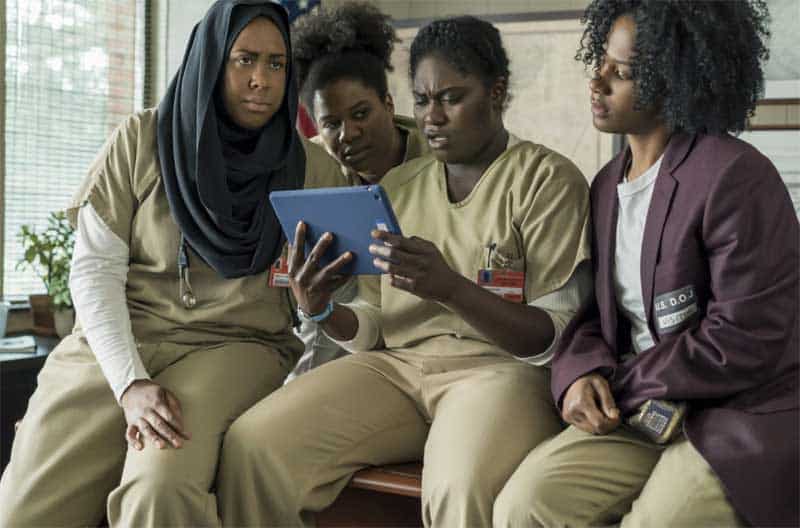 Janae (Vicky Jeudy), Cindy (Adrienne C. Moore), and Alison (Amanda Stephen) helped Taystee with the negotiation with Figueroa (Alysia Reiner) about the women's demands and the insistence that Bayley (Alan Aisenberg) should be charged with murder. There are several things I liked about this. It was the black women who saw what needed to be reformed in the prison and asked for it clearly and concisely. I liked that the Muslim and the converted Jewess worked together in peace. For every issue raised in season 4, these women had facts, reports, and evidence. Taystee could talk about the proven benefits of better food, better health care, humane guards, and education programs for 24 hours straight. In fact, she did.
The Love
Besides the riot and the negotiations, there were lots of subplots. The characters operating out of a sense of love were the best storylines. Gloria (Selenis Leyva) just wanted to be with her son in the hospital. Maria (Jessica Pimentel) started out being a firebrand urging rebellion, but toned down to pacifist quickly when she thought it would get her home to her infant daughter sooner.
Nicky (Natasha Lyonne) took care of Lorna (Yael Stone) out of unselfish love, something she was new to feeling. Piper (Taylor Schilling) realized how important Alex (Laura Prepon) was to her and did something about it. Piper and Alex playing house outside around the backhoe were some sweet moments. They were needed.
Boo (Lea DeLaria) fell giddily in love for 2 1/2 days with MCC purchasing head Linda (Beth Dover) who was accidentally trapped with the inmates during the riot.
Boo in love was a beautiful thing to see. She wore Caputo's (Nick Sandow) discarded suit and tie and courted the new woman in their midst with gallant, gentlemanly enthusiasm. Boo was in her happy place in that suit with a beautiful woman on her arm. It was not pretty to watch when she figured out that the woman worked for MCC. As Alex says, "love is pain."
The memorial to Poussey (Samira Wiley) put together by Soso (Kimiko Glenn) was perfect. Beautiful, fitting, reverent, loving: a real tribute. The moments when Soso or Taystee or Janae or Suzanne let their grief over losing Poussey rise to the surface were devastating and real.
Suzanne (Uzo Aduba) went completely off-the-rails. The care she got from her friends was anything but perfect, but the love they gave her was inspiring.
The Vapid
As a generalization, people became more purely themselves when the riot started. For example, Flaca (Jackie Cruz) and Maritza (Diane Guerrero) started a YouTube channel with beauty tips. They got over a million followers in 3 days. Vapid and superficial as Flaca and Maritza are, these two are probably more in touch with the American female psyche than anything else in Orange is the New Black. The cult of beauty, thinness, and appearance run the American economy.
Blanca (Laura Gómez) got a makeover by Flaca and Maritza. Nice to see Blanca with her hair brushed for a whole season. (I'm aware that I just praised Blanca for looking good after dissing Flaca and Maritza for only caring about looks. A foolish consistency is the hobgoblin of little minds. Or whatever.)
The Poetic Justice
Piscatella's (Brad William Henke) last moments on screen demonstrate several of the problems in the prison system: untrained guards, siege mentality among the guards, and the idea that convicts are enemy combatants.
Thumbs Down
Season 5 of Orange is the New Black doesn't sell itself well as a standalone. This season is chaos, time spent with characters we don't care about and subplots that go nowhere. I constantly reminded myself that the entire season 4 was a set-up for themes and messages encapsulated in these 3 days of riots. Season 5 is disorganized thrashing and flailing. Hold all of season 4 in your head while you watch it.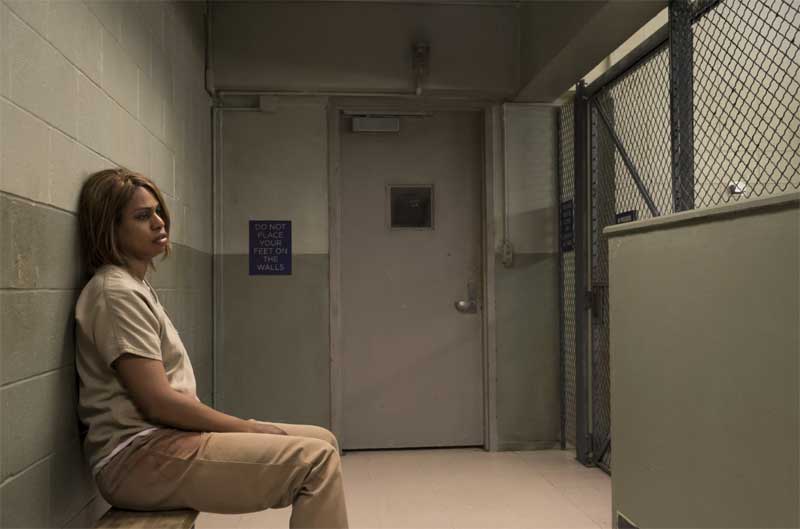 Once again, Laverne Cox was only in a couple of episodes. That's just wrong and it has to stop.
Taystee's backstory in season 5 was completely different from her backstory in season 3. What the heck?
Healy (Michael Harney) checked himself into Psych just before the riot. He never appeared in this season, so why was he in the credits for every episode? What the heck?
Leanne (Emma Myles) and Angie (Julie Lake) are stupid and mean. Why do we have to spend so much time with them when Taystee is desperately trying to get justice for Poussey and achieve change to the horrors of the prison industrial complex? But, congrats to the two actors for making their characters so unlikable.
Nothing changed. The women were bused off to who knows where. The 9 main cast members hiding in the pool meet an unknown fate left for season 6. All the demands will probably be forgotten.
The American prison system is a fucking mess
We sitting on our couches watching this, watching 13th, or reading The New Jim Crow, and any demands for change we make aren't heard. Orange is the New Black is teaching us about a largely ignored profit making horror in America. Let's do something with the knowledge.