"History Yet to Be Written" is absolute perfection as a season 3 finale for Orphan Black. It takes us back in time to tie up questions, while opening up new directions for season 4. There are some losses and some happy moments. I'm going to start with the technical achievement of the season: the four clone dinner party.
We make a family, #CloneClub. #OrphanBlackFinale pic.twitter.com/fAXv0rKidD

— Orphan Black (@OrphanBlack) June 21, 2015
Alison (Tatiana Maslany, a multitude) wins the school trustee election by 56 votes. She gathers everyone in the bubble gum world of Bubbles for a family dinner. They toast each other, even clink glasses. This season it's Donnie (Kristian Bruun) who moves around the scene, filling wine glasses. They are all safe and happy and have hope for the future science to come.  This scene is bound to be a favorite topic because of the difficulty of filming it.
To Beth… and seestras …and Kira's little face. #OrphanBlackFInale pic.twitter.com/bNyd6ngHja — Orphan Black (@OrphanBlack) June 21, 2015
Okay, how did episode 10 get us to this happy family moment? I'm going to summarize out of order, but the big reveal is that the Neolutionists from season 1 have been in charge of both Dyad and Topside all along.
Kendall Malone, the original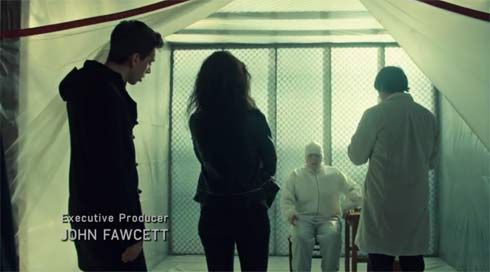 Art Bell (Kevin Hanchard) brings Sarah and Felix (Jordan Gavaris) into a big warehouse where Scott (Josh Vokey) is constructing a clean room of sorts out of plastic sheets. When they are sure everything is ready, Mrs. S (Maria Doyle Kennedy) brings her mother into the room. Kendall (Alison Steadman) complains all the way about her treatment, and because Mrs. S is herding her along with a baseball bat in her hand.
Cosima meets Kendall, and tells her that Kendall is actually the older sister of the clones. Cosima disarms Kendall with charm and takes blood samples from her.
Mrs. S burns with rage at her mother. It seems Kendall had something to do with John Sadler's death. Mrs. S unveils a tub and several bottles of sulfuric acid, which she tells her mother she plans to use on her.
Mrs. S tells Kendall that Kira (Skyler Wexler) is Kendall's niece. She asks Kendall to explain who she is. Kendall said Duncan had come to her 5 or 6 years after he'd harvested her. Duncan was in fear for his life from something called Neolution. He said they'd poisoned the science and corrupted his wife, Susan. He'd hidden Kendall from everyone.
Duncan told her there was one child outside it all, lost in the foster system. Kendall sent him to her daughter, the rebel. Siobhan had the connections to hide the child and Kendall sent the child to her. So Kendall put Sarah and Mrs. S together, who have been blood relatives all along. Mrs. S reacts to this news by forgiving her mother. Maria Doyle Kennedy performed this emotional moment of release with perfection.
Siobhan Sadler is actually a blood relation of all the clones. Isn't that an interesting new fact?
Sarah
Sarah and Felix find Mark (Ari Millen, an army). They bring him to the warehouse where he pretends to be Rudy and calls Dr. Coady (Kyra Harper) with the address about where they are. When she arrives with armed men, Ferdinand kills her driver and takes her captive.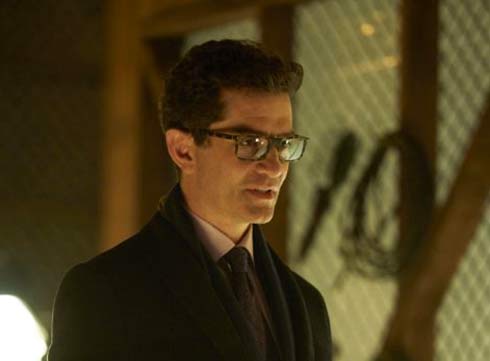 Ferdinand (James Frain) comes to the warehouse for the blood he was promised by Sarah. At that moment, Delphine calls with the news that the blood will go to Neolution. Delphine tells Sarah not to let him have any blood and to tell him Rachel is still alive. Ferdinand is quite interested in this bit of news about Rachel and in the announcement that they are all just pawns of Neolution.
Ferdinand calls Neolutionists "genetically obsessed zealots" and says he hates them.
Ferdinand kills his helper with Siobhan's baseball bat. It's the acid bath for the poor fellow. Ferdinand tells them to hide Kendall away, he doesn't want to know where. He says he'll be in touch. I guess Ferdinand is going to be one of the good guys now.
Sarah and Mrs. S take Kendall to Iceland.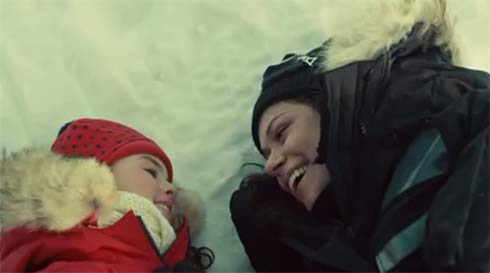 The episode began with Rachel's dream of ice and love, and it ends with the joyous reunion of Sarah and Kira (Skyler Wexler) on a vast plane of snow.
Helena
Helena spends a lot of time in the Hendrix garage in this episode. First she's reunited with Jesse (Patrick J. Adams). Jesse seems as happy to see her as she is to see him.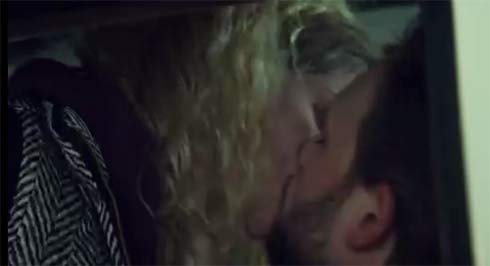 In his tow truck, which is half-in, half-out of the Hendrix garage, Helena climbs on Jesse's lap and tells him "I have science babies inside me, but you are my first." Helena's lust is pure animal instinct, just like the rest of her personality. Before they can actually get it on, she gets summoned to help the sestras. Both of them promise to return to the moment.
Rudy is following Alison around during the election proceedings. Alison lures him to her house and he is met in the garage by Helena in assassin mode. She's duct taped weapons to her hands and is ready to fight to the death.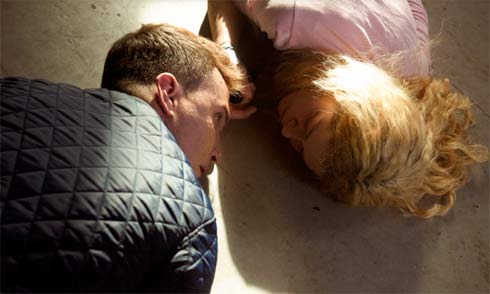 Rudy dies, partly from a wound from Helena but mostly because he was dying anyway like the other Castor clones. They have a tender moment discussing their childhoods before he dies. Helena can go from assassin to empathetic listener in 1/10 of a second.
Delphine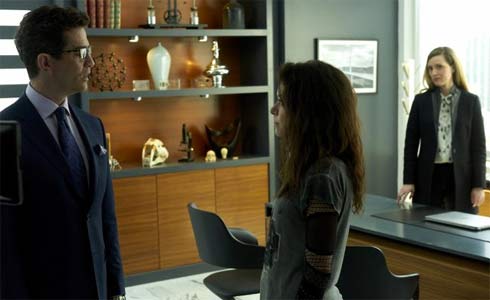 Ferdinand  shows up thinking he's going to take over from Delphine (Evelyne Brochu). Sarah offers him a deal to get some of the genetic material from the original, but only if the perverted Castor military experiment goes away.
Delphine goes to check on Rachel (or what she thinks is Rachel). She realizes it's Krystal when she sees the good manicure on Rachel's hand. Krystal wakes up, scared and confused.
Now that she knows about the Krystal deception and that Rachel is in Austria someplace, Delphine has Dr. Nealon (Tom McCamus) put in custody. She questions him and discovers that Neolution has been orchestrating everything from the first moment. He calls Castor and Leda Neolution's Adam and Eve. He says there's a place for her at Neolution. She turns down the job.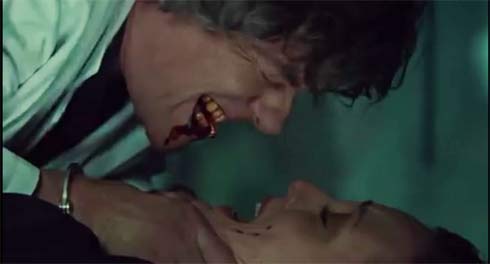 Nealon squiggles his jaw, leaps up and pins Delphine to a table. He tries to insert a worm from his mouth into Delphine. Luckily she's packing and she shoots him and takes the worm as a specimen.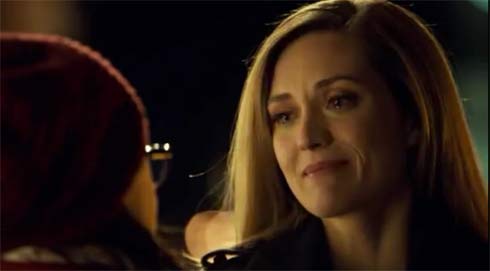 Delphine was invited to the family dinner but didn't go. She texted Cosima to meet her outside. Cosima says, "I understand why you did what you did. I'm sorry to make you have to make so many hard decisions." Delphine asks her to keep the blood safe and to make sure Kendall is safe.
Delphine tears up and looks at Cosima with a great deal of love. Delphine gives Cosima what looks like a heartfelt and passionate goodbye kiss, and leaves, saying, "My love to all the sisters."
Delphine parks in a parking garage. She realizes someone is following her and turns. She says, "What will happen to her?" and is shot. We don't know who shot her and we don't know if she dies. Whoever shot her walked loudly, perhaps from wearing high heels?
Rachel
The opening scene is Rachel waking from a dream about playing in the snow with her parents. She gets up and discovers she has a bionic eye and a museum-like display of finches in her room. She has no idea where she is or who is holding her.
Charlotte (Cynthia Galant) enters the room and says Rachel is going to be her new mom. Then Susan Duncan (Rosemary Dunsmore) enters and says, "Hello, dear Rachel. Welcome home." Rachel answers, "Mother."
Shay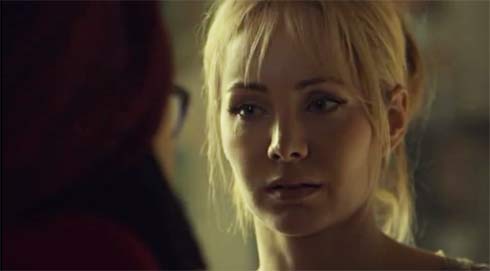 Cosima attempts an apology to Shay (Ksenia Solo), who is understandably upset by the death threat from Delphine. Cosima still can't tell Shay anything about who she really is and Shay angrily sends her away.
Later Delphine shows up at Shay's apartment. She tells Shay that she's sorry, that she knows Cosima really cares for Shay, and that Cosima and Shay are a good fit.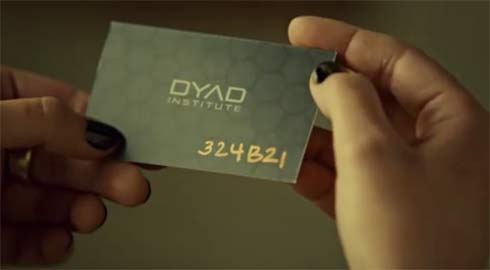 Delphine says she won't be around any more. She tells Shay to tell Cosima that she should tell everything to Shay if she wants. She gives Shay a card to show Cosima as proof that she means it.
Some Thoughts
We know how Kendall, Mrs. S and Sarah connect. What about Felix? A bit of history yet to write in season 4?
The count of male clones is down to only Mark. And he's helping the sestras. All the murder-machine male clones are dead.
We can't tell from the episode, but I think Delphine is actually dead. Based on this interview with John Fawcett, and this tweet, it seems she won't be back.
And thanks for your questions, support, sense of humour, art, sense of solidarity…just thanks. You guys are the best. Bisous.

— Evelyne (@EvelyneBrochu) June 21, 2015
A big bisou to you, Evelyne. Love you.
I'm sure there will be mourning for Delphine and talk about the dead lesbian trope, but I actually feel all right about Delphine. It works with the story better than the dead lesbian story usually does. However, if Delphine really is dead, what's going to happen with the worm Nealon apparently carried around in his mouth on the regular?
Shay, on the other hand, may be around for season 4. Based on this tweet it looks like she's here for a while. Maybe she'll be let in on the secrets like Felix, and become another important member of Clone Club.
'WHATEVER COMES NEXT WE WILL FACE IT TOGETHER' I Love U#CloneClub. ThankU4 accepting me into ur world. ThankU@OrphanBlack 4 a wicked season. — Ksenia Solo (@KseniaSolo) June 21, 2015
It looks like Krystal will be around for season 4, which makes me very happy. I liked her a lot. Who knows, at the end of season 4 we might have a FIVE clone scene as a grand finale!
Ferdinand and Rachel definitely have a thing, but he hates Neolutionists and Rachel's mother is apparently a Neolutionist. Where will that go in season 4?
What do the Proletheans have to do with all this? If Helena carries her child to birth, or if they do something with the frozen embryos they have, will that be a corruption of the clone genome or a correction? More fodder for season 4.
I love this show! Three cheers for season 3 and much anticipation for season 4.
The Title Quotation
Winding up a season of foresight from Dwight David Eisenhower, we close with this thought.
"Down the long lane of the history yet to be written America knows that this world of ours, ever growing smaller, must avoid becoming a community of dreadful fear and hate, and be, instead, a proud confederation of mutual trust and respect."