1000 Times Good Night stars Juliette Binoche as a war photographer. Check the background information and trailers. It's a slow, introspective film interspersed with scenes of violent horror.
Spoilers ahead.
The slow pace of the film may put some people off, but it's an effective technique for showing the steady change in Rebecca (Binoche). The camera lingers on her face, her thoughts radiating from her eyes, her silent loves and fears and indignations all play a part in how the film moves.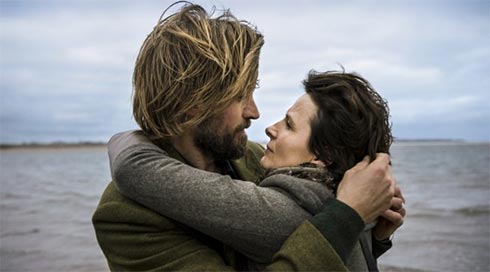 When she's at home, Rebecca lives with her husband Marcus (Nikolaj Coster-Waldau) and her two daughters Steph (Lauryn Canny) and Lisa (Adrianna Cramer Curtis). They live in a beautiful home near the sea in Ireland. She has friends and a life in Ireland. One of her friends is played by Maria Doyle Kennedy.
When she's not at home, she is in the middle of a war zone. The contrast is startling.
Injustice and suffering make Rebecca angry. She tries to do something to stop the suffering with her photographs, which are seen all over the world.
As the film begins, she's in Kabul filming a prayer-filled ceremony during which about a dozen Muslim women prepare a young woman to wear a vest full of explosives into the city as a suicide bomber. (Why is it women who perpetuate the horrors of a culture – the religious madness, the genital cutting, the insane requirements of the patriarchy? How do men convince women to do these things?)
Rebecca disregards her own safety to accompany the bomb-encrusted woman in a car. As they approach the target she gets out, still taking photos. She walks away, heading for safety but turns back when she sees all the people, all the children, who will be killed. Instead of running, she shouts, warning people. When the bomb explodes she is seriously injured.
Her recovery is slow and painful. Marcus tells her he cannot live like this any longer. Her two daughters are having problems with their constant fear for her life.
She tells her publisher she's quitting. She won't go to any more war zones.
As Rebecca slowly mends, she heals her relationships with her children and husband. At school, her oldest daughter Steph is working on an Africa project. Rebecca is offered a job photographing a refugee camp in Kenya. She is assured it is safe. The family agrees that Steph can go with her, take her own photos and gather information for her presentation on Africa at school.
The camp in Kenya is not safe, Rebecca rushes Steph off but her old instincts kick in and she runs into the middle of a massacre to shoot photos. When this is discovered back at home, the family falls apart once again.
That's a far as I'll take you with spoilers, except to say that Steph's Africa presentation at school, and Rebecca's return to Kabul to photograph suicide bombers again are both compelling and emotional.
The film is quiet. Often it seems as if nothing is happening – we stare at the planes in Juliette Binoche's face, the light striking her eyes, the outline of her profile. Luckily she has a great face for staring at, but it's really the only way this story could be told. Rebecca doesn't like explaining herself, she uses images – not words – to interact with the world.
In one telling scene, Rebecca is home, safe, loved, feeling stronger. She sits on the beach watching the ocean. All she can get out in words is, "This is nice." Her story is told in the same way. The images and photography are beautiful, as you would expect from a story where images are so important.
The film isn't for everybody, but for those who have patience for and interest in a woman's journey, it's worth seeing.
Image credits: Zentropa International Sweden