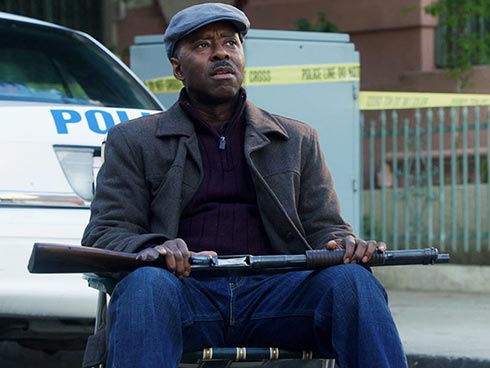 Everybody everywhere has already had something to say about this remarkable episode of Scandal. It was so clearly Ferguson, so clearly real.
But we got something not so real – it is television, after all. We got Olivia joining the protestors instead of helping the white cops who hired her. We got a public racist rant from the white killer-cop, who is arrested. We got an ending where an armed black man walked away unharmed from a confrontation with a phalanx of white police officers and then gets a hug from the POTUS.
The episode was so powerful that the real parts of the story made up for the television version of reality in which Olivia Pope is the heroine.
I want to commend Shonda Rhimes and Courtney B. Vance and Kerry Washington for their work on this episode. There's power in story, there's power in television. Most importantly,  there's power in "showing, not telling" as a way to reach into the human heart and mind and make a point. Scandal showed us a situation that began with injustice, a situation that – in this country – usually ends with another injustice. Courtney B. Vance reached into our hearts with his performance and made us see a father and a son. He made the injustice real.
The Governor of New Mexico
Because I live in the New Mexico, I took note of the little subplot in the episode where the POTUS is looking at possible new Vice President candidates and he briefly considers the Hispanic female Governor of the state of New Mexico for the position.
I'm not a Republican and I didn't vote for Susana Martinez for Governor, but I can tell you that she's never done anything like what the Hispanic character on this  Scandal episode did. I think she may have aspirations for higher political office when her term as Governor is over. You might want to learn more about who she is.
If you put the words "Republican female Latina" and "politics" together it leads somewhere predictable. In the same way, the words "unarmed black male" and "police" lead somewhere predictable. I hope this episode of Scandal helps change the latter predictable outcome.
Scandal image: ABC