Beats gets all the stars it's possible to give from me. It's one of the best movies I've seen in a long time. You can see it on Netflix.
Beats begins with a family on the south side of Chicago. The mother, Mrs. Monroe (Uzo Aduba), calls her teens to dinner. The daughter Kari (Megan Sousa) is in the bedroom creating beats. The son August (Khalil Everage) is outside. Kari goes out to get him. Both kids are shot in the street. Kari dies. August does not.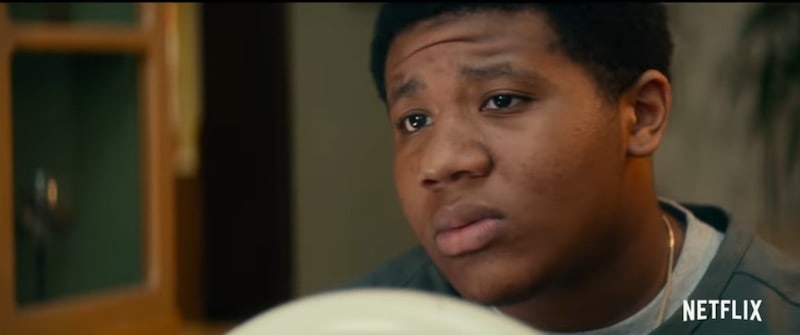 August stops going to school. He stays in his room with PTSD for months. It's just him and his mom in an apartment filled with grief and fear. August takes up where his sister left off creating music – and he's really talented.
The school administrator Vanessa (Emayatzy Corinealdi) sends her school security officer out looking for truant kids. The security officer is her estranged husband, Romelo Reese (Anthony Anderson). He once hit it big as a record manager. Now he's working in a school and hustling extra cash driving for Uber and rounding up truant kids.
Romelo hears music coming from the bedroom while he's talking to August's very protective mom about his absences. Romelo recognizes talent when he hears it.
The story takes off from there. I was impressed with the writing by Miles Orion Feldsott. The events were well written, the characters were nuanced, motivations were complex. My only quibble with the storytelling was how quickly Romelo managed to get August out of his room and back into the outside world.
Romelo saw August as his ticket back to the big time. He used August's crush on Niyah (Ashley Jackson) to motivate him to leave the house. Without telling Mrs. Monroe what was going on, he recorded August, worked on deals for him, and took him to meet people in the music business.
But nothing worked out the way Romelo originally thought, which is what makes this film such an deep dive into the human psyche.
The acting was brilliant from everyone, but particularly Anthony Anderson. He was fantastic as Romelo.
Pin This!
Watch the trailer for Beats
Have you seen this film? What did you think of it?