Better Things didn't exist as far as I knew. I seldom watch FX so I hadn't seen teasers for it. I kept hearing this name Pamela Adlon in connection with other things. I thought who the heck is Pamela Adlon? Then I read an ecstatic review of the first two episodes of season 2 of Better Things.

Pamela Adlon + Better Things. Crikey, mate – the universe was pointing me in a direction I didn't know I wanted to go. I'm glad I did.
I found season 1 of Better Things on Hulu or you can buy it on Amazon Video
.  I watched it immediately.
The story is about a single mom and her 3 kids. The mom, Sam (Pamela Adlon) is an actor. She's not world famous but she makes a living. The oldest child is Max (Mikey Madison), a pot smoking teen. The middle child Frankie (Hannah Alligood) is brilliant and unique. The youngest is Duke (Olivia Edward). Duke is often scared of what's going on in her life. These four actors are amazing together.
The kids argue, the mom yells. They mess up. They make up. They don't listen to each other, except when they do. They keep secrets. They rebel, they're scared to rebel. They get in trouble, they have fun.
They are so real.
I don't think I've ever seen a family comedy where the characters and emotions are so real, especially the mom. She lays it out for them – the bald facts. She uses terrible language, she talks about sex and drugs, she hates them, she loves them.
Sam's mom (Celia Imrie, sporting her British accent) lives across the street. Sam is as frustrated by her mother as she is by her kids. Her mother always shows up at the worst moments. This relationship is totally real as well.
I have to admit I fell in love with the whole family.
The chief characteristic of the series is its realness. It's also funny, full of charm, full of warmth, and full of surprises.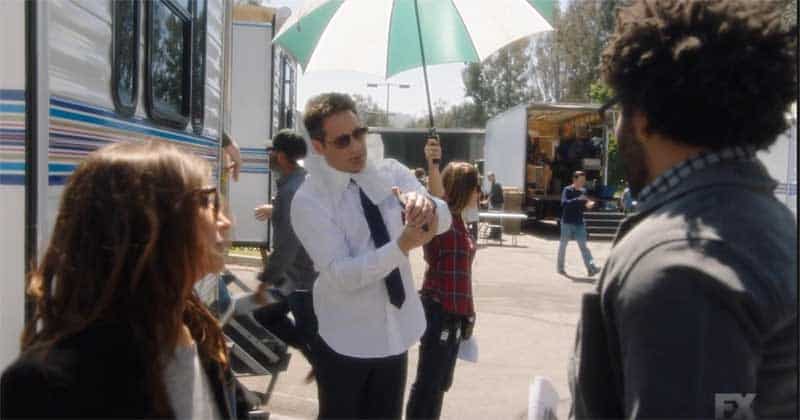 The most delightful surprises happen when Sam is at work. People show up, say 3 lines, and are never seen again. People like David Duchovny, Lenny Kravitz, Bradley Whitford, Constance Zimmer, Joe Walsh, and Julie Bowen.
There is a huge cast including friends of the 3 kids, teachers, and people who come around Sam's place or her mother's place. The people who hang around for more than one episode include Rebecca Metz as Sam's agent Tessa and Alysia Reiner as Sam's bestie Sunny. Greg Cromer is Jeff, Sam's current sex buddy. Mather Zickel plays Sam's ex.
I'm hyper sensitive to signs of transgender children because of my own life, but Sam doesn't become conscious until the last episode of season 1 why her middle child Frankie presents as a boy. When Sam's called to school because of a bathroom issue with Frankie, she shrugs it off. Max has to come right out and say to her, "Mom, Frankie is a boy." That leaves us with the last moment of the season: Sam in a chair in shock. All she can say is, "Shit." Because I love her, I know Sam is going to be both awful and amazing at dealing with this in season 2.
Season 2 is already airing on FX. I saved the beginning on my DVR until I could get through season 1. I'm quite excited to get going on season 2.
Better Things was created by Pamela Adlon and Louis C.K. Pamela Adlon directed quite a few of the episodes.
I want to thank the universe for introducing me to Pamela Adlon. Now that I know who she is I can testify that she's a tiny bundle of brilliant.
Here's the season 1 trailer.