Netflix first Spanish project is Cable Girls (Las Chicas Del Cable). I'll review the 8 episode season 1 of this female-powered drama. Minor spoilers ahead.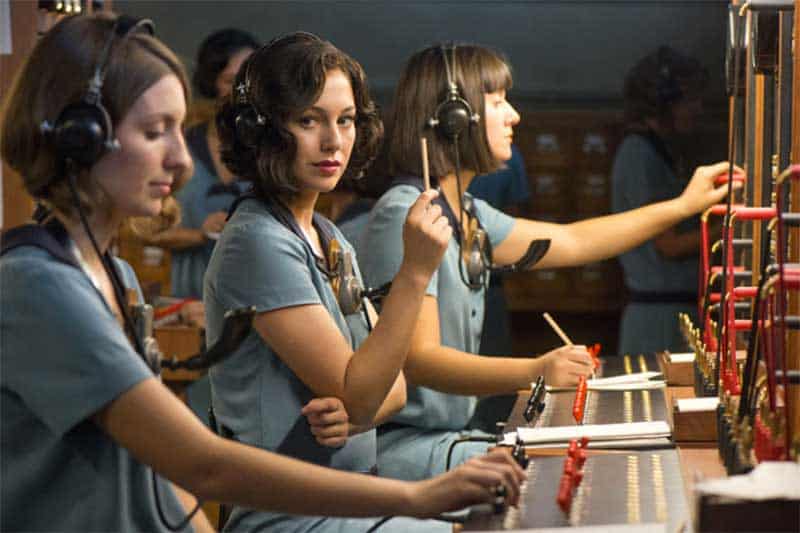 The main character driving the story is Alba or Lidia (Blanca Suárez). She becomes a cable girl by accident, taking another woman's name to get the job. She's really inside the telephone company to steal for a blackmailing police officer who hounds her to steal for him.
Alba/Lidia (I'll just call her Lidia from now on, okay?) has been is Madrid for 10 years, living by her wits. She's clever and capable and a skilled liar. She came to Madrid with her first love Francisco (Yon González), but lost track of him when her suitcase was stolen on arrival and she was arrested.
It turns out Francisco is now a big boss at the telephone company. The two see each other immediately during her interview process. The many twists and turns in their relationship carry on for all 8 episodes, and I'm sure will be a big part of a second season. For now, I'll just say that he agrees to pretend she's Lidia.
Carlos (Martiño Rivas) is the son of the man who owns the company. He also has a top level job in the company. The minute he sees Lidia he falls for her.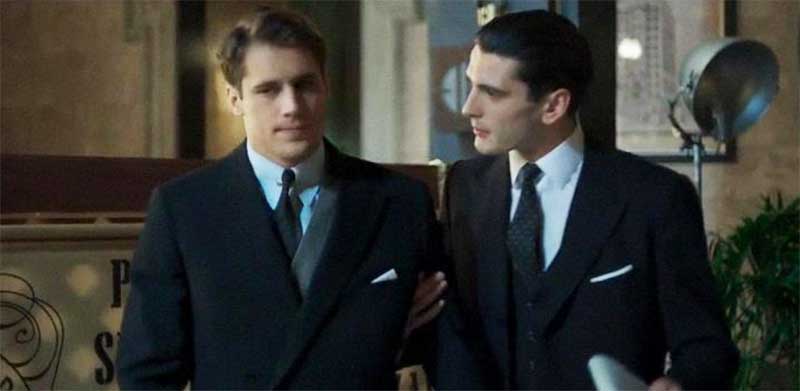 Both of the rich guys Lidia needs to steal from long to be all over her body. Francisco is married to Elisa (Ángela Cremonte), the boss's daughter and Carlos' sister. Just one of many complications in Lidia and Francisco's relationship.
Lidia managed to avoid the sexual machinations of her male suitors for most the of season.
Lidia is ready to steal what she needs and get out of there, but a funny thing happens. She makes friends with the other cable girls. She feels loyalty and obligation to them – new sensations in her checkered life.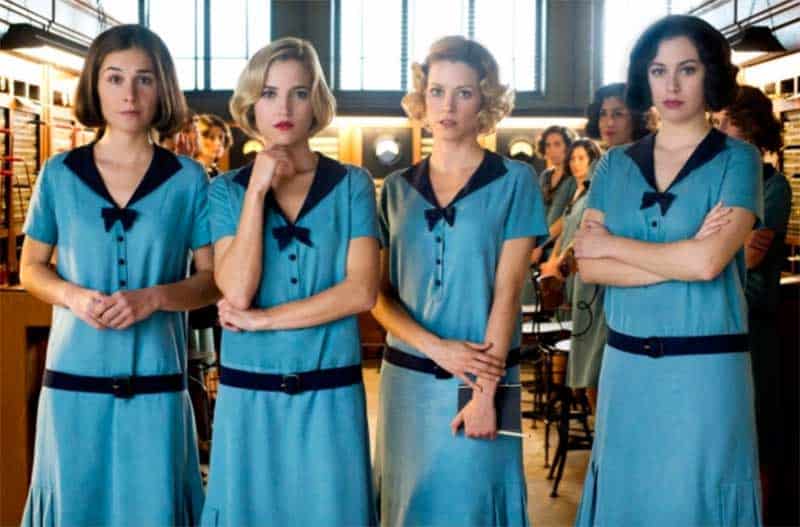 The four leading women include the shy and inexperienced Marga (Nadia de Santiago). Carlota (Ana Fernández) is a rich woman in rebellion against her parents. Ángeles (Maggie Civantos) is a married woman with a child. They become fast friends with Lidia. Their trials, relationships, and accomplishments are the center of the story.
For all the various kinds of trouble Lidia finds herself in, her new women friends stick by her. She's constantly torn between protecting Francisco or Carlos or one of her new friends or doing what she's being blackmailed and pressured into doing.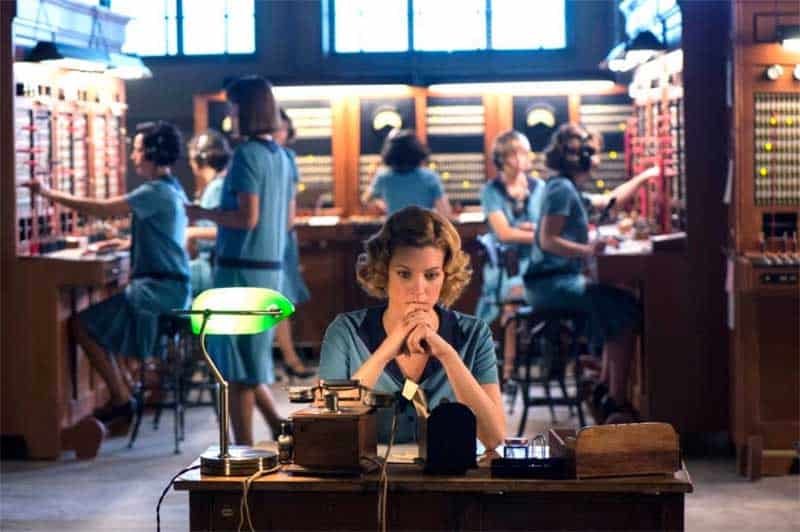 My mother worked for the telephone company. It was Ma Bell back then. She started as a switchboard operator in the late 1930s. I remember going there to watch the operators at the switchboards when I was a child.
Cable Girls (Las Chicas Del Cable) is set in the 1920s, but the switchboard operators were doing much the same kind of work that I saw my mother doing in the 1940s. One difference, in 1920, the user twirled a crank to create the connection.
Miguel (Borja Luna) was a brilliant engineer. The machine he built reminded me a little of the machine Alan Turing built in The Imitation Game. Miguel was working on a rotary phone. And he made it work.
For most of the season, the tension between whether the company should go with the new technology or not was argued and debated by everyone. As far as the women were concerned, it meant lost jobs because operators would no longer be needed. The women were desperate to retain the independence their jobs provided.
Not every boss in the company wanted to go with the rotary technology either. Operators could no longer listen in on conversations to gather information the bosses used in nefarious ways.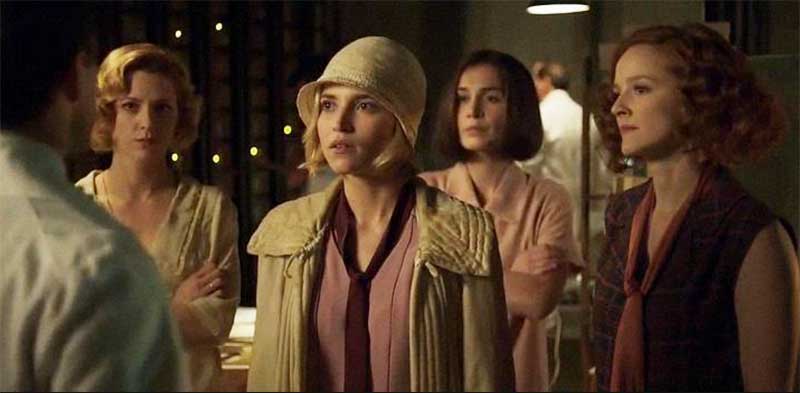 Miguel and Carlota were dating. Carlota was very fond of Miguel. But when red-headed Sara (Ana Polvorosa) started laying kisses on her, she discovered she liked that, too – very much indeed. Miguel caught Carlota and Sara kissing in an alleyway. After a minor blowup, the three of them found a happy solution to their problem. It wasn't something you see often on television and would have shocked 1920s Spanish society.
Carlos was in a big hurry to demonstrate the rotary phone to the press, even before he obtained a patent on it. Francisco argued against it. Miguel was gung ho at first, but started siding with the women over lost jobs as time when by. How that worked out is one of the bigger cliffhangers at the end of the season.
Plenty of cliffhangers await season 2. What will Carlos do when he finds out the woman he asked to marry him isn't who she said she was? What exactly is Ángeles putting in her abusive husband's coffee? Will Pablo (Nico Romero) and Marga find a solution to their aggressive pest? (Oh, yeah, I didn't mention Pablo and Marga – they're a thing.) Will Francisco be charged with murder? (Oh yeah, I didn't mention Francisco's monogrammed cigarette case – it's a thing.)
One of my favorite things about Cable Girls (Las Chicas Del Cable) was the issues facing the women. They were struggling for liberation. They loved working and being independent. But it was a man's world. If a woman's husband cheated on her and beat her until she miscarried as Ángeles husband did, she had no options. The law was on his side. A woman couldn't make a withdrawal from a bank without her husband's permission. A woman could be arrested for attending a feminist meeting. A single woman had to live in a boardinghouse with a nosy landlady – no men allowed – or be considered trash.
The budding feminists in the story did my heart good.
My Twitter pal Angela Thompson recommended Cable Girls (Las Chicas Del Cable) to me. She compared it to Bomb Girls. That's an excellent comparison. For you Bomb Girls fans, here's another interesting tale about working women in a rapidly changing world.
There were some things I both liked and disliked about the series, depending on the particular events. The first was the music. The scene was 1920s Spain but the music had modern beats with vocals in English. The music became a part of the dialogue at times and must have been written especially for each scene. It was almost always the same woman doing the vocals. Some of the time the modern music and English vocals felt incongruous, sometimes it felt perfect. The soundtrack is available at Tunefind.
The other thing that worked only part of the time was Alba/Lidia's voice overs. Like Meredith Gray's voice overs in Grey's Anatomy or Jenny's voice overs in Call the Midwife, the feeling was often confessional or one of self-discovery like a page from a diary. Other times it felt unnecessary and overdone.
The writing was done by Ramón Campos, Teresa Fernández-Valdés, and Gema R. Neira. The directors were all men.
Cable Girls (Las Chicas Del Cable) isn't perfect. Even so, I really enjoyed all the female characters. The melodrama was engaging. I'm glad Netflix is bringing compelling Spanish series with female protagonists like this one and The Time in Between (El tiempo entre costuras) to American audiences.
Have you watched the series? I'd love to hear your opinion about it.
Season 2
Season 2 is available now. Here's my review of season 2.