Carrie Pilby is about a 19 year old woman living alone in NYC. She graduated from Harvard at the age of 18 and she's struggling to figure out what to do with her life.
Let me describe the process of choosing to watch this movie. Scrolling through Netflix I spotted a film title that was a woman's name.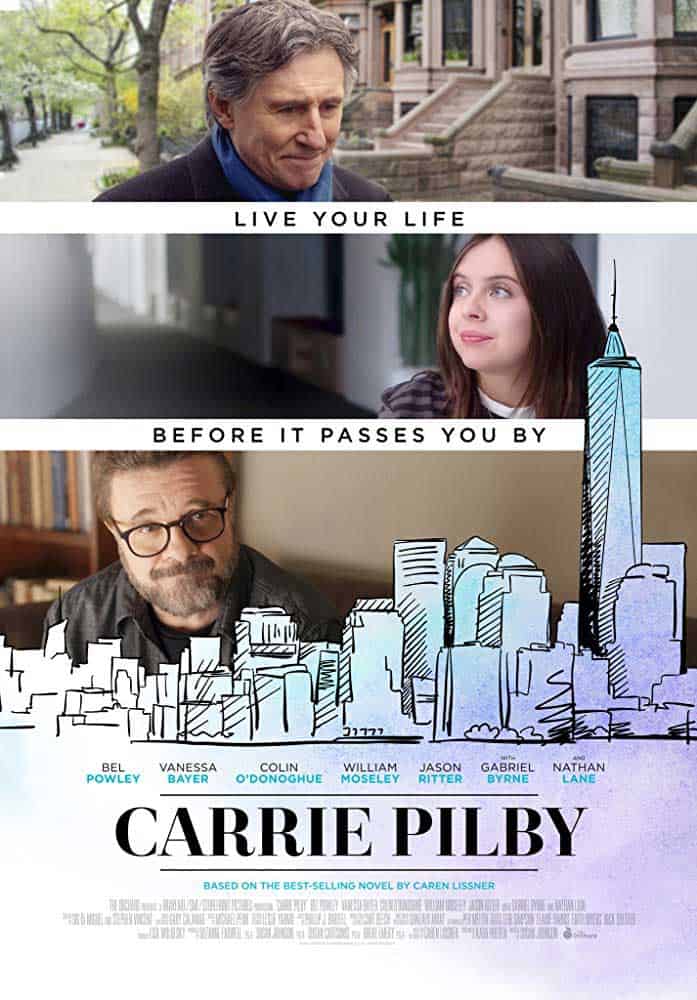 The poster for the film had one woman I'd never heard of surrounded by two famous older men. And the cast list named two more well-known guys. I thought, with so many guys, it can't really be about the girl. But I noticed a woman as director (Susan Johnson). So I gave it a try.
As the opening credits rolled I noticed women writers, women producers, women everything. Looking hopeful, this flick.
It turned out to be a very enjoyable romantic comedy with lots of feel good moments, great one liners, some smart literary references and a terrific Bel Powley as Carrie Pilby.
Carrie lives in an apartment provided by her father (Gabriel Byrne). She doesn't work or go out much. She reads. Seventeen books last week. Her father's friend Dr. Petrov (Nathan Lane) is her therapist. He gives her a to-do list. Get a pet, make a friend, go on a date, do something fun. Not so easy for a 19 year old Harvard grad who isn't into small talk.
Her father says she has to get a job. He's arranged one for her. She'll work at night proofreading legal briefs. Her coworkers are Tara (Vanessa Bayer, who lights up every scene she's in like a Roman candle) and the creepy Doug (Desmin Borges). The three of them make small talk. Tara treats her like a friend. Both these activities are good for her.
She buys two goldfish. She names them Katherine and Spencer. She arranges a blind date for herself with Matt (Jason Ritter), who is engaged but questioning. She goes with the intention of ratting on him to his fiancé – she has a thing about cheaters and liars – but is convinced by Tara to have sex with him.
That doesn't work out, but it does give her many opportunities to flashback to her 16 year-old days at Harvard when her professor (Colin O'Donoghue) took her into his bed and borrowed her first edition of Franny and Zooey never to return it. And she wants it! It was her 12th birthday gift from her mother who died shortly after.
This being a romcom, it isn't too hard to figure out that her annoying didgeridoo playing next door neighbor Cy (William Moseley), the guy she yells at out her window all the time, is going to turn out to be the real love interest in the story.
Before that can happen Carrie deals with the news that her father will be staying in Paris for Thanksgiving and that he's getting married again. This upsets her. I was beginning to wonder why Gabriel Byrne was listed in the cast, but he eventually appeared and he was ready for fisticuffs when he did.

The underlying themes in Carrie Pilby deal with fitting in when you're so freaking smart you attend Harvard at age 14, grieving over a missing mother, understanding friendship, forming relationships, growing up, and figuring out what you want to do with your talents. These themes are approached with a light, often funny, touch.
There's hope for Carrie, there's hope us all in the end.
Watch the Trailer