Frankie Drake Mysteries features an intrepid woman private detective who sprints around Toronto on a motorcycle amid 1920s jazz and gin. There have been 3 seasons of the series, and it is renewed for a 4th season.
Frankie Drake Mysteries is a Canadian production, and not easy for an American like me to see. Since it began in 2017, I've waited for my chance. After it left Canada, it was on Ovation TV, then PBS Passport. Neither of these were possible for me. But Amazon Prime has season 1 available now, free, for a limited time.
Jump on it, people!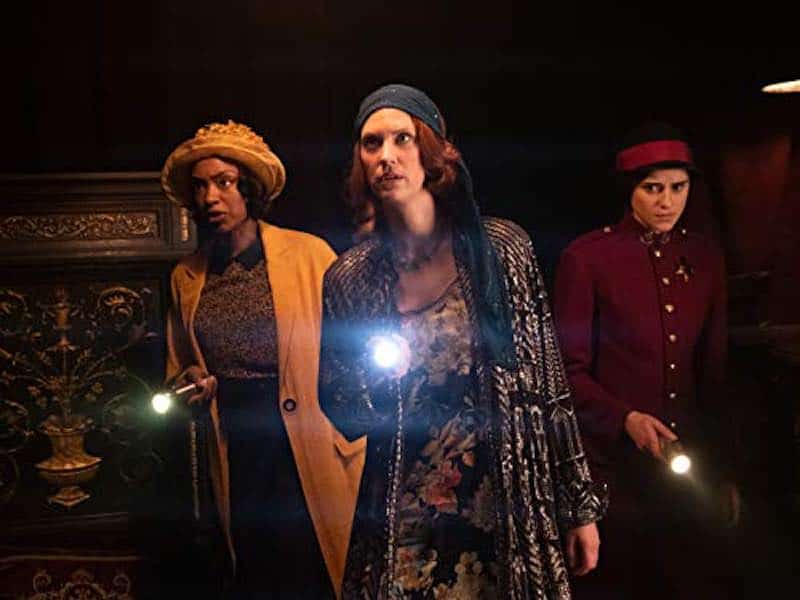 The series stars some of my favorite Canadian actors in lead and guest star roles. There are four main crime solving women in the series. Frankie Drake (Lauren Lee Smith) and Trudy Clarke (Chantel Riley) are partners in the Drake Private Investigations company. Their frequent helper from the police department is Mary (Rebecca Liddiard). Flo (Sharron Matthews) works at the morgue and is a budding forensic investigator.
Lauren Lee Smith plays Frankie Drake with a delightful charm, demonstrated by her walk, her way with a motorcycle, and her penchant for drinking the gin she distills in her office closet.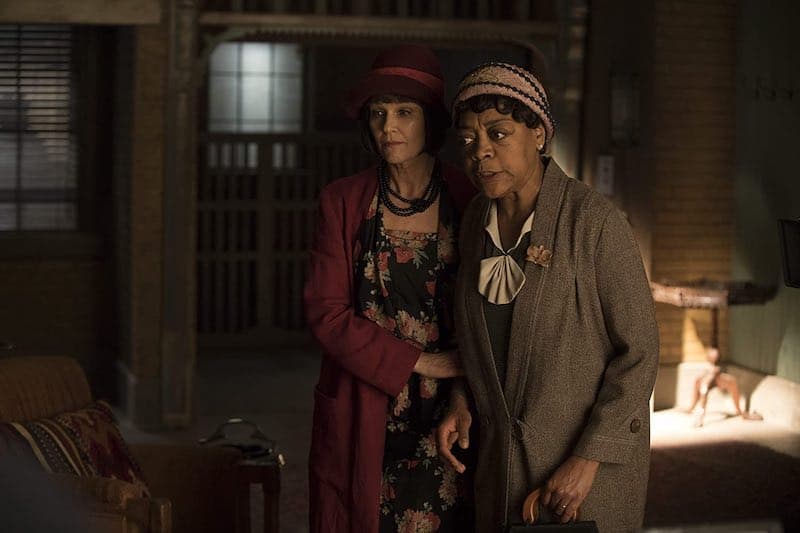 Frankie and Trudy have mothers who manage to show up with some regularity. They are Nora (Wendy Crewson) and Mildred (Karen Robinson).
That adds up to a lot of woman power. Budding feminists are everywhere.
I liked the inclusiveness of the cast. I appreciated the way Chantel Riley's character could show racism in action. There was no preaching about it – just show it for what it is. Everyone hung out in a gin joint called Quon's run by Wendy Quon (Grace Lynn Kung), which added to the authenticity of the story.
Frankie Drake Mysteries is frequently likened to Miss Fisher's Murder Mysteries, from Australia. It's set in the 1920s with gorgeous costumes and great jazz. It features women who break society's norms for how a woman should behave. If you like one series, you'll like the other. But the women are individuals and the episodic stories are unique. Chantel Riley even sings a couple of times.
The detectives investigate murders, kidnappings, jewel thefts, communists, and more. The series drops real names like Mack Sennett (Dmitry Chepovetsky) and Ernest Hemingway (Steve Lund) as characters in the investigations.
The series was created by Carol Hay, Michelle Ricci, and Cal Coons. Women directors in season 1 included Ruba Nadda, Norma Bailey, and Leslie Hope.
The first image I saw for this series was the following one.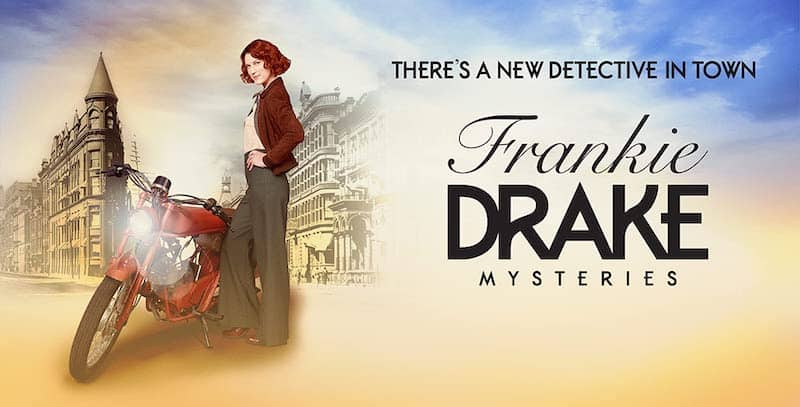 It didn't take more than that image to make me want to see this series! I'm hoping Amazon Prime will decide to add seasons 2 and 3 to the free section soon. And don't forget season 4, probably sometime in 2021.