Fun Mom Dinner was a female bonding experience. It's a simple but fun story starring women and written and directed by women. If you need a bit of relief from the stresses of life, don't get drunk or stoned. Watch Fun Mom Dinner. They get stoned and drunk so you don't have to.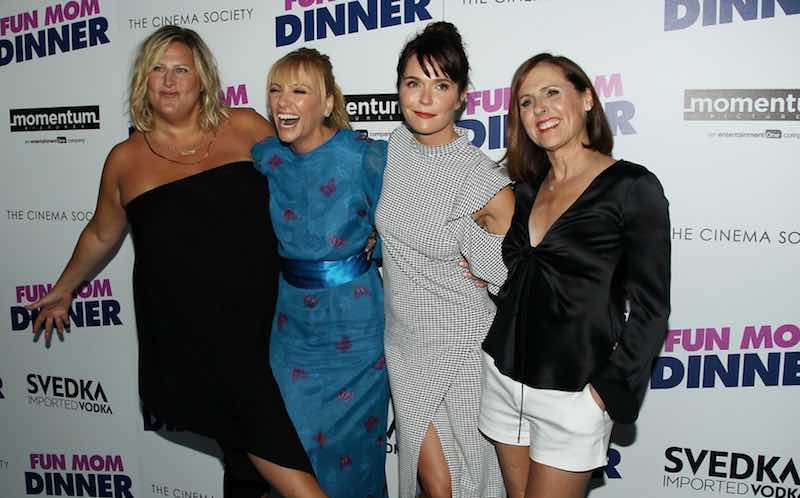 The moms weren't great friends to start with. Especially Kate (Toni Collette) and Melanie (Bridget Everett). They hated each other.
But Melanie and Jamie (Molly Shannon) invited Emily (Katie Aselton) out for a fun mom dinner and she dragged along her best friend Kate. After finding nothing to talk about and then arguing about each other, they turned to weed and alcohol. That worked.
By the end of the evening the predictable conclusion was reached. They are great friends now. But it was all in the getting there. That's the secret of fun and predictable movies. It's all in the getting there. What they did and why they bonded is the interesting part.
Kate's husband (Rob Huebel) and Emily's husband (Adam Scott) were home being daddy to their vast number of children while their wives were off having fun. They got locked out of the house, but they were such good dads it didn't matter.
At one point Emily went out walking with a handsome bartender (Adam Levine). That decision by Emily took the other three out adventuring in a completely nutty way. They were driven by Barry (Paul Rust), the only sober person in the bar.
I love Toni Collette and watch her in anything, so I'm happy this was enjoyable. Bridget Everett has a beautiful singing voice. I remember thinking Toni Collette was a good singer too, way back in 2004's
Connie and Carla. I've always wondered why she doesn't sing more often. Bridget Everett can sing anytime she wants as well.
Fun Mom Dinner was directed by Alethea Jones and written by Julie Rudd. It's simple and light and makes for a pleasant evening.