Judy is Judy Garland, of course. This biopic starring Renée Zellweger doing a magnificent job as Judy is about the last few months of her life. We see her wit, her pain, her loneliness, and her genius.
Judy Garland was born in 1922 and died in 1969 at the age of 47. She was already a big star in the year I was born. I realized watching this video of every Judy Garland film in 14 minutes that her voice and her songs were the sound track of my life. I know them all. By heart. Her voice resonates in my cells. The video doesn't contain any of her television appearances. I distinctly remember how thrilled I was watching Barbra Streisand on Judy Garland's show as they sang a duet of "Happy Days" and "Get Happy." It was electrifying.
I found Judy on Hulu. I don't know if it was there before and I missed it, or it was recently added. In any case, I watched as soon as I noticed it.
Renée Zellweger did a fantastic job looking and acting like Judy Garland. She sang in her own voice, rather than lip-sync to Judy. She still managed to capture the hesitations, the wavering, and the occasional hoarseness that was characteristic of Garland's singing.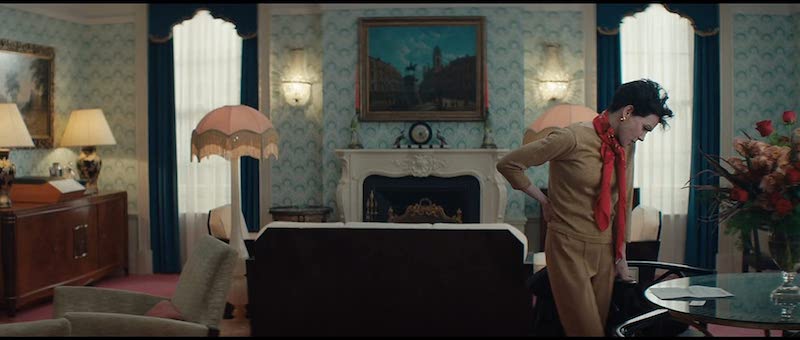 Zellweger also captured the posture and the shakiness of Garland's physicality. For a woman who lived on pills and booze and never allowed herself to actually eat, it's no wonder she was a bit on the jerky side.
As Garland said in an interview in the film, "I'm only Judy an hour a day. The other 23 hours, I'm part of a family." This film is mostly about those 23 hours a day. It's sad to think about the kind of life a woman with so much talent lived.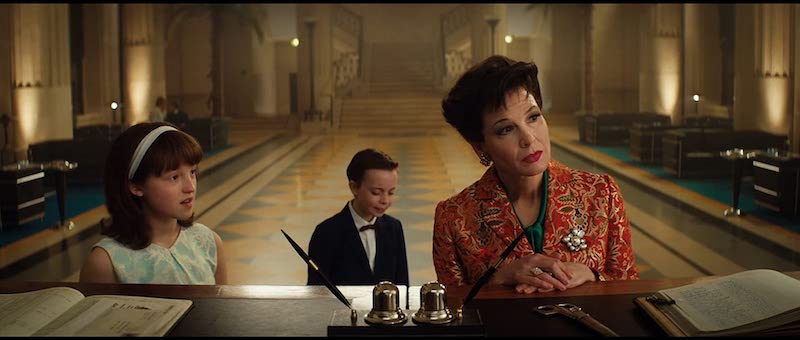 The film begins with Judy dragging her children Lorna (Bella Ramsey) and Joey (Lewin Lloyd) with her to performances and from hotel to hotel. She was broke. She finally took them to their father Sid Luft's (Rufus Sewell) house. He wanted to keep them full time and make sure they went to school and had meals. She didn't want to leave them, but agreed to go to London to make enough money to come back and buy a home for her and the children.
The remainder of the film is set in London. There are frequent flashbacks to Judy's childhood in the studio system at the hands of Louis B. Mayer (Richard Cordery) and her barely mentioned bad mother. The flashbacks were supposed to tell us why Judy was so insecure, didn't eat, took so many pills, and married so many men. I didn't find that part of the film effective. Darci Shaw as young Judy wasn't particularly convincing.
In London, Judy's minder was Rosalyn (an underused Jessie Buckley), who made sure she got to performances no matter what shape she was in. While in London she also married Mickey Deans (Finn Wittrock), who gave her joy and then broke her heart. She'd met him on the night she stayed at her daughter Liza's (Gemma-Leah Devereux) house in LA. I thought Gemma-Leah Devereaux was another miscast player.
Renée Zellweger made the film great, despite its flaws. She won an Oscar, a Golden Globe, a BAFTA, and a Screen Actors Guild award for her work on the film. By every standard, she was brilliant.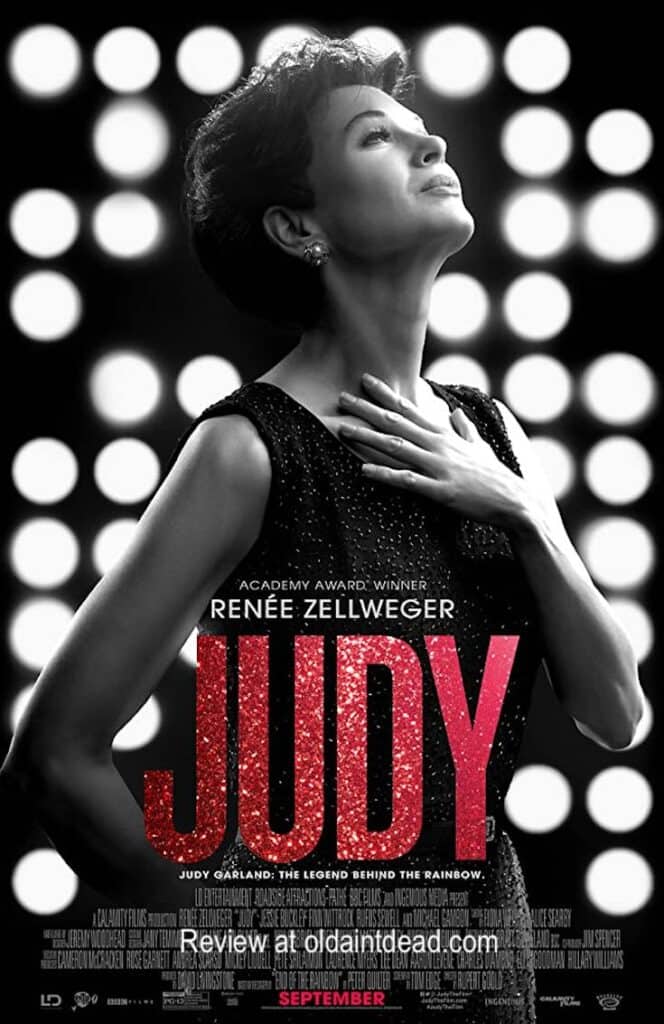 Here's the trailer.
Have you seen this already? If not, are you going to head for Hulu right this minute to watch it?