This is Where I Leave You is so rich and messy and complicated, I won't even try to give you the details of the story. You get the basic story watching the trailer, which is that a family comes together to sit shiva for 7 days because of the death of the father.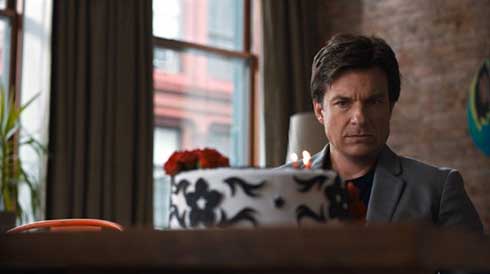 In many ways, this is Jason Bateman's film. As Judd Altman, the eldest brother, he carries us into and out of the story. His particular character gets more development than anyone else's.
Writer Jonathan Tropper is an absolute genius at creating real feeling characters with just a few brush strokes.
Tina Fey as Wendy Altman is the big sister. She has two young children of her own. She's the only sibling with kids – so far. Her son, played by Cade Lappin, regularly steals scenes with his potty chair and his attitude. She knows her brothers better than she knows herself, although she does make an effort to uncover some of her baggage while sitting on the roof with Judd.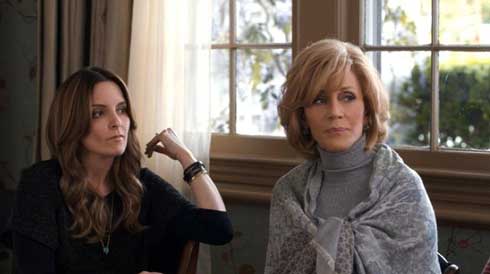 Jane Fonda is the mother. She's famous for writing a book about the foibles and intimate details of her 4 children. She overshares everything but the most important facts. She brings her children home and enforces her demand that they stay there for 7 days to sit shiva knowing how explosive and inappropriate it will get, but knowing it needs to happen.
There's the responsible middle child played by Corey Stoll and the irresponsible baby brother, played by Adam Driver. They bring home with them assorted spouses, girlfriends, children, impending children, and discarded spouses. Once they are home they have to deal with old girlfriends, old boyfriends, surprising new girlfriends and many degrees of overshared sex.
As I mentioned, every character feels real. They may not have many moments of screen time, but every one of these actors knows how to make something big out of small moments. Especially the smaller parts, played by Connie Britton, Kathryn Hahn, Rose Byrne, Debra Monk, Abigail Spencer and Dax Shepard. Even as minor characters, they were nuanced people. I want Connie Britton's character to have a whole movie of her own.
The only character that felt off was the Rabbi, played for comic relief by Ben Schwartz. The fact that everyone in the family insisted on calling him by his childhood nickname, Boner, even in Temple, tells you how that went. There was plenty going on that was truly laugh-out-loud funny without making the Rabbi into a joke.
With so many characters, each with their individual stories, the interactions were complicated. Each of the siblings had personal issues and responses to the loss of their father. The plot had lots of twists and turns and some elegant surprises. The film had humor, emotion, and touching moments of love and connection.
The beautiful thing about family dramas is there are no gun battles, no explosions, and no car chases. Instead, there are meaningful talks on the roof, ineffectual fisticuffs on the front lawn, and shared moments of revelation. This film has heart. It's as good as any family drama you will ever see, probably better.
All images © 2013 Warner Bros. Entertainment Inc.