Let it Snow presents a new and different look at the holiday staple romcom. Let it Snow is about high school kids for one thing. For another thing, one of the romances is between two girls. That's making history, I think. Finally, it's funny.
Full of youthful enthusiasm and angst, this holiday romcom will make you smile. It features a big cast, a miniature pig, and Joan Cusack as a character known only as Tin Foil Woman. Tin Foil Woman drives a tow truck and appears like Yoda at appropriate moments. There are multiple romances going on here – you get a triple holiday romcom for the price of one.
Famous singer Stuart (Shameik Moore) is in town for a performance. He meets Julie (Isabela Merced) on a train. They take the day to go sledding, go to a very unusual holiday program at church, have dinner with her family, and attend a big bash at the local Waffle House.
Keon (Jacob Batalon) works at the Waffle House. He has visions to being a DJ and organizes a party where he works. Since snow is holding everyone in town, everyone shows up.
Dorrie (Liv Hewson) works at the Waffle House, too. A girl she likes, Kerry (Anna Akana), shows up with a group of girls. Kerry isn't out like Dorrie. Although she spent the night with Dorrie and kisses her in the bathroom of the Waffle House, she pretends not to know her in front of the girls.
The other romance is between two who have been best friends forever, but have never admitted to liking each other as more than friends.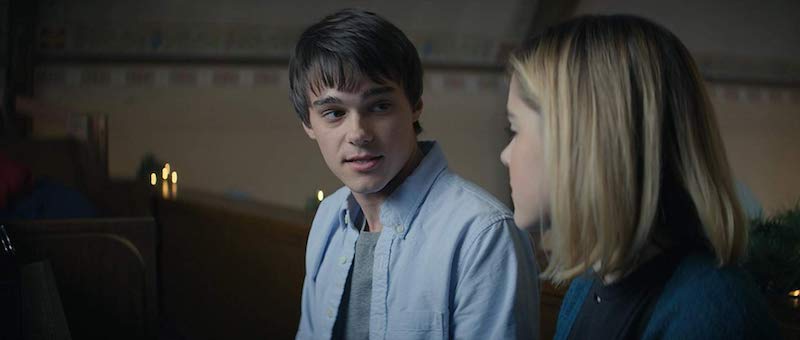 They are Tobin (Mitchell Hope) and Angie (Keirnan Shipka). They try icy broom ball, sing in an empty church, steal a keg of beer, and wreck a car. Somehow all that adds up to love finally being spoken.
Other characters who deserve a mention include Addie (Odeya Rush) who learns to love herself, Matthew Noszka as a hunky college man, and D'Arcy Carden who does a quick scene as Stuart's publicist.
Let It Snow was directed by Luke Snellin from a screenplay by three women: Laura Solon, Victoria Strouse, and Kay Cannon.
Feel like putting something on Pinterest? Here's a poster for just that.
You'll find this fun holiday snow-in on Netflix.
Have you watched this one? What did you think?