Mama Weed (La daronne) stars Isabelle Huppert as a woman who translates from Arabic to French for the police. When she accidentally gets her hands on tons of weed her life takes a turn. This French comedy is on Prime Video. There are mild spoilers ahead.
Mama Weed (La daronne) asks the audience to accept a lot of improbable circumstances and blatantly stereotypical characters. But Isabelle Huppert is so strong in this that she drags you into the story with few misgivings.
The first act of the film introduces Patience (Isabelle Huppert). She has two grown daughters, a mother in a very expensive care home, and is behind on all her bills. Her mother (Liliane Rovère) is about to get kicked out of her nice place.
A worker who helps care for her mother, Kadidja (Farida Ouchani), is kind and her mother responds well to her. Patience doesn't want her mother to lose her spot and her kind helper Kadidja.
One of Patience's translating jobs is listening to the conversations and phone calls between two crooks called Scotch and Cocoa Puffs. One day she hears Kadidja's voice among these conversations. She's talking to her son, who is about to drive a truck load of hash into France. The police are already on the trail of this truck and Patience fears Kadidja's son will be arrested.
She calls Kadidja and warns her. Her son hides the weed, so when he reaches his destination there's no evidence. He's arrested anyway, but not with such serious charges to face.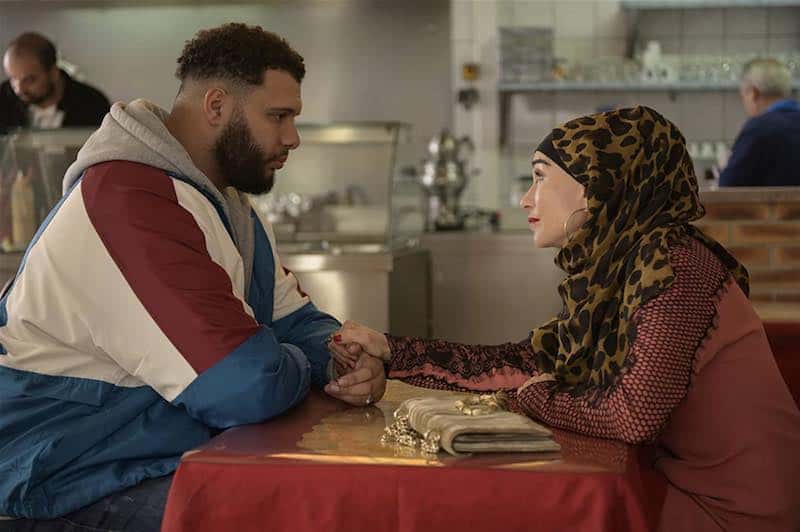 Patience needs money. If she can find the weed, she can sell it. A life of crime seems a solution to her problems. There are hints that her father was a criminal, and we see that her moral code is already flexible.
Patience adopts a drug sniffing dog retired from police service. She finds the drugs, and contacts Scotch (Rachid Guellaz) to sell the stuff.
The drugs are packaged up in suitcase sized blocks, which she delivers one at a time to Scotch in hilarious places and ways. She often uses a taxi to transport the goods.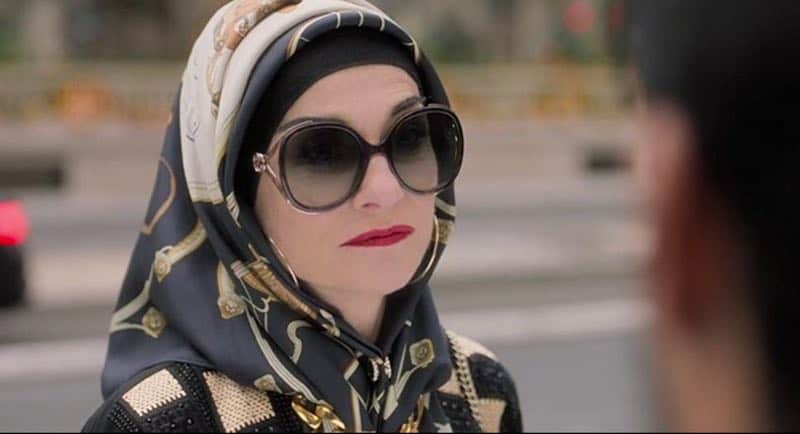 She disguises herself in a head scarf and big sunglasses, but the cop Philippe (Hippolyte Girardot) who is both in love with her and chasing the drug dealers recognizes her. What he does about it is the issue.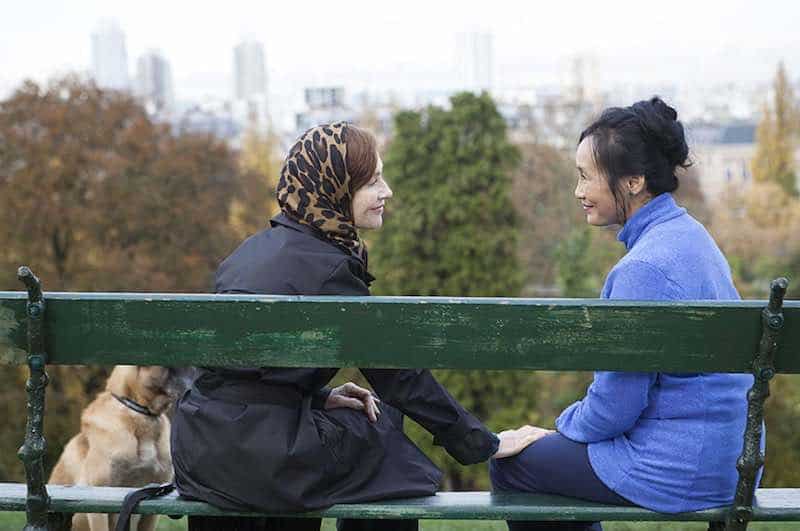 Madame Fo (Nadja Nguyen), her landlady, becomes a willing partner in her crimes. When Patience's mother no longer needs her, she leaves behind tons of drugs in Madame Fo's basement storage area. Patience has accumulated a suitcase full of cash, which she stores under her bed. That's all she needs to survive.
The film is far-fetched but funny and Isabelle Huppert is very good in it. If you watch it, let me know what you thought of it.
The film was written by Hannelore Cayre, based on her own novel.