Midnight Mass is the latest from writer and director Mike Flanagan. Like his two successful series before this one – The Haunting of Bly Manor and The Haunting of Hill House – this series is a foray into horror. I didn't think Midnight Mass was as good as the first two. You'll find the series on Netflix. Minor spoilers ahead, folks.
The subject matter of Midnight Mass was a problem. It was a 7 hour treatment of faith and religion (mostly Catholicism). Long, beautifully written monologues on faith, belief, death, resurrection, and God made up most of the series. There was a jump scare in every episode, and lots of gory stuff toward the end. But the main action, if you can call it that, was talk, talk, talk about faith and belief. Two topics that people are willing to die for, to kill for, to fight for. Two topics with no factual answers to any of the questions raised in the series.
Can three rational people save a whole community from religious mania and a hungry demon?
Another problem with this series was the lack of chemistry and connection between the characters. I mean, if you spend a night with your childhood sweetheart and can only talk about what happens when you die, you have a chemistry problem.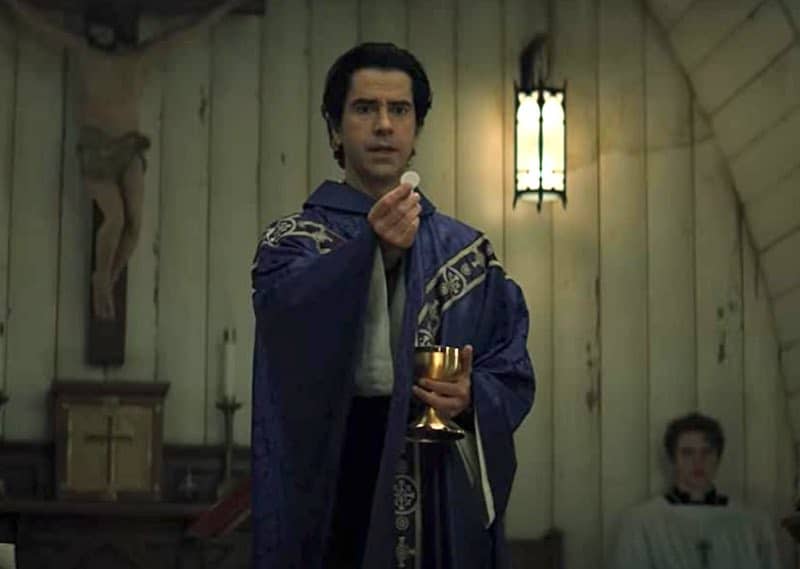 Father Paul (Hamish Linklater) shows up on Crockett Island, population 127. He says he's a temporary priest while the elderly Monsignor he's replacing recovers in a mainland hospital.
Father Paul offers communion at every mass. That's a key plot point.
When he moved in, he dragged a heavy trunk with him that held something alive. He let that thing out of the trunk. He considered the thing an angel whose body and blood could consecrate the parishioners, create miracles, and bring youth and well-being.
There was a small detail, however. When the angel got a chance, he killed people and drank their blood. But, gosh, they soon came back to life. Except now they couldn't go out in the sun because they would burn up. Mike Flanagan has a great vocabulary and a real gift with a sentence, but none of his characters ever uttered the word "vampire" or suggested the angel was actually a demon.
Many of the cast worked with Flanagan before. For example, Samantha Sloyan as Bev Keene, a terrible woman who considered herself more pious than everyone, including Father Paul.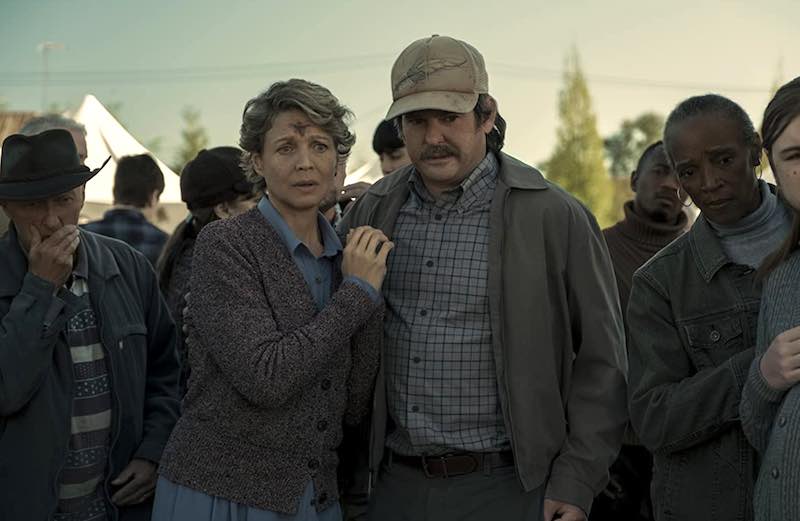 The story began when Riley Flynn (Zach Gilford) was released from prison. He'd been in for a drunk driving homicide. He returned to his family on the island: mom (Kristin Lehman), younger brother Warren (Igby Rigney), and dad (Henry Thomas).
Riley's ex-girlfriend, Erin Green (Kate Siegel), had also just returned to the island. She had a job as teacher and was pregnant.
Dr. Sarah Gunning (Annabeth Gish) cared for Erin and everyone else. Sarah's mother (Alex Essoe) was old and weak and forgetful. Until she wasn't. Could that be because of Father Paul's daily visit with communion wine?
Sheriff Hassan (Rahul Kohli) and his teenage son were the only non-Christians on the island. The Sheriff, Riley, and Dr. Gunning were the lone rational thinkers. Everyone else was caught up in the miracles, the healing, the promise of eternal life, and whatever else they thought faith gave them. Can three rational people save a whole community from religious mania and a hungry demon?
It takes many hours of pious pronouncements, religious parables, numerous versions of "Nearer My God to Thee" and some still innocent teens to provide an answer to that question. Meanwhile, it's hellfire and damnation, people. Hellfire, damnation, and star dust.
The actors were excellent, the cinematography was exquisite, the music was wonderful. Yet, the series itself was a definite average for me. I'm sure there will be plenty of people out there who disagree with that opinion, so feel free to tell me your take in the comments.