Midnight Sun is a Swedish noir mystery thriller. This top notch TV series is a mix of Swedish, French, English, and unnamed Sámi languages. It's currently streaming on Hulu.
Midnight Sun has 8 episodes, a very well-written storyline, and numerous interesting characters.
The Swedish police discover a body tied onto helicopter blades as the murder weapon. The victim is French. A French police office, Kahina Zadi (Leïla Bekhti), is called in to help on the case. When she gets there, the murdered Frenchman is a mystery. Who is he, really?
Almost before the investigation into the Frenchman can begin, the police officer Kahina was to work with is murdered in a bizarre way. She's assigned to work with Anders Harnesk (Gustaf Hammarsten), and does so for the remainder of the series.
Anders is half Sámi and half Swedish. The Sámi people are the indigeneous people of the far north and are treated as less than by the Swedes in Kiruna. Anders fellow police don't respect him much because of this. Anders identity as Sámi is important to solving the ever widening mysteries in the case.
It's a small town with lots of suspects
Anders arranges for Kahina to rent a small house from Thor (Richard Ulfsäter). Thor is several things. He's Anders' boyfriend. He's a helicopter pilot. Most of the traveling in that roadless expanse of marsh and mountains is done by helicopter. The story is set in midsummer and it's gorgeous at that time of year. The midnight sun may not be good for sleeping, but it's amazing to see this beautiful landscape most of us will never visit.
Soon there's another murder and notes posted in public locations indicate that there will be 22 victims before the killing is done.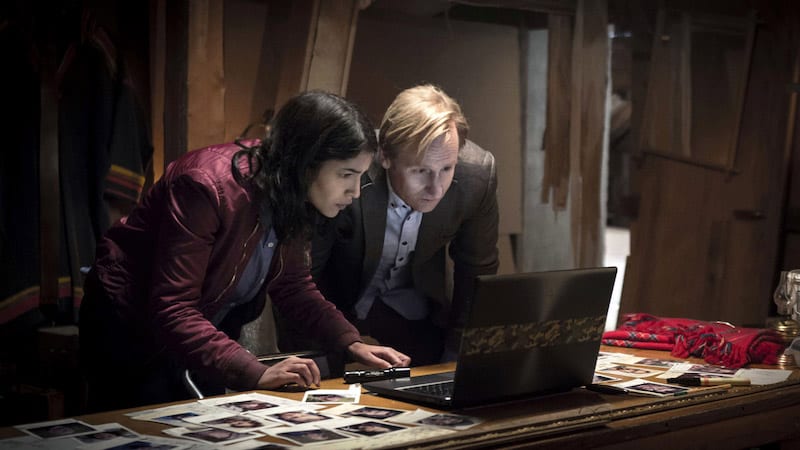 Many secrets prevent Kahina and Anders from coming to grips with the cause of all the murders and how the plot lines interconnect.
The mystery has something to do with the French. Kahina is ordered to obey a French fellow by her boss. He shows up and meddles in everything. He might have something to do with a space research institute in town. Which might have something to do with the mystery.
The mystery has something to do with the death of a beautiful young Sámi woman, Evelina Geatki (Maxida Märak). She was pregnant by one of the murdered men at the time of her death. Her boyfriend Kristoffer (Oscar Skagerberg) runs an activist group called Young Sámi. That group might be connected.
There are many miners in the town. They are represented by Kimmo (Albin Grenholm). His wife Jenny Ann (Jessica Grabowsky) is about to have a baby. This couple and a number of other miners might have something to do with the murders.
And then there's Sparen (Göran Forsmark), who stays drunk most of the time but knows the secrets. He's recently found a tiny bit of happiness with a woman from Thailand, Mabée (Editha Domingo). (What is it about Swedish men and Thai women?)
The French Cop
I mentioned a few facts about Anders. But Kahina is a character study by herself. While she's still in Paris, a young man named Nadji (Jeremy Corallo) appears at her door. He says, "I'm not your brother," and wants to come in. She runs out the back. Before she can return to her apartment, she gets the call sending her to Sweden. We learn more about Nadji slowly, mostly through flashbacks.
We see that Kahina is troubled and has a history of cutting and self-harm. She is tough as any man. Several times she's hurt seriously by assorted members of the Kiruna community who don't want their secrets known.
I got very attached to Kahina as the series progressed. She was smart and resilient. Leïla Bekhti did a wonderful job bringing her to life. Bekhti's on Instagram.
All the actors did a fine job, actually. It's one of the reasons the series works so well and is so good.
The Sámi Culture
The beautiful scenery is one aspect of living beyond the Arctic Circle, but the bits and pieces of Sámi lives and legends that were woven into the story were fascinating. Like other indigenous people around the globe, they have suffered a great deal from the colonizers who took away most of their land and livelihoods. It was especially interesting to get a look into their world as part of this mystery series.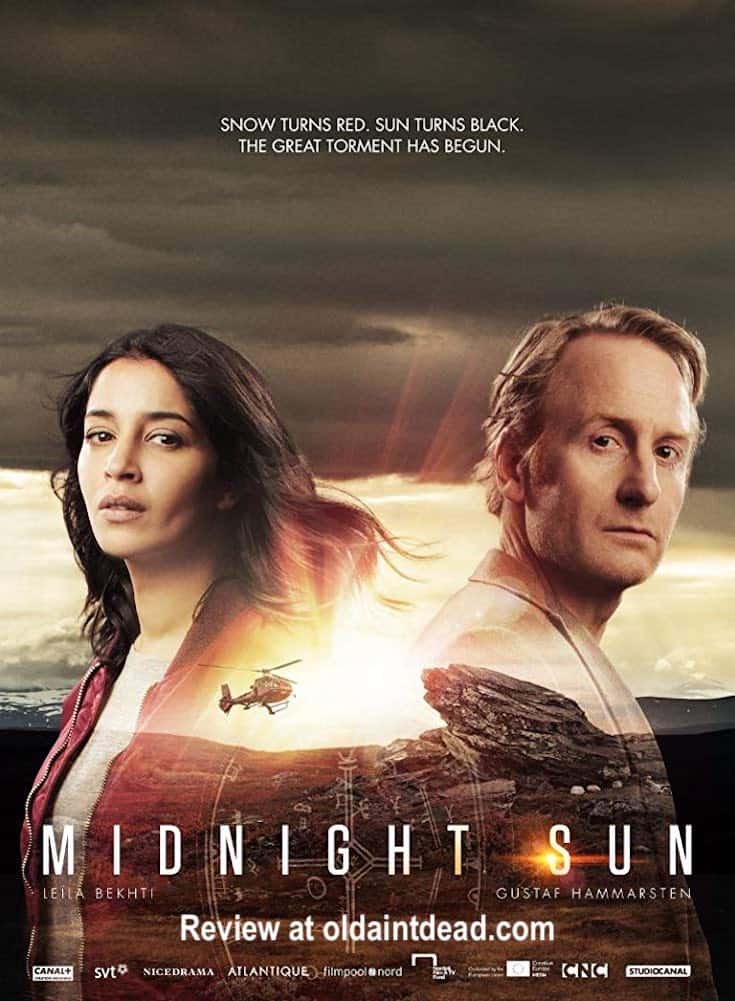 Here's a preview.
If you love a good mystery, I think you'll like Midnight Sun. If you've seen it, please share what your thoughts were.