Apple Tree Yard is a BBC mystery series in 4 episodes. It full of psychological and suspenseful secrets and surprises. Emily Watson stars in a role that's unusual for her to play. She's brilliant at it. There are some spoilers ahead.
Apple Tree Yard puts Emily Watson in the role of Dr. Yvonne Carmichael. She's a scientist working with genetics and the human genome. While talking science with a group of MPs, she meets Mark (Ben Chaplin). He shows her a secret chapel under the Parliament building and within minutes they are having sex up against its historic walls.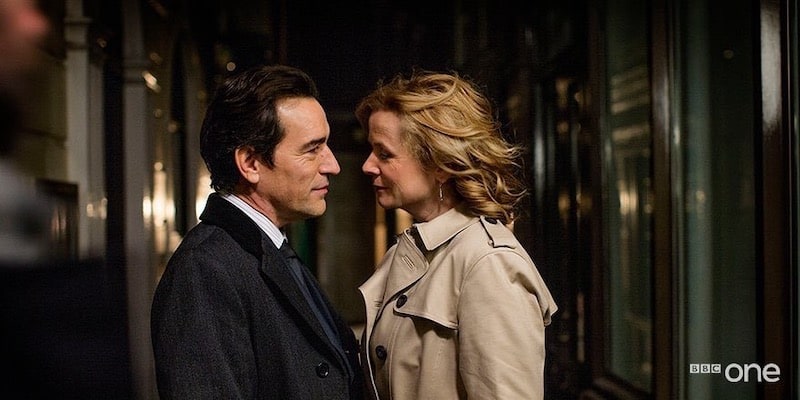 Mark's a secretive guy who will only say he works in security. Yvonne thinks he's a spy.
Yvonne's been married for almost 30 years to Gary (Mark Bonnar). They have two grown children. Carrie (Olivia Vinall) is pregnant and married to Sathnam (Assad Zaman). Adam (Jack Hamilton) is a musician with mental health issues. Yvonne's best friend is Susannah (Susan Lynch).
I'm quite fond of Susan Lynch and always think her supporting roles are too small for her talent.
In all those years of marriage, Yvonne's never had an affair. Now she can't stay away from Mark. They frequently have sex in public places – alleyways, bathrooms, doorways. I love that a woman in her 40s/50s is portrayed as sexy.
After having sex with Mark one evening, Yvonne goes to a farewell party for a colleague. There's a lot of drinking. A coworker named George Selway (Steven Elder) offers her a ride home. He wants to stop by his office first. While they are in his office, he rapes her. Violently. Repeatedly. It's a brief scene but horrid; beware if rape scenes are triggering for you.
She realizes that going to the police for an exam and with her clothing as forensic evidence will implicate Mark as well as George. And her husband Gary will find out what she's been doing. So she doesn't report the rape.
Big spoiler alert, George stalks her and harasses her. She asks Mark to make him stop. Mark kills him.
Both Mark and Yvonne are charged with murder. The second half of the mini-series deals with the trial. During the trial we learn many secrets, and there are some unexpected plot twists. The overarching motif/theme of the story was what people do when terrified for their lives.
Apple Tree Yard was directed by Jessica Hobbs. It was based on a novel by Louise Doughty, who co-wrote the screenplay with Amanda Coe. Louise Doughty revealed that she's planning a sequel that will focus on Mark.
The sequel idea reminds me of The Sinner. Season 1 focused on Jessica Biel and was outstanding. In following seasons, they switched the focus to the detective played by Bill Pullman and it was never as good. I watched Apple Tree Yard for Emily Watson (and Susan Lynch). I have absolutely no interest in seeing what happened to Mark after his stint in prison. What happened to Yvonne? Yes, I'd stick around for that.
Apple Tree Yard was slow paced and full of more psychological tension than action. Nevertheless, it was well-written and very well acted. You can see this British mystery on Hulu, Prime Video, and YouTube.
Have you seen this mini-series? What did you think of it?