Miss Fisher and the Crypt of Tears takes Phryne Fisher (Essie Davis) on an adventure worthy of Indiana Jones. Fans loyal to Miss Fisher and her flamboyant glamour paid for this film with crowdfunding. I think they'll be happy with the result.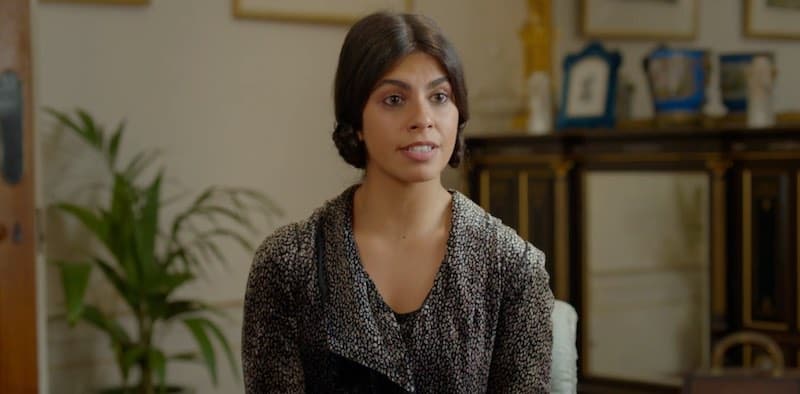 Miss Fisher and the Crypt of Tears takes place in 1929. It begins with Phryne rescuing Shirin Abbas (Izabella Yena) from a jail cell in Jerusalem. A daring escape involving donkeys, motorcycles, and trains left Shirin free to go to safety in England. The news reported that Phryne died during the escape.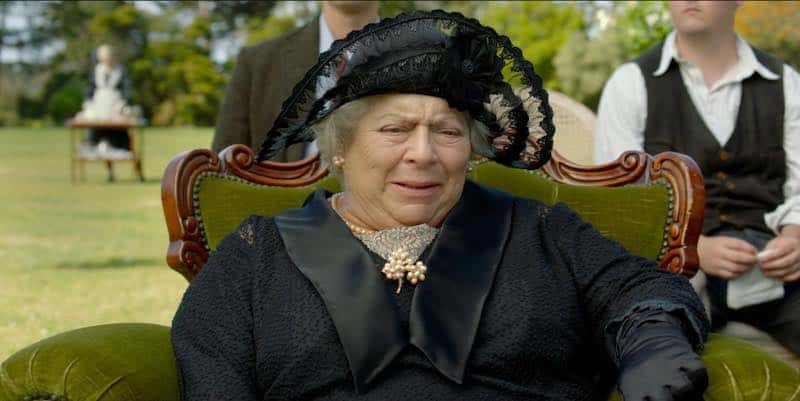 Previous season regulars Aunt Prudence (Mariam Margolyes) and Dot Collins (Ashleigh Cummings) made brief appearances in the film. But there were several new faces needed to tell this story.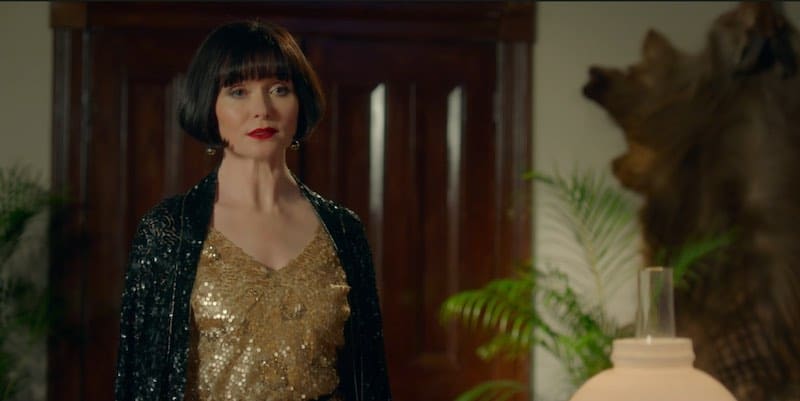 At a memorial service for Phryne on the Lofthouse estate in England, Phryne flew in and interrupted her own memorial. Present were Aunt Prudence and Det. Inspector Jack Robinson (Nathan Page). Jack was angry at Phryne when she arrived. He'd been grieving for her for 6 weeks and he wasn't happy about the unnecessary pain.
Also present were Shirin and her uncle Sheikh Kahlil Abbas (Kal Naga). Among the aristocratic Lofthouse clan, there was Jonathan Lofthouse (Rupert Penry-Jones) who had been an officer after WWI in Mandated Palestine. Jonathan's brother Lord Lofthouse (Daniel Lapaine) and his sister-in-law Lady Lofthouse (Jacqueline McKenzie) were up to their necks in debt and hoping to make a railroad deal with Kahlil.
Shirin received a note instructing her to go to a church at midnight for a meeting. Phryne went instead. A man was shot right in front of her. As he died he gave Phryne a pendant with an emerald in the center. He said it was for Shirin.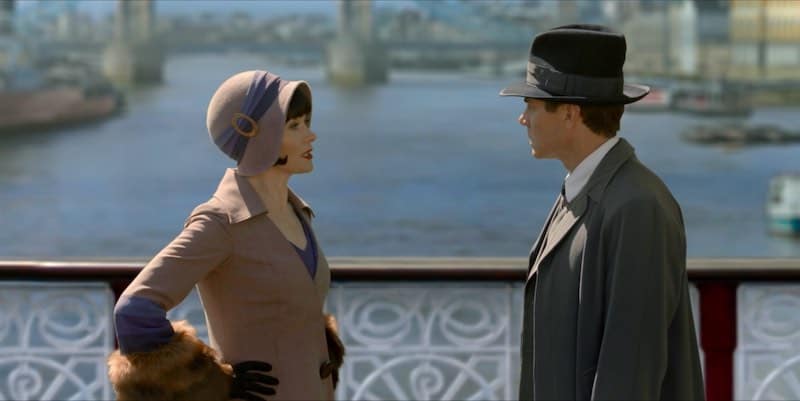 Shirin said the pendant was her mother's. She had a tattoo in the same design as the pendant on her hand. Phryne had the inscription translated by her good friend Professor Linnaeus (John Waters). He also translated the inscription on another emerald they found. The second emerald was big enough to skateboard on and carried a curse.
The remainder of the film was a sweeping saga in the desert. Phryne, Jack, Shirin, and Jonathan Lofthouse take off on camels looking for Shirin's childhood village and the cursed crypt. The entire movie was beautifully shot and framed, but the scenes in the desert were exceptionally gorgeous.
I enjoyed Phryne's gold revolver. And I got a laugh when everything went into or came out of her bra – emeralds, keys, weapons, letters. If she was hiding something, that's where it went.
The ending was an opening for a brand new mystery. I'd follow the liberated (and liberating) heroine Phryne Fisher anywhere, including on a new adventure.
After a theatrical release in select US cities, Miss Fisher and the Crypt of Tears began streaming for the US audience on Acorn TV. The film was written by Deb Cox and directed by Tony Tilse.
Have a look at the trailer.
The fans who contributed to this film becoming a reality will appreciate this behind the scenes video, too.
I love Phryne Fisher! How about you?