The only thing wrong with season 1 of One Mississippi is there isn't enough of it. It's a mere 6 brief episodes with Tig Notaro in her semi-autobiographical struggle to survive cancer, C-Diff, childhood trauma, and the death of her mother all in one overwhelming onslaught.
Tig returns to Mississippi when her mother dies. She stays much longer than she needs to if the funeral was the goal. She begins digging through her past and her mother's past. She's dealing with C-Diff and is very ill while this is happening. Her father, who is possibly somewhere on the Autism spectrum, provides a fecal transplant – not an option Tig likes, but a life-saving one.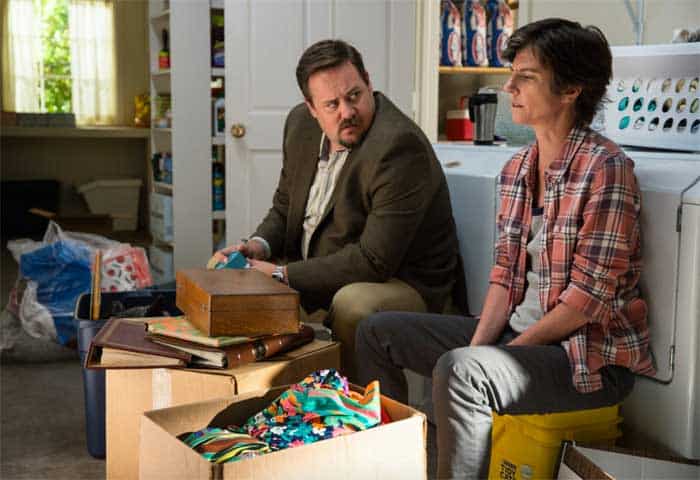 Tig stays with her father Bill, played brilliantly by John Rothman, and her brother Remy (Noah Harpster). Remy and Tig try to reckon with what they learn about their mother. While dad is rigid and undemonstrative, mom (Rya Kihlstedt) was a wild character with big secrets who disappeared on the regular. We see Tig's mom in memories and flashbacks.
Remy finally comes to terms with the truth that their childhoods were rough and traumatic – something Tig has acknowledged for a long time.
Tig Notaro's humor is so dry and droll, yet hilarious. It's her survival mechanism. So the hospital sends your dead mother a survey asking about her recent stay in the hospital? Yeah, that's good for about 20 jokes and a segment on Tig's radio show.
Tig has a girlfriend, Brooke (Casey Wilson) back in LA. She meets a hot TV personality (Jill Bartlett) while she's in Mississippi who seems like reason enough to break it off with Brooke. The hot TV personality romance doesn't last, either, but at least Tig's shed Brooke.
She starts doing her radio show from a studio in her home town with the help of Kate (Stephanie Allynne). I'm sure we'll see more of Kate in season 2. When Tig gets the word from her oncologist that her cancer has not returned, her first instinct is to tell her mom – her second is to tell Kate.
My genius at predicting what will happen in season 2 comes mostly from knowing that Stephanie Allynne is Tig's real-life wife. (Yeah, if I could actually see into the brains of Tig Notaro and Diablo Cody, I'd be a lot richer than I am.)
Most of the episodes were directed by women: Nicole Holofcener, Shira Piven and Ken Kwapis do the directing. There's also the aforementioned Diablo Cody, who shares writing and producing with Tig Notaro.
Tig being Tig is what makes this series. She's funny, she's sardonic, she's sad, she's sexy, she's hurt, she's scared, she's telling the truth, she's turning her life into humor at her own expense. Her charm, her good nature, and her desire to keep on going despite it all shine through.
I liked the infrequent fantasy turns when we were somehow inside Tig's brain carrying life's little moments to a ridiculous extreme. An especially good one involves Tig and her mom in an all-girls slumber party at the cemetery. Every woman buried near her mom was abused by a man in some way, at least in Tig's fantasy experience.
Life can be horrible. Life is a struggle. Yet we keep on. Tig Notaro's way of doing that is to bring us One Mississippi and allowing us to share in the irony of existence with her. Thank you, Tig. Best wishes for your continued good health.