Queen of Katwe is a fact-based story about a Ugandan girl who lifts her family from poverty by becoming a chess master.
Queen of Katwe is a Disney film. It has the characteristics of a Disney film, but they work well with the inspiring story of Phiona Mutesi (Madina Nalwanga) and her brilliant grasp of the game of chess.
The only two name actors in the film are Phiona's mother Nakku Harriet, played by Lupita Nyong'o and her chess coach Robert, played by David Oyelowo.
Phiona and her family made a living selling corn in a sweltering slum called Katwe. One day when she should have been working, Phiona stumbled into a building where she was offered a cup of porridge and instruction in the game of chess. Whether it was the free meal or the game, she kept coming back.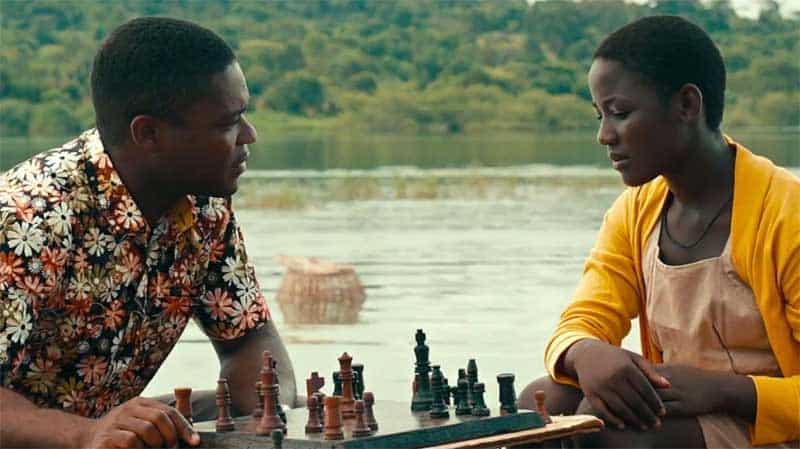 Before long she was beating more experienced players. She surprised her coach with her ability to think 8 or 9 moves ahead.
Phiona's mother had 4 children. Phiona had an older sister and two younger brothers. They became temporarily homeless until Robert helped them find a place to live. Eventually Phiona lived with Robert and his wife as she prepared intensely for tournaments all over Africa and in Russia.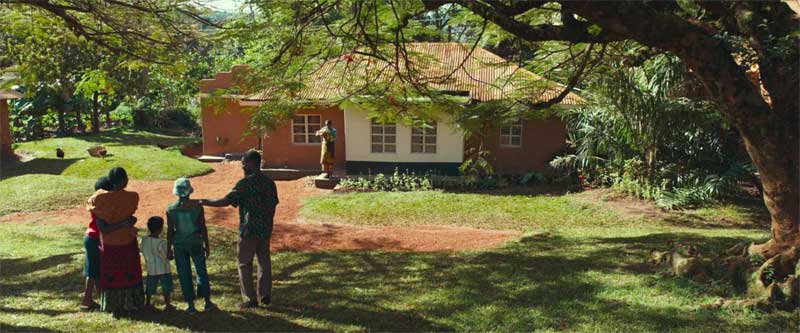 Phiona won more and more tournaments. She lost some, too, and didn't take it well. She won enough money to buy her mother a home. It was a lovely home with plenty of room for her older sister and her children and her younger brothers to all live happily and safely.
Phiona became famous throughout Uganda, and was dubbed the queen of Katwe,
As with any Disney film there were emotional and sad parts, frightening parts (especially a flood), and funny parts. The colors were bright and cheerful. The story had a happy ending.
I've seen David Oyelowo in many films and aware of what a fine actor he is. But I'd never seen Lupita Nyong'o in anything before. I was quite impressed with her portrayal of Phiona's hard-working mother. The woman was beset with many problems and woes, but she supported Phiona as best she could.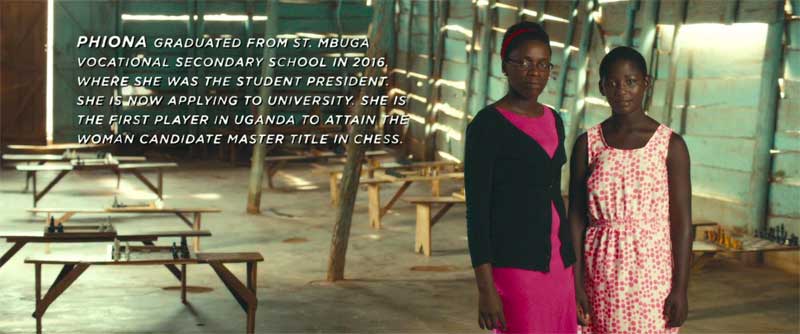 Mira Nair directed Queen of Katwe. The film came from an ESPN Magazine article and then a book by Tim Crothers. The screenplay was written by William Wheeler.
During the Queen of Katwe credits, the actors were shown standing beside the real person they portrayed. A blurb told something about the actual person's life. I found that interesting.
Phiona's story is told on a Wikipedia page, where her accomplishments are downplayed. I say the devil with haters, Phiona is an inspiration to us all.
Here's a brief video about Phiona.
Phiona Mutesi – The Queen of Katwe from SOI on Vimeo.