Redwood Highway is an indie film starring Shirley Knight as an intrepid grandmother who walks 60+ miles along the Redwood Highway to get from her retirement home to her granddaughter's wedding on the Oregon coast.
Mild spoilers ahead.
I suppose I didn't really need to point out that this 2014 film was an indie production. Can you imagine that a Hollywood production would star Shirley Knight in a leading role (despite the fact that she absolutely kills in this part)?
The film was written, directed and edited by Gary Lundgren.
Marie Vaughn (Shirley Knight) hates living in her retirement home. She fights with her son Michael (James Le Gros) about it constantly. When her granddaughter Naomi (Zena Grey) uninvites her to her wedding because she's such a negative old biddy, Marie decides to go to the wedding to spite everyone. And she's going to get there on her own two legs.
Marie is my kind of woman. Fit, bold, and not in need of anybody's permission. Marie may a bit too mad at the world as the film begins, but she isn't too rigid to change.
She starts trekking across Oregon's beautiful countryside and along the way meets people who treat her like an old friend such as Pete (Tom Skerritt) and Stacia (Michelle Lombardo). They help her with first aid, places to sleep and offers of rides. She refuses the rides.
Tom Skerritt is a favorite of mine. I've loved him since way back in the days of Picket Fences, an unforgettable show with an unforgettable cast. He has a small part in this film, but it's nice to see him.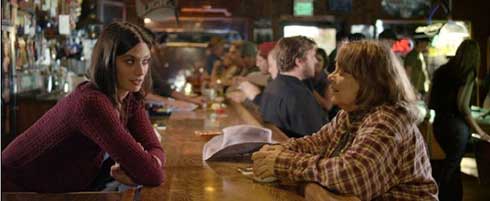 Marie spends several nights camping in the woods, one night sleeping in a treehouse Pete built, and one night sleeping in Stacia's house after beating everyone at pool in Stacia's bar.
Her son has every cop in Oregon out scouring the country looking for her. She eludes them all without even trying.
In addition to the friendly folks who encourage her along the way, she also runs afoul of a couple of meth heads who want to steal all her money. That scene was the only scary moment in the trek to the coast.
Through it all she's dealing with memories of a lost love from long ago, a sailor named Tommy. There are parallels between her relationship with Tommy and her granddaughter's upcoming wedding on the beach. Marie thinks she sees her Tommy several times and even has imaginary conversations with him.
She makes it, of course, that's completely predictable, but she does it with panache, and comes out at the end a wiser woman.
Redwood Highway is a delightful and inspiring film. I completely recommend it. It's available on Netflix and Amazon Prime.
Take a look at the trailer.
Images © Redwood Highway