Retribution, called One of Us in its European release, is a 4 part mystery series now streaming on Netflix. It's a dark family drama full of secrets and lies. Some mild spoilers ahead.
I don't know why Netflix decided Retribution was a better title than One of Us. The plot has much more to do with finding "one of us" than with any sort of retribution.
The writers Harry and Jack Williams somehow managed to squeeze a dense and layered mystery into 4 episodes, all the while throwing out confusing hints and suspicions about each of the characters. It takes a while to untangle.
The main plot involves a young married couple Grace (Kate Bracken) and Adam (Jeremy Neumark Jones) killed right after their wedding. Grace was hugely pregnant. Everyone immediately knew the killer was Lee Walsh (Owen Whitelaw).
Adam and Grace had grown up side by side on two family farms, nestled away in the remote reaches of a glen in Scotland. The two families were feuding. On Grace's side was her father Bill (John Lynch), her mother Moira (Julie Graham), and her younger brother Jamie (Christian Ortega). At this farm was an employee named Alistair (Gary Lewis).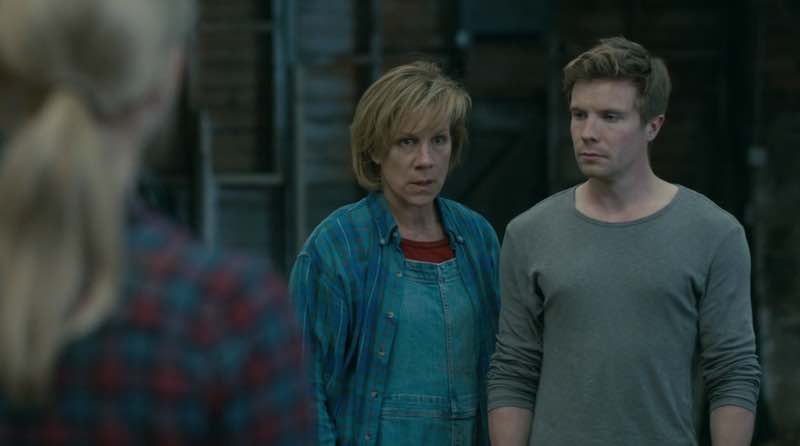 On Adam's side were his long absent father Peter (Adrian Edmondson), his mother Louise (Juliet Stevenson), his brother Rob (Joe Dempsie) and his sister Claire (Joanna Vanderham). Rob's girlfriend Anna (Georgina Campbell) was there at the time, too.
Okay: big cast. It's easier to keep sorted when you're watching than just reading the names.
After Lee Walsh kills the young couple, he steals a car and heads off looking for the farms. Just as he finds them, he crashes his car. The two families are all in the same house hurling blame at each other for the deaths of their children when they hear the crash. They rescue Walsh and figure out who he is. Why he is there nobody seems to know. They put him in the barn in a locked cage.
In the morning, they find him dead. Stabbed. Obviously it was one of them. But which one? The rest of the episodes deal with unraveling that murder and with what it had to do with the murders of Adam and Grace.
Compounding the mystery is the fact that this group of mistrustful and unfriendly neighbors agree to bury the body and the car and pretend Lee Walsh never showed up on their road.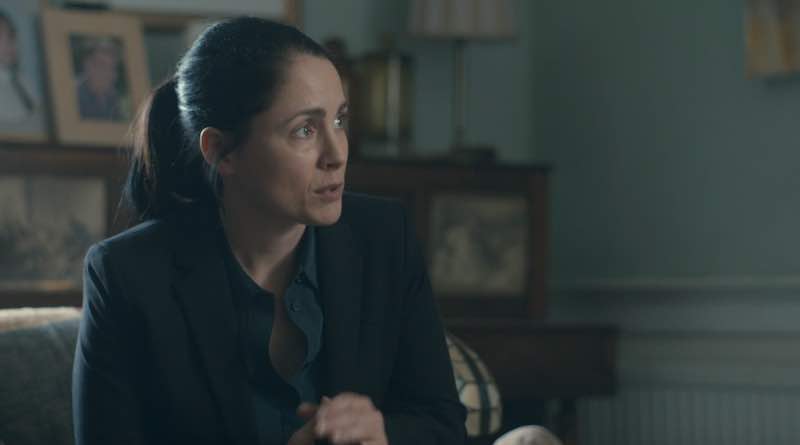 Two cops Juliet (Laura Fraser) and Andrew (Steve Evets) investigate the murders of Adam and Grace. The clues don't add up. At the farm, certain family members want to tell the truth. Much as they all blame each other and mistrust even the ones they love the most, the families agree no one must tell.
Among the complications and lies in these two families is Grace's mom Moira. She was involved in an affair – maybe not her first. Grace's father Bill has Parkinson's Disease, which he's hiding. Their son Jamie has a crush on Claire and hacked her phone and read all her text messages.
Anna was raped just weeks prior to the murders. Rob feels very protective toward her. Does it have anything to do with the murders?
As the tension mounts and the police come closer and closer to what's happened the subplots add to the danger for everyone.
The policewoman has a daughter (Isis Hainsworth) with a brain tumor. To finance her medical help, Juliet's been selling LSD. (Does anyone even still use LSD?) The guy she sold it to is picked up and threatens to talk.
Adam's father decides to come to the farm. He blames himself for the whole thing, which doesn't make a lot of sense at first. What he does about that guilt made even less sense to me.
An older woman named Meredith (Anne Kidd) in the nursing home where Claire works keeps begging Claire to help her die. Claire is the most bothered by the morality of the lies to the police and by the morality of what Meredith is asking her to do.
The theme running through the series is what human beings are willing to do to protect the people they love. What can they overlook? What is unforgivable? How much will you lie to hide your sins? How much will you lie to hide the sins of someone else? Or, the reverse, how much will you allow others to suffer for your own sins?
You can see how family feuds are born in the remote hills of Scotland, because nobody trusts or believes anybody. Families have a code of protecting the family against all outsiders, but within the family they may turn against each other. Put two such families together in a Romeo and Juliette murder story and it gets messy and unpredictable.
While I found some of the plot points unlikely, all in all this was an engaging mystery. The setting in Scotland was beautiful. The actors did an excellent job. William McGregor directed all four episodes.
Have you seen this series? What did you think?