Rita Moreno: Just a Girl Who Decided to Go for It puts the decades in perspective in the documentary story of Rita Moreno. From her humble beginnings in Puerto Rico to her legendary and iconic status now, her life unfolds with love and affection in this documentary.
Rita Moreno: Just a Girl Who Decided to Go for It is available on PBS. Mariem Pérez Riera directed the documentary. Lots of archival footage, interviews with people in her life, and interviews with Rita Moreno herself are used to tell the story.
In the early days of her career, Moreno struggled with prejudice and sexism in a Hollywood system that only allowed her stereotypical roles. That same system still operates today, with cracks appearing because of work from stars like Moreno, who has been an activist all her life.
It took a long time for her to work out her own worth and find a way to play roles that weren't demeaning. Along the way she went through a lot. In the film she talks about being raped by her agent. She describes her years-long relationship with Marlon Brando and the abortion she had.
Moreno has gone from her early days as 'the brown girl' in a skimpy costume to today when she stars in shows like One Day at a Time that are written by Latinas and star Latinas. The film shows her progress through her career with clips from the parts that were mere caricatures to roles that won her awards. She's one of only a few EGOT winners. She's won Emmy, Grammy, Oscar and Tony awards working on everything from West Side Story to Electric Company to Oz.
We learn about her marriage, her daughter, her grandchildren. We see her speaking at rallies and demonstrations for various civil rights causes. Many of her fellow actors talk about how much her representation on the screen meant to them – people like Lin-Manuel Miranda, Gina Rodriguez, Eva Longoria, Justina Machado, Gloria Estefan, and many others who were inspired by the mere sight of her.
The best thing about this documentary is the participation of Moreno herself. We see her – the real her – free of makeup, cursing, admitting her flaws and weaknesses, and being the charming and beautiful human being that she is. She is 89 years old, but still loves to make an entrance and attract attention. She's a star.
I was fascinated and heartened by Rita Moreno's story. Whether you've been a fan of hers or not, it's worth watching.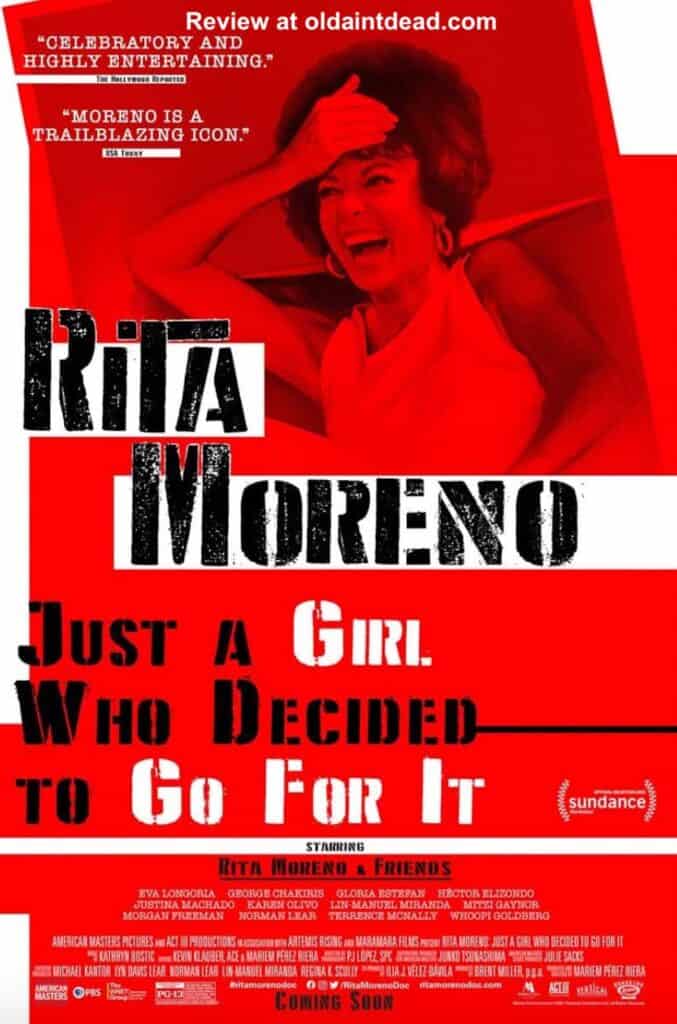 Take a look at the trailer.