The delightful film The Sapphires is based on a real group of Aboriginal women from Australia who performed soul music in Viet Nam in 1968 for the troops there.
The Sapphires begins at the compound where most of the extended family of this group of women live. There the film shows us how music is woven into their daily lives in a profound way.
The girls find a "manager" who teaches them to perform like American soul singers. They are really good at it, too.
The manager takes them to Viet Nam where the women are hugely successful and popular. They perform all over the country for soldiers, sometimes putting themselves in danger and always having adventures.
The film ends by going full circle with the group back home in Australia.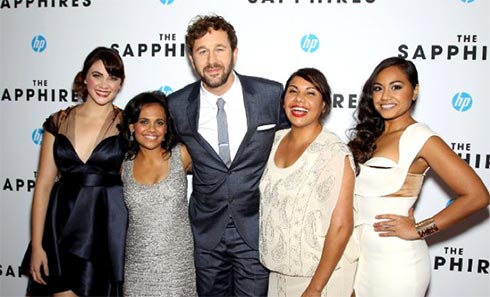 Chris O'Dowd is the familiar face who is the manager leading us into the musical world of the very talented women the story is really about. Playing the singers are Deborah Mailman, Jessica Mauboy, Miranda Tapsell, and Shari Sebbens. Each of these actresses is a wonderful singer, and the music is fabulous. Deborah Mailman is an AFI Award winner. Jessica Mauboy is an Australian pop singer.
Themes in the film deal with the treatment of Aboriginal people in Australia, with family, with love, and with identity. I found the film inspiring and the characters delightful.
I recommend the film and think you'll enjoy it.
The 2012 release is now out on DVD and available on streaming services like Netflix, iTunes, and Amazon Prime. The soundtrack is available on iTunes.
Update Feb. 3, 2016: The Sapphires sashay their way to television as an animated series