The Children Act tackles topics like religion vs. the state, freedom of choice, and holding on. It's serious stuff. The brilliant Emma Thompson makes it worth watching as she plays a judge in the midst of two crises.
Emma Thompson plays Justice Fiona Maye. She's a judge deciding cases involving children. The law governing her judgements is called The Children Act.
Fiona works all the time. She mostly tunes out her husband Jack (Stanley Tucci) in favor of studying the briefs on the next day's docket. When Jack informs her that they haven't had sex in 11 months and he plans to have an affair she's shocked and angry. She doesn't show her anger. She's too self-controlled for that. But she throws Jack out and changes the locks.
While this is going on at home, she gets a case of a 17 year old Jehovah's Witness, Adam Henry (Fionn Whitehead), whose parents are refusing a life-saving blood transfusion for him.
No one but Fiona's clerk Nigel (Jason Watkins) realizes how upset she is by what's happened at home. While she's in this unsettled state, she makes an error in judgement that leads to a devastating conclusion.
The law is very clear – the child should receive the life-saving treatment. Fiona shocks everyone in the court and everyone in the hospital by going to Adam's bedside to talk with him about his refusal of the transfusion on religious grounds.
While she's talking with Adam, he plays her a tune on his guitar and she sings the words. It's an electrifying moment making the social workers and nurses stare in amazement. The effect on Adam is what matters. He believes that Fiona cares deeply about him and wants him to live.
Fiona rules that he will get the transfusion. She could have made the ruling based on the law alone, as she should have done.
When Adam recovers and leaves the hospital he stalks Fiona.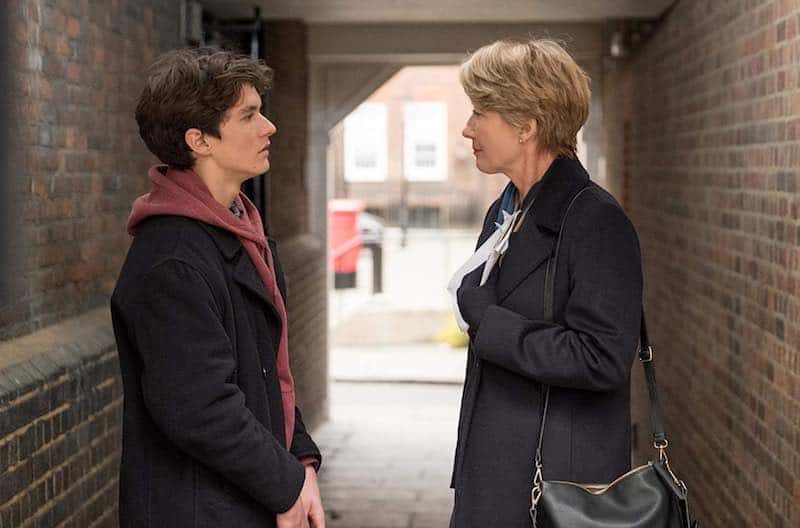 Adam calls Fiona. He follows her to and from the court. He follows her out of London. He gives her a packet of poems and other material he's written. He tells her he wants to move in with her and live with her. He kisses her – on the lips.
Fiona rejects him each time. With each phone call, each encounter, she tells him to stop. She reads very little of what he gave her. She pushes him away, gently but firmly.
The tragic ending is inevitable.
This is not a fun movie. Fiona is not a likeable character. Emma Thompson is such a gifted actress that we come to appreciate her anyway. Her judicial demeanor cracks enough for the emotion to show through in Emma Thompson's skillful hands. This film is about serious, adult issues and not for someone wanting an escape flick.
Ian McEwan wrote the screenplay for The Children Act, based on his own book by the same name. McEwan also wrote Atonement, On Chesil Beach, Nutshell and numerous other books. Moral ambiguity is a specialty of his. The Children Act is an outstanding example of his work.