The Girl in the Book stars Emily VanCamp and Ana Mulvoy-Ten, who share the role of Alice. Alice was abused and misused as a 14 year-old by an author who became famous using Alice's life and stolen words to write a best seller. Now Alice has turned 29. Her life is a mess. There are spoilers.
The thieving novelist Milan Daneker is played by Michael Nyqvist. He comes into adult Alice's (VanCamp) life again because she works in publishing. Milan brings a new novel into her publishing house and expects Alice to welcome him back with open arms.
Alice is supposed to be an editor but her boss uses her for trivial chores. When Alice does find a great novel she wants to edit, her boss steals it out from under her, in just the same way that Milan stole from her years ago.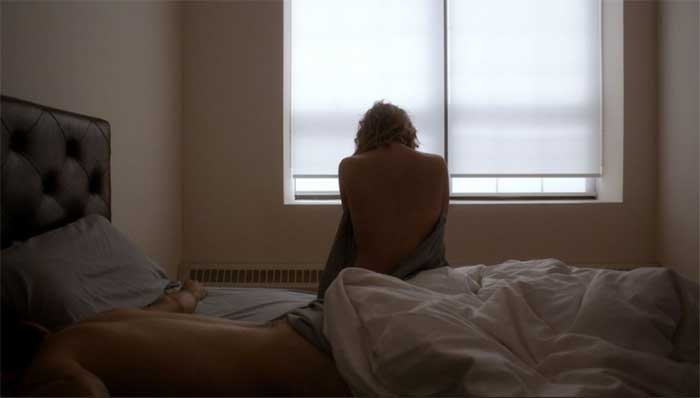 We jump back and forth in the story between the present and the past. In the present, Alice has perfected the art of picking up men for meaningless one night stands. She wants to write but she's blocked and has been for years.
This was one of those women's films I'm always looking for.In the past we see Alice (Mulvoy-Ten) being seduced and exploited by Milan. Alice's father Ben (Michael Cristofer) is a famous agent who finds best selling authors. Alice's mother (Talia Balsam) doesn't believe Alice when she tells her what Milan has done to her. Neither does her father.
A parade of women pass through Alice's life each time she sees her father. When they meet for dinner he orders for her, never what she herself would order. Everything about her father is entitled and overbearing.
Alice has a wonderful best friend, Sadie (Ali Ahn). Sadie insists on throwing a party for Alice on her 29th birthday. Alice spends some of the party hiding out in the Sadie's bathroom, where she meets Emmett (David Call).
Alice and Emmett connect. They become a couple, forging the kind of relationship that Alice has never experienced before. When Alice damages these two key relationships in the most horrifying way, both Sadie and Emmett reject her.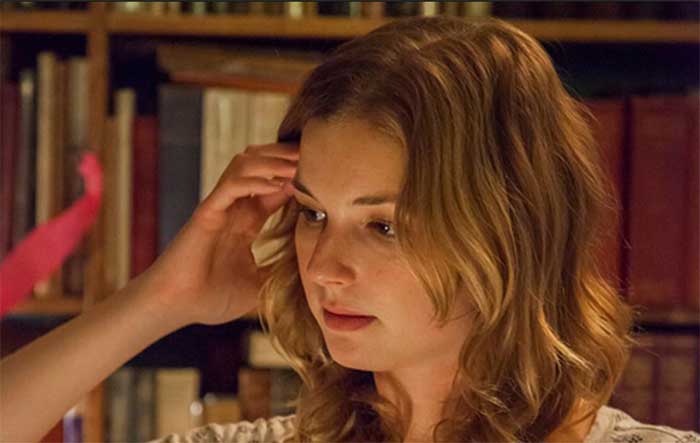 With Milan in her face at work, with her best friend and the first man she's genuinely cared about lost to her, Alice regresses to something completely adolescent. Alice regresses to something completely adolescent.She creates a cutesy blog with girly decorations and curly fantasy fonts. She titles it "100 Reasons for You to Forgive Me." This too cutesy blog takes her back to that teenaged time before she was blocked as a writer. Her fingers fly over the keyboard.
Time alone, time spent actually writing, time spent walking and thinking on the streets of Manhattan help Alice finally work her way out of her past and into a more healthy present. We see her wrest control of her choices away from her father. We see Emmett decide to give her a second chance – the blog worked. We see her writing again, not just on the blog. We see her refuse to have anything more to do with Milan.
With the past she's survived, I don't envision a perfect happily ever after for Alice, but at least she's in position to start moving on. She's healing.
I had one nitpick. With only 15 years between teenage Alice and adult Alice, I had trouble accepting that Ana Mulvoy-Ten aged to look like Emily VanCamp. How much time can a low-budget indie spend looking for an actress who could grow into Emily VanCamp's face in 15 years time? They came close, but it bothered me throughout the film.
The autobiographical story was written by Marya Cohn, who makes her directorial debut with The Girl in the Book. With female producers, editors and others behind the scenes, this was one of those women's films I'm always looking for.
I give The Girl in the Book very high marks. I found it completely female in point of view. The actors were excellent. Maybe I was so buoyed up by the happy ending that I failed to find fault with the film, but I really liked it.
Have you seen it? What did you think of it?