The Old Guard is an action-packed fantasy about immortal heroes starring Charlize Theron. It . . . wait. Stop. You had me at Charlize Theron. Oh, okay . . . might as well tell you more.
The Old Guard begins with four immortals: Andy (Charlize Theron) is the boss and the oldest. With her are smart guy Booker (Matthias Schoenaerts), and the pair who have been a couple since the Crusades, Joe (Marwan Kenzari) and Nicky (Luca Marinelli).
They get asked by Copley (Chiwetel Ejiofor) to do a mission to rescue kidnapped girls in Sudan. It's a trap. They learn there's a rich CEO of the pharma company Merrick (Harry Melling). He wants the DNA of the immortals. He'd be insanely rich if he had it, plus he could live forever.
It's been 200 years since a new immortal appeared. Just as the team is escaping from the trap laid by Copley, they all simultaneously dream of a new immortal: Nile Freeman (KiKi Layne). Nile is a Marine. Well, not any longer. When she recovers almost immediately from having her throat slit, the Marines plan to lock her up. Andy grabs her first.
Nile dreamed of them, too. That's how they find each other.
The remainder of the action deals with the team going after Merrick. The action sequences are expertly done and offer plenty of thrills and danger. The fight scenes are like dances. My favorite is the wily and unbeatable Andy being tested by the new kid Niles in the back of an airplane.
The Old Guard isn't just action. This is what I'd call a thoughtful action film. Or perhaps a serious drama with some fantasy attached. Because they have this new girl to initiate into immortality, there's conversation about what it means to live forever, about what happens to the people you love and the world around you. There's a story about an immortal Andy feels responsible for losing. Joe and Nicky get to educate a homophobic idiot about love. The pain of being alone in the world is discussed in several ways.
Nile learns that immortals do die. They never know when their bodies will stop spontaneously healing. They don't know why they are the way they are.
The old guard have spent the centuries fighting for what they think is right: the underdogs, the helpless, the mistreated. And they fight to stay hidden, to not be poked and prodded like lab rats by profiteers in search of their secrets. It can get tiring after a while, maybe too tiring for some.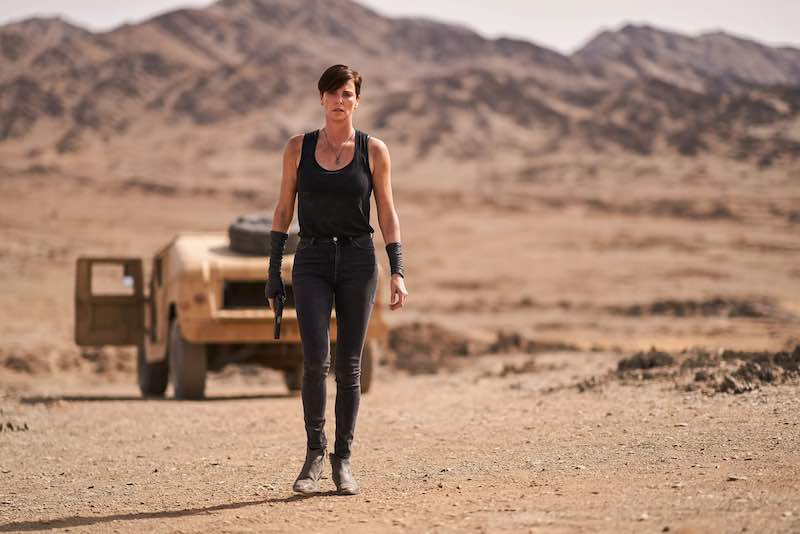 Charlize Theron is simply a stunning woman. She's beautiful and very sexy in a tee shirt and jeans. But it's not her looks. After all, Hollywood is full of beautiful women. Young KiKi Layne beside her is beautiful. Theron projects swagger and power and danger. She radiates knowingness and confidence and physical prowess. Everything about her is intense. She's outstanding at the action heroine business.
Theron keeps making action movies with long fight scenes in which the woman (her) wins. If there's any justice in the world, the part she played in Mad Max: Fury Road will be hers again in the prequel. And there's a sequel coming to her brilliant Atomic Blonde. Theron has proved herself an action star in so many ways. Let's just acknowledge it.
The ending of The Old Guard offers a pathway to a sequel. I loved the twists at the end. They made me smile. I'd like some more, please. I've already watched this film several times, I'm ready for the next steps.
Gina Prince-Bythewood directed this film with both quiet grace and compelling power. It shows in the results. Deadline has a long Q & A with Prince-Bythewood. She talks about being the first Black director of an action pic with a Black female lead, and more.
Greg Rucka wrote the graphic novel and the screenplay. We also have Greg Rucka to thank for Stumptown.
I think this poster would look stunning on Pinterest, don't you?
Watch the trailer one more time.
Have you seen this film yet? What did you think of it?