The Woman King from director Gina Prince-Bythewood tells a semi-true story of heroic warriors, enlightened leadership, and sisterhood. In the Kingdom of Dahomey, in the year 1823, the women warriors called Agojie fought against invaders and won.
The Woman King stars Viola Davis as Nanisca, a general in the Agojie army. The Agojie warrior women served King Ghezo (John Boyega). He was open minded and willing to listen to his advisors. The movie's title comes from the fact that Ghezo believed in the idea of two kings, a man and a woman, who are equals.
King Ghezo was involved in the slave trade, like other nearby Africans. Under the advice of General Nanisca, he hoped to get out of that business. But in the meantime Africans were raiding each others villages and taking prisoners to sell to the slavers.
The Oyo people were coming to conquer Dahomey and sell the Agojie women as slaves for a huge profit.
We go inside the palace of women where the Agojie trained with young Nawi (Thuso Mbedu). Her father gives her to the king because she rebels against marrying any of the men he matches her with. Nawi's introduction to life with the Agojie is funny and fraught. She becomes a valued warrior and discovers a bond with Nanisca.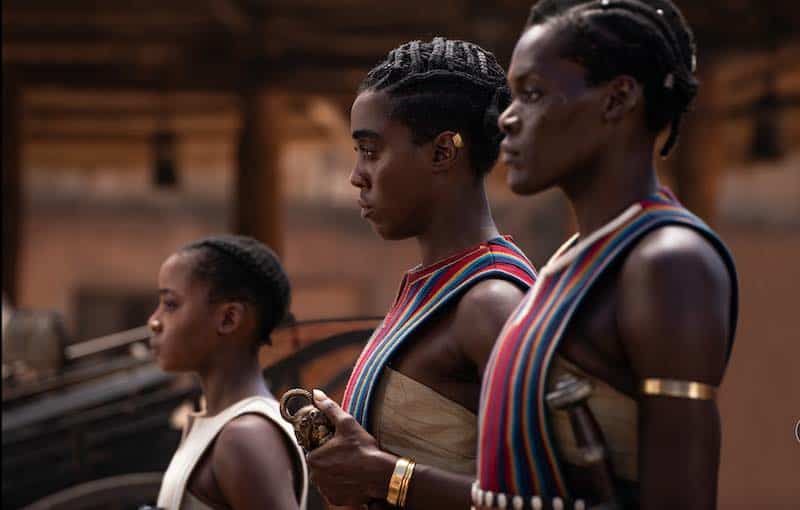 General Nanisca has two chief warriors and trainers. Izogie (Lashana Lynch) is funny and charming, a good mentor, and ferocious in battle. Amenza (Sheila Atim) has a long history with Nanisca and knows all her secrets. While most of the women fight with swords, Amenza fights with a long and deadly spear that she wields expertly.
Everyone from Viola Davis on down spent months lifting weights and training for the many fight scenes. They are all ripped and in top athletic shape. The fighting is mostly hand to hand combat. The action scenes are outstanding.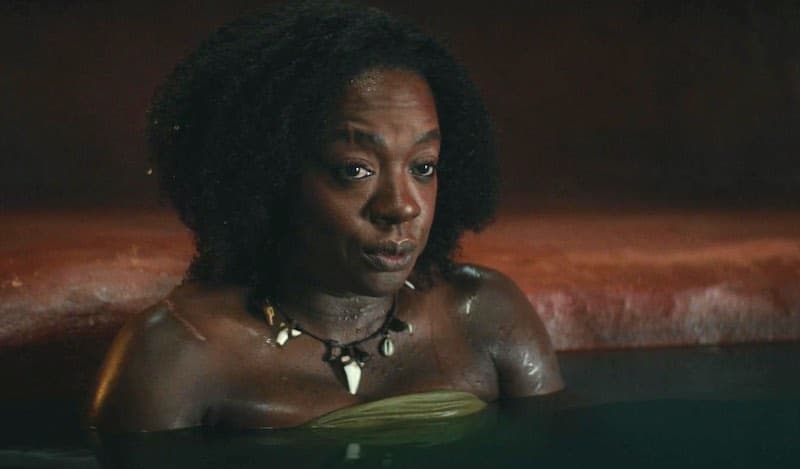 Between action scenes there are quieter moments where sisterhood is forged, discussions about freedom and the ownership of human beings are held, and we get to know the individual characters and their backstories.
The Woman King screenplay was written by Dana Stevens from a story by Maria Bello and Dana Stevens. According to some reports I read, actress Maria Bello spent years trying to get this story told. For all the cultural Africanness of the film, it's also a powerful story of how determined women can rise up and defeat the men who would destroy them out of greed and misogyny. A story for our times, indeed.
I liked that all the principle players in front of the camera were dark skinned. Behind the camera were also many people of color and many women. I haven't seen anything directed by Gina Prince-Bythewood that wasn't inspiring, but this is one of the best films she's made. Shoot, it's one of the best films of 2022, full stop. (I may have said the same thing about Gina Prince-Bythewood in 2020 about The Old Guard. Heh.)
The film was in theaters with good box office returns for several weeks. Yay. Now it's available on Prime Video for a reasonable rental fee.