Transparent season 3 dives deeper in the the hearts of the Pfefferman clan than we have gone before with this series. After much thrashing about, some of these unhappy and broken people are starting to get a grip. Just barely. There are some season 3 spoilers ahead.
When one person transitions, the whole family transitions. Transparent deals with that reality in every season. In season 3, each character gets even more individual exploration.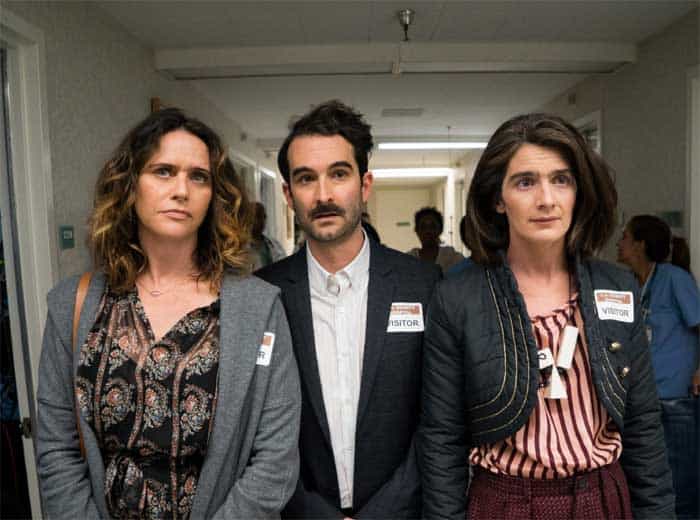 The Pfefferman family includes Maura (Jeffrey Tambor) who asks this season to be called Mom and not Moppa. Shelly (Judith Light) is the mother – she's always been Mom before, but she's not sure what she is now. Except disrespected. She's sure about that.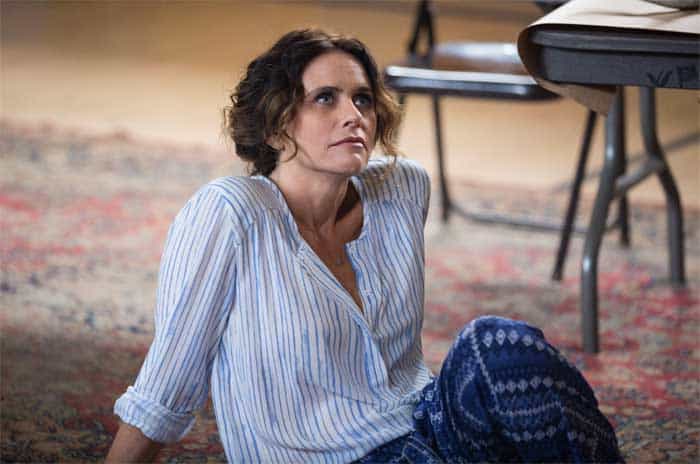 Sarah (Amy Landecker) is back living with her ex-husband Ron (Rob Huebel) and their kids. It's more of a roommate situation than a couple situation. Sarah is still getting regular spankings from the dominatrix Pony (Jiz Lee) and Ron has a girlfriend.
Josh (Jay Duplass) starts his journey this season dealing with the suicide of Rita (Brett Paesel) his childhood babysitter/rapist. The very day he tells her he forgives her, she leaps to her death. Add his feelings of guilt and duty to his relationship with their son Colton (Alex MacNicoll) to the mix.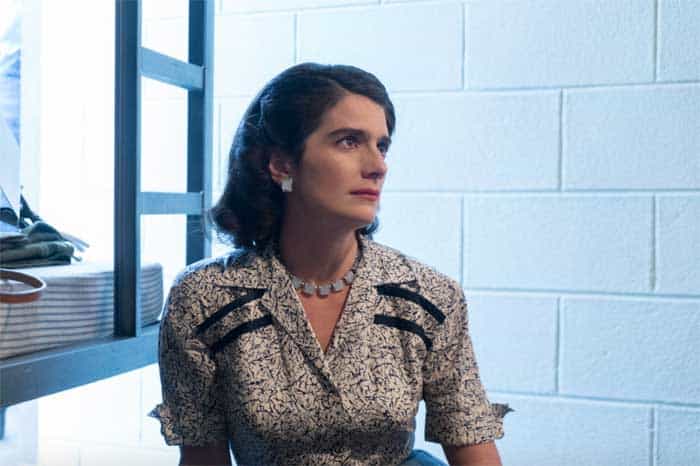 Ali (Gaby Hoffmann) is living with poet Leslie (Cherry Jones) and seeking wisdom in the dentist's office breathing revelatory doses of nitrous oxide.
This season Gaby Hoffmann also played the mother of young Morty/Maura. Morty hid in the family's bomb shelter, dressed in girl's clothes to sing and dance as a girl. His mother encouraged him to be himself, but the rest of the family were hysterically upset about young Morty because of what happened to his transgender aunt in Berlin before WWII. Much of Maura's guilt and shame came from these conflicts during her early life.
I am more and more impressed with Gaby Hoffmann as this series develops. She's played many parts before this one, but I'd never really paid any attention to her. She's a remarkable talent and that's saying a lot in a cast full of so many talented people.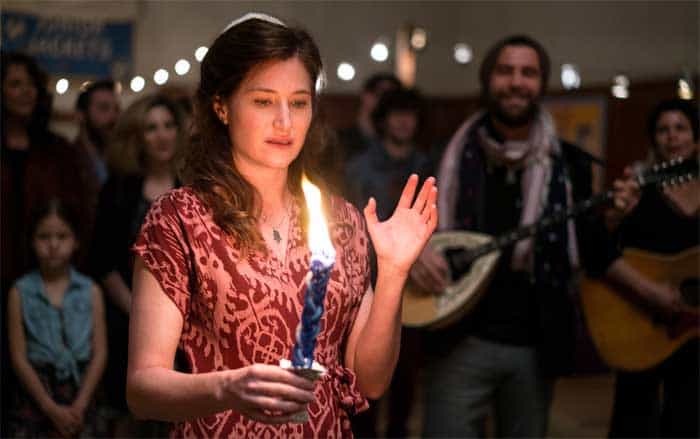 Kathryn Hahn as Rabbi Raquel isn't a member of the family, but we see deeper into her character in season 3. Josh and Raquel broke up last season, but she still has an important role in their lives.
One of the ways the Pfeffermans deal is by deepening their Jewish roots. There are more ceremonial events, more rituals, more prayers, more attempts to find each other and a center around their Jewishness. Raquel goes through some of this, too. One of Kathryn Hahn's best scenes is her alone, taking a ritual bath.
Josh, who wants to connect with son Colton, goes to visit him. He attends church and hears Colton give a sermon. He agrees to be saved by Jesus Christ during the service. Later in an argument with Ali about it, Josh says he's not a Christian, he's just trying to be there for his son.
Maura
At the beginning of season 3, Maura is consumed with her looks. She's talking to a plastic surgeon about making her face beautiful. She wants full top and bottom surgery. She has everything she wants but she still isn't happy. She thinks being beautiful is the answer.
Vicki (Anjelica Huston) breaks up with Maura when she learns that Maura wants the penis to go. I was sorry to see Anjelica Huston's arc in this story end – a fabulous actress.
Maura learns that she has a heart condition that will prevent the doctors from performing the surgery she wants. It even means she needs to stop taking hormones. She's very upset about this.
One night after the breakup with Vicki, Maura goes out dancing with her pal Davina (Alexandra Billings). Maura has sex with a man (John Getz) in the bathroom of the club. I'm thinking this is her first time with a man.
I don't know if it was trying out sex with a man, the doctor's news, or simply working her way through the stages of grieving to finally get to acceptance, but Maura has a breakthrough.
The Pfeffermans go on a cruise together in the final episode. Maura takes her Spanx, her fake tush, and her other beauty add-ons and prepares to throw them into the ocean. Ali finds her and they have a ceremonial prayer of freedom and discard the Spanx. (In the trash. No polluting the ocean.)
There are a great many quotable lines in season 3 of Transparent, but one of the best was during this scene with the Spanx.
Maura tells Ali she can't have the surgery. Ali says something like what are you going to do if you can't make the changes? Maura shrugs and says, "I've already transitioned. I'm trans. This is me."
There are so many issues of sexuality and gender, of self-discovery, of being who you are in this series. The line, "This is me," resonated with me. It sums up so much about Transparent and about Maura's acceptance of herself as she is.
Shelly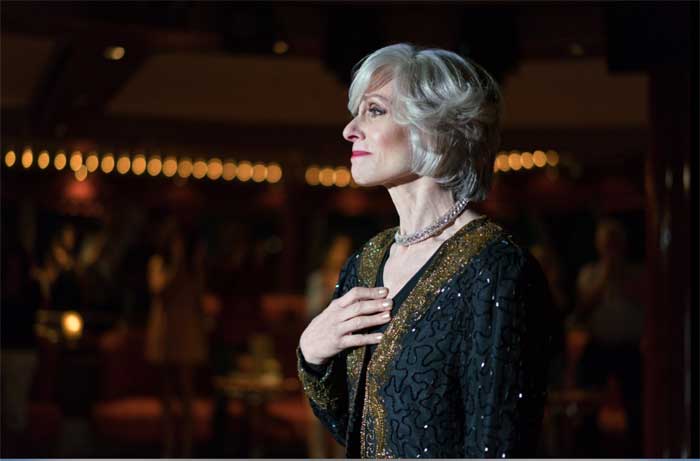 Judith Light as Shelly toys throughout season 3 with the idea of a one-woman show. She is encouraged in this by Buzz (Richard Masur) her live-in, freeloading boyfriend. She eventually kicks him out, but keeps the idea of a one-woman show.
In a flashback, we learn that she was abused as a child by her choir teacher. She's never had the performing career she wanted to have, because the abuse stopped her in her tracks.
On the cruise, Trevor (Tom Lenk), "the gay who comes with her suite," tells her he can arrange for her to do a show in the ship's lounge. She jumps at the chance. She takes the stage, talks about how she never grew up and how she likes men with dark secrets. Then she sings a marvelous rendition of Alanis Morissette's "Hand in My Pocket." The lyrics are perfect and Shelly gives them so much triumphant meaning. We see in Sarah, Ali and Maura's eyes as they watch that they understand exactly what she's saying. And we see respect. It's a perfect moment to end season 3.
I wish I could find video of Judith Light's transcendent performance of this song. Somebody please get it up on YouTube. (Legally, of course.)
Coming out of your shell
When the Pfefferman kids were small, they got a pet turtle. They named it Shelly. After a few days it disappeared. It lived for 13 years inside the walls of the house. A photo of the turtle introduces every episode. It symbolizes the overarching theme of coming out, laying bare all your secrets and lies to live without that hard shell of protection. Shelly, the person – not the turtle – uses this theme in her one-woman show, To Shell and Back.
Transgender in front of and behind the camera
More transgender actors got in front of the camera in season 3 of Transparent. And more found their way into jobs behind the camera as writers, directors, and producers. The series does its best to both walk the walk and talk the talk, in spite of the controversy over a cisgendered male playing the part of Maura.
The season as a whole
When season 3 began with Maura obsessing over her appearance I thought we were in for more of the self-absorbed Pfefferman dysfunction that never seemed to lead anywhere. But as the season wore on, I was more and more impressed with character development and growth. By the end of season 3, I was ready to say that this was a strong season in which many important developments happened.
The scene when Rita is heading to her destination to kill herself is chilling and fraught. The framing, the music – terrifying.
I mentioned the ritual in the Jewish woman's bath already. That was brilliantly done.
Josh has moments this season of struggling to do the right thing, be a mensch. He's not good at it yet, but he's finally lifting up his head.
Sarah wants to do something right, something public, something through the synagogue. Her attempts are mostly inappropriate. When her kids lose track of the rediscovered turtle Shelly, she goes into a crazed rage – another brilliant scene.
Ali seems to have herself together. She's working. She's in a relationship. But she's not happy with the relationship and doesn't want to face up to that fact.
The flashbacks to young Maura and young Shelly used well chosen young actors and filled so much of the missing story. We see how Shelly and Maura met and started seeing each other. Molly Bernard as Younger Shelly did an impressive job capturing Judith Light's expression of Shelly.
I began season 3 thinking it was weak and disappointing. I ended season 3 thinking it was powerful and touching.