Unpregnant puts two teenage old friends on a comedic road trip because one of them needs to be unpregnant. It's an adventure about making your own decisions, being true to your friends, and facing up to who you are. It's an HBO Max original. Beware the spoilers.
Unpregnant stars Haley Lu Richardson as Veronica and Barbie Ferreira as Bailey. These two used to be best friends, but now they hardly speak. Veronica hangs around with the cool girls. She dates Kevin (Alex MacNicoll). Bailey hangs out alone and has a reputation for being a little odd.
Veronica thinks she's being responsible about sex, and she is. But Kevin neglects to tell her one night when a condom breaks. If he had, a fix would have been simple. Weeks later she's taking a pregnancy test in the school bathroom when Bailey walks in and sees the results.
Veronica is 17. She lives in Missouri. She can't get an abortion without parental consent. Her family is Catholic. Nope, not telling mom (Mary McCormack) about her problem. When she tells Kevin her problem he has a ring in his pocket – BAM – and wants to marry her. He thinks she'll stay there with him and not go off to college as planned.
Veronica calls around and learns that the nearest place where a 17 year old can get a legal abortion without parental consent is Albuquerque. She maps the route, plans out the stops, counts her money. Then she asks Bailey to drive her.
In spite of the cracks in their previous relationship, Bailey says yes.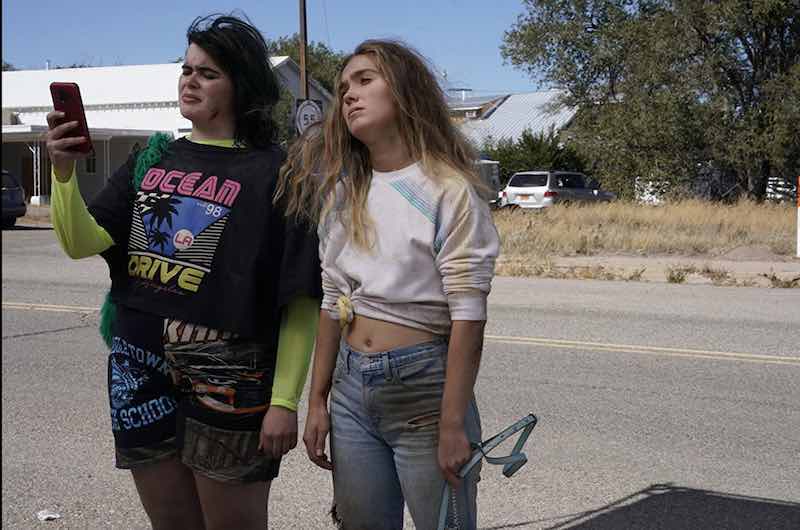 The remainder of the film is mostly road trip. There's some wrap up at the end, of course, but these two girls on the road make up the majority of the film.
Naturally nothing goes as Veronica mapped out, planned meticulously, and prepared for.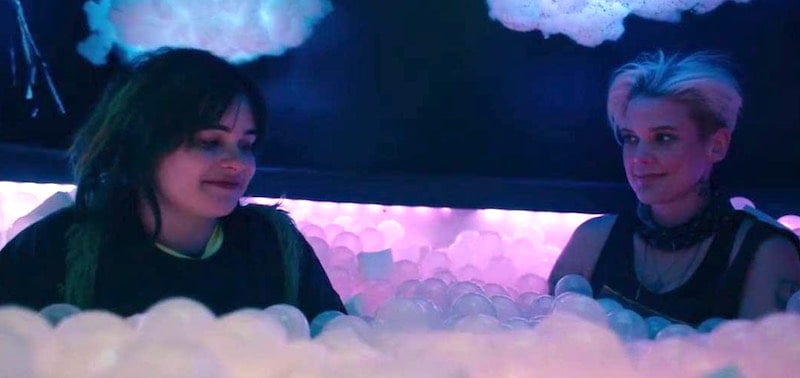 Bailey finally informed Veronica that she liked girls. Not a problem. Bailey got her first kiss from the awesome Kira (Betty Who) while they were halted at a county fair. That was pretty much the only happy part of the road trip – it sure beats getting kidnapped by religious fanatics.
They ran into numerous people along the way as they struggled with various problems. Most entertaining among them were Jeryl Prescott as a pawn shop owner and Giancarlo Esposito as the owner of a limo rental outfit.
I hate to spoil this for you, but Veronica does make it to Albuquerque and does get the abortion. The reason that's important is the way the film takes you through the process. It walks you through Veronica's visit to the clinic, the way she's treated by the staff, and the options she has. It takes the fear away from the process and leaves Veronica feeling good – better, in fact.
Haley Lu Richardson and Barbie Ferreira are terrific in this. They rekindle their old friendship and the chemistry zings. They come to understand each other in more adult ways – they aren't little kids anymore.
The film was directed by Rachel Lee Goldenberg. Although the film had a message about how difficult it is to get a legal abortion in this country, there was more to it. I thought it was well done and worth seeing.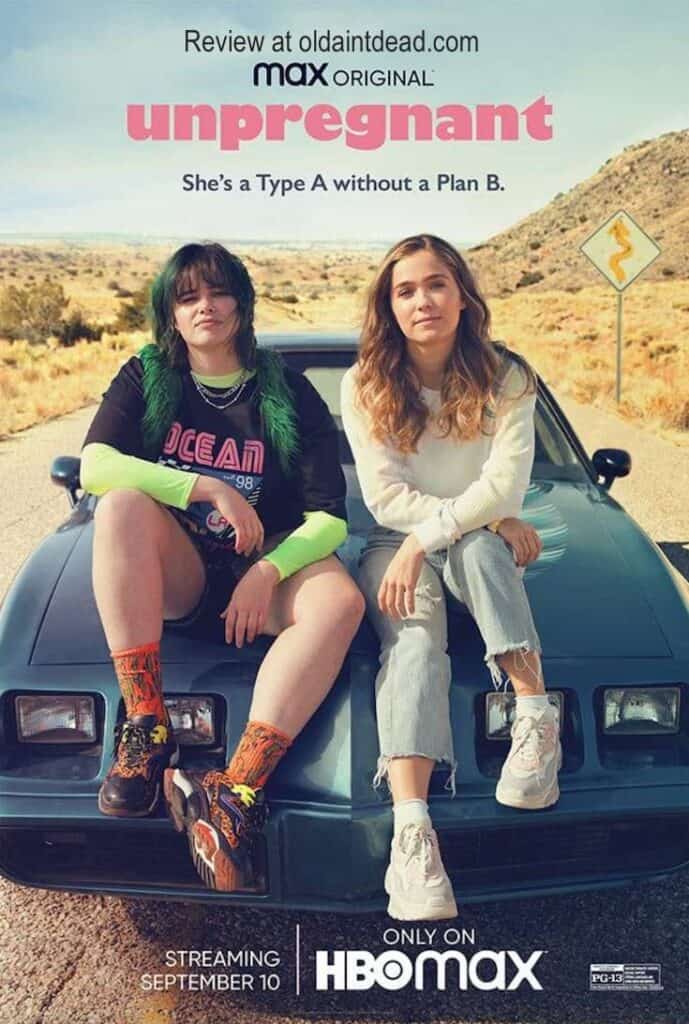 Here's a peek.
Have you seen this one? What did you think of it? Don't bother leaving a long religious right-to-life screed because I won't publish it.