Whiskey Tango Foxtrot is a 2016 Tina Fey starrer about a journalist in Afghanistan. It is based on a book by Kim Barker, "The Taliban Shuffle: Strange Days in Afghanistan and Pakistan." The premise should guarantee an interesting journey into an unknown land. In some ways it fulfills that promise, it some ways it does not.
Tina Fey has adequate chops as a dramatic actress, but apparently the producers (Tina Fey among them) decided it would be best to make at least some of this film comedic. When you're in a place you don't understand with bombs and IEDs at every turn, the humor should be dark to help you survive. The choice here was to use silly humor.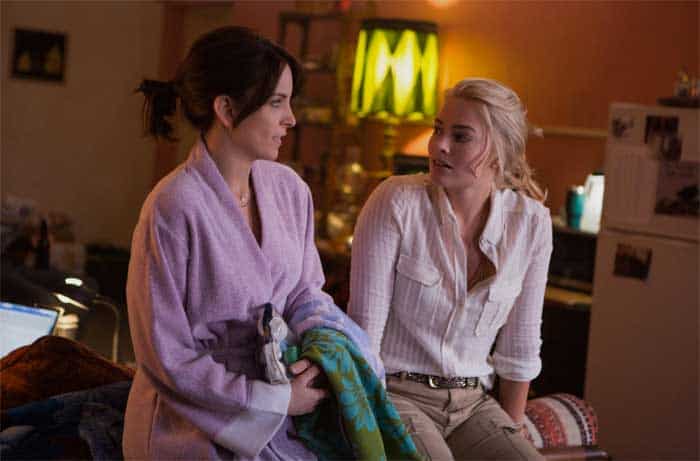 For example, when Kim Baker arrives in Afghanistan the only other female journalist there is Tanya Vanderpoel (Margot Robbie). She immediately rates Kim's looks on a scale of 1–10, accompanied by advice about who to have sex with and who to avoid from the multitude of men around them.
On the other hand, I found the serious parts of the film compelling. Filmed in New Mexico, the outside scenes looked believable barren and mountainous like Afghanistan. The action scenes, explosions, and fire fights Kim witnessed looked as convincing as any similar film.
Kim went to Afghanistan for 3 months on a lark. She ended up staying years. Her security guard Fahim Ahmadzai (Christopher Abbott) told her she was addicted to the danger, the rush. She didn't want to believe it, but she was hooked on the thrill. Even when her bosses back in New York were no longer interested in covering events in the war, she was still chasing stories.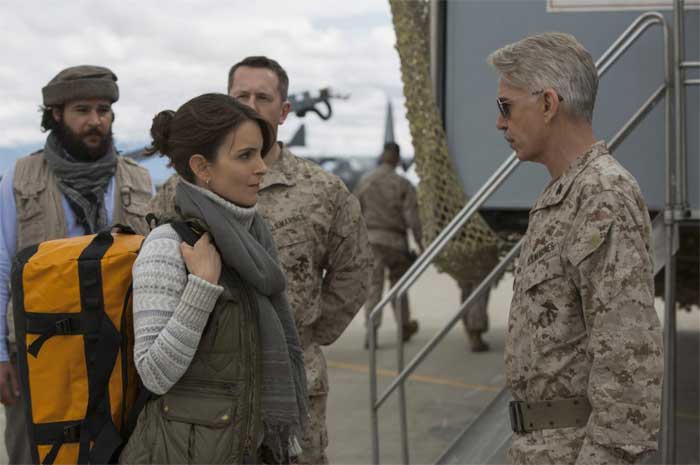 Kim befriended an American general played by Billy Bob Thornton. She also attracted the attention of a lecherous local official, Ali Massoud Sadiq, played by Alfred Molina. She managed to get these two men to help her find stories and information, but not without effort.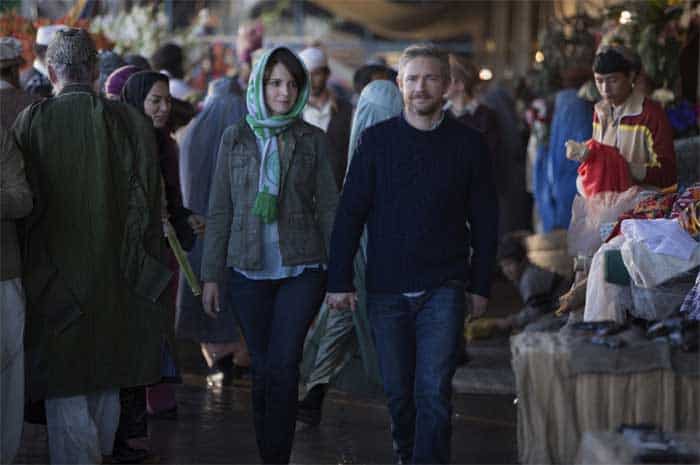 Iain MacKelpie (Martin Freeman), a photographer Tanya had warned her against, became her lover. When he was kidnapped she manipulated both Ali Massoud Sadiq and General Hollanek in order to get him rescued.
When Kim decided it was time to go back to the US and get out of the "Kabubble" she'd been living in for several years, she went to her new boss, Geri Taub (Cherry Jones), about a new job. She discovered that Tanya Vanderpoel betrayed her by going after the same job. When Kim confronted her about it, Tanya told her Specialist Coughlin  (Evan Jonigkeit), a soldier she interviewed on her first day in Afghanistan, lost both legs because of Kim's report on him. One of the more interesting parts of her return to normal American life was her visit to Specialist Coughlin in an effort to make amends.
Kim's visit to Specialist Coughlin was the closest thing Whiskey Tango Foxtrot came to a high level look at the experience of the years that Kim lived though. I wanted more of this from the film – epiphanies, lessons, morals – but didn't get it.
In spite of my complaints, I thought Whiskey Tango Foxtrot was a good film. I always enjoy Tina Fey. It was engaging throughout. Not perfect, but good enough to watch without feeling like you're only doing it because of the star.
Watch the trailer for Whiskey Tango Foxtrot.