Ten Days in the Valley is a 10 episode mystery. The first episode aired on ABC on Sunday. If every episode is as tense and dramatic as the first one, this series will be excellent.
Ten Days in the Valley stars Kyra Sedgwick as Jane Sadler, an overworked television producer and single mother in the middle of a separation. Her life turns upside down when her young daughter Lake (Abigail Pniowsky) goes missing in the middle of the night.
Jane writes a controversial police TV show. Where she gets her story ideas is not exactly kosher. On her show, everything is a mystery, everyone has a secret and no one can be trusted. Now her real life is mirroring her fictional creation.
On the night Lake was taken, Jane was writing in a shed outside the main house for almost 6 hours. She had a baby monitor with her, but when she finally went back in the house and discovered Lake was missing, the monitor was unplugged and thrown in the middle of the bedroom floor.
The first episode was intense, stress-filled, fast-paced and full of secrets and lies. Kyra Sedgwick was super as the barely coping TV creator in a high pressure job whose world falls apart in an instant.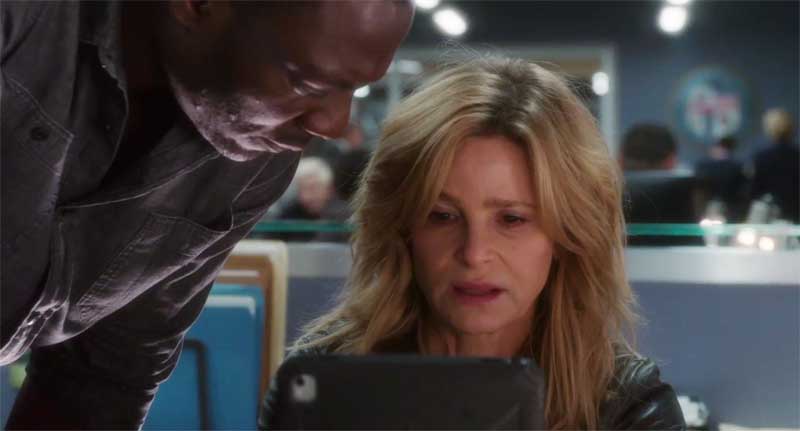 Starring in Ten Days in the Valley are Adewale Akinnuoye-Agbaje as the detective John Bird, Kick Gurry as Jane's ex-husband Pete Greene, Erika Christensen as Jane's sister Ali Petrovich, and Emily Kinney as Jane's assistant Casey. Also featured are Felix Solis, Josh Randall, Malcolm-Jamal Warner, and Francois Battiste. I spotted Ali Liebert in the first episode playing a cop, but she didn't have any lines – I hope her part expands in upcoming episodes.
Tassie Cameron created Ten Days in the Valley.
Did you watch the first episode? What did you think of this new series?