Episode 3 of The Fall is patient waiting for the police to gather up enough evidence against Paul Spector (Jamie Dornan) to make an arrest. The police slowly put together clues as the episode plays out. There's also stark terror at what Paul Spector may do next. For once, an episode isn't all terrifying: there's a delightful smile-inducing kissing scene.
There are many spoilers ahead.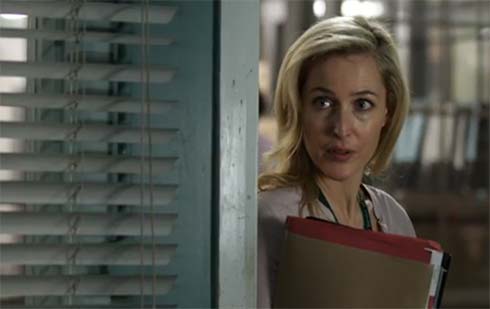 Stella Gibson (Gillian Anderson) is giving all the right orders to find cars Paul has stolen, evidence he's left behind, witnesses who know his whereabouts. She wants to know everything about Paul Spector's life, but doesn't want him arrested because he has Rose Stagg.
We don't know where Paul stashed Rose and whether he killed her or not. Based on Paul's long jog out of the woods at the beginning of the episode it doesn't look good for Rose.
It's slow going. At least it feels slow – this episode actually takes only one day, but the agony of suspense makes every moment feel like an eternity.
Paul edits some video in his hotel room. It's a woman pleading, but we don't know more than that.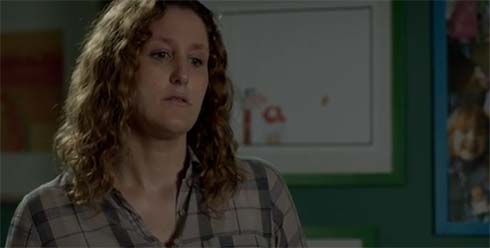 The police revisit his wife (Bronagh Waugh). She tells them the babysitter was at her house on the night one of the women was killed and she doesn't know where her husband was that night.
When the police question the babysitter, Katie (Aisling Franciosi) lies and gives Paul an alibi for the night. She tells them she was there with Paul for hours.
She wants to meet with Paul after she lies for him. This teenager really is a danger to herself. Paul tells her a long meandering lie about how he isn't the killer but he's pretending to be. He convinces her that he's merely playing a game with Stella Gibson, that English bitch of a cop.
Katie wants to help him play the game. She has to sneak into the Spector's house and photograph herself in his former bathroom mirror. She wears a tee shirt with his police rendered image on it.
Tanya Reed Smith (Archie Panjabi) calls Stella and asks to meet her that night in the bar of Stella's hotel. Tanya wants to apologize for pushing the issue of the fingernail scratches. She says she was being nosy, not clinical. Stella walks away to respond to a call about Katie, the moronic babysitter, breaking into a house. While she's gone, a lawyer who knows Prof. Reed Smith approaches the table with two margaritas. Because, as you know, a woman sitting alone in a bar could only be there because she wants a man to join her.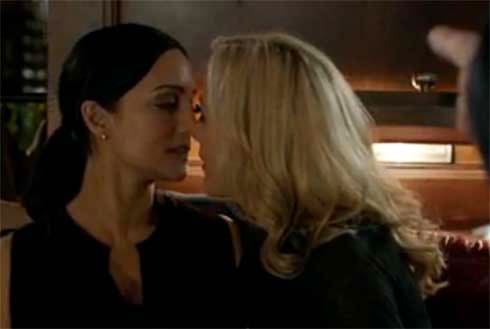 When Stella returns, she slides into the booth, gives Tanya a couple of kisses, and thanks Mr. Lawyer In A Suit for the drinks as if he were the waiter. When he leaves Stella laughs about getting rid of the guy. Tanya says, "He knows who I am. He probably knows who you are, too." Stella blows it off. Kissing women in public places is not a big deal for her.
Reed Smith liked the kissing. She likes it enough to start upstairs with Stella. She backs out at the elevator doors and can't go through with it. Tanya mumbles an excuse about her upbringing and walks away. She's probably the only person on the planet who would turn down sex with Gillian Anderson Stella Gibson.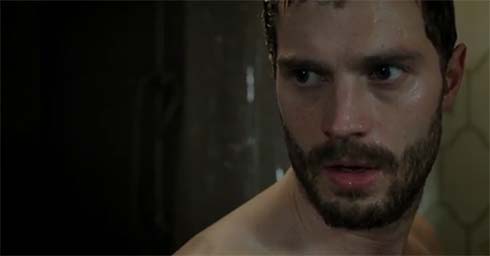 While Stella and Tanya kissed in the bar, Paul found a way to get into Stella's room. He read and photographed her dream journal, fingered her underwear, stroked her silk blouses. Stella comes in and he hides in the closet. He watches her walk around the room.
Burns (John Lynch) arrived – drunk. He talked about some stuff he did in season 1 related to a man named Monroe. His machinations may get him fired. Burns finally acts on his lust for Stella. She says no. He makes a lunge for her. She punches him in the nose.
Stella tends Burns' bloody nose in the bathroom. Burns tells Stella the investigators learned Paul Spector was once in a group home run by a pedophile. At some point while they are in the bathroom, Paul sneaks out.
Stella tells Burns that female is the basic human form and maleness is a kind of birth defect. LOL. Smiles are so few in this taut drama, they are very welcome when they come.
When she's finally alone again, Stella sits down to her computer and sees the weirdly sick wallpaper image Paul installed on it. She grabs her gun and searches the room, he's gone. Nevertheless, she knows he's been in her space.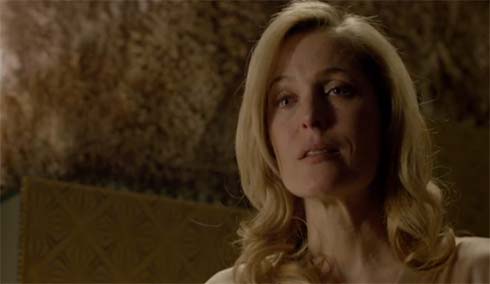 Finally she notices her dream journal. Paul wrote a note in saying how well he understood her now that he'd read her diary. So creepy.
Paul and Katie have late night Skype sex from their respective beds. So much for his aversion to harming children. He's ready to destroy misguided teenaged girls.
Everything about The Fall is masterful. Allan Cubitt's writing and directing deserves much of the credit, of course. Additionally, the acting is superb from everyone. Gillian Anderson's performance is sophisticated and quiet, yet manages to radiate power and depth. Jamie Dornan was born in Belfast, which explains his perfect Irish accent, but all the accents are spot on. Dornan has many scenes alone during which Paul plans or watches. He makes Paul Spector scary even when he's alone. And the music – the music lays like an undertone at the bottom of every scene, pulsing with suspense and dread. It all adds up to one of the best suspense dramas I've ever seen.