Episode 2 of season 3 of The Fall is "His Troubled Thoughts." This is the episode where we discover that Paul Spector (Jamie Dornan) thinks it's 2006 and that he was injured in a car accident. Is amnesia a defense? Beware the spoilers.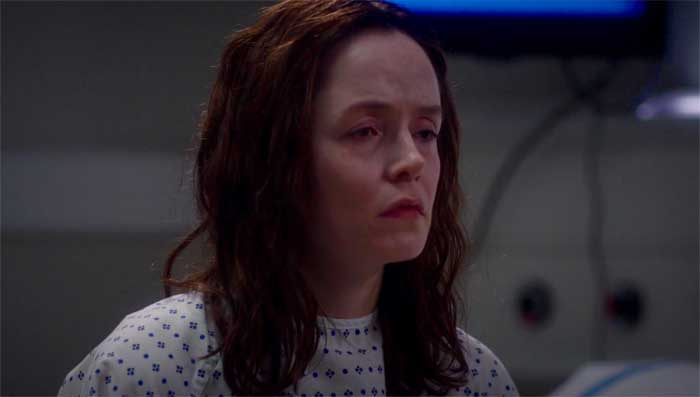 Much of the action remains in the hospital ICU in this episode. When Rose Stagg (Valene Kane) figures out that she's in practically the same room as Paul Spector she freaks and wants to go home. She is allowed to leave after being picked up by her husband (Jonjo O'Neill) and daughter (Sofia Smyth Fuentes).
Spector wakes up for what the staff think is the first time and reacts violently. He grabs his main nurse (Aisling Bea) painfully and is sedated again. Nurse Sheridan claims she's all right.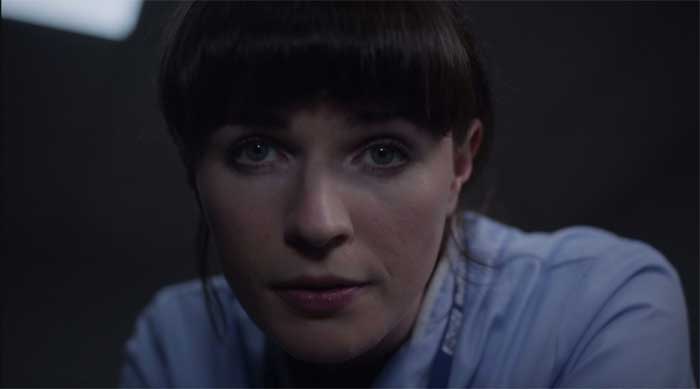 Nurse Sheridan, in fact, takes rather tender care of Spector. Weirdly. Doctors and lawyers who must deal with Spector and who fit the profile of dark-haired professional women in their 30s look troubled by knowing that they could easily have been his victim. They question whether they should even care for him or represent him. Nurse Sheridan doesn't seem to get that.
Speaking of lawyers, Sally Ann Spector (Bronagh Waugh), who is looking depressed and haunted these days, hires a law firm to represent Paul. They are big time defense lawyers and Stella Gibson (Gillian Anderson) knows they will cause her grief all along the way.
Stella and her unit are under scrutiny from the Police Ombudsman and the Policing Executive for their conduct and handling of the case. The suggestion is that serious mistakes were made, especially in the handling of the trip to the woods in search of Rose Stagg.
Stella is questioned by a woman named Kinkead (Genevieve O'Reilly), who's a bit of a mirror image of Gillian Anderson. Stella does not like justifying her decisions to anyone. It's a tense scene over a huge desk as these two face off to explore all Stella's possible bad decisions in the handling of the case.
Stella also gets the third degree from Jim Burns (John Lynch) about why she picked DS Anderson (Colin Morgan) for her unit, and why she arrived in the same car with him they morning they went looking for Rose Stagg. (In What is in me Dark Illumine.) Stella's choice of bed partners may come back to hurt her. Quick review: somewhere in the past she let Burns into her bed and he still pines for her, not always in a gentlemanly way.
The entire unit is moved into different office space. They not only have to build a solid evidence-based case against Paul Spector, they have to justify their actions to the higher ups while doing it, and while moving.
One big break comes their way. They find a storage unit belonging to Spector. In it is the stolen car with the faked license plates and photos and books from all Paul's murders. There are photos and books from murders he was never charged with. Bonanza!
Update on the teenaged Katie Benedetto (Aisling Franciosi): she finds out one of her friends talked to the press about the dangerous and scary Paul Spector that she met with Katie. Katie retaliates by spraying lemon juice in her eyes. Katie tries to get into the ICU, but the officer stationed there sees her coming. Katie turns and runs.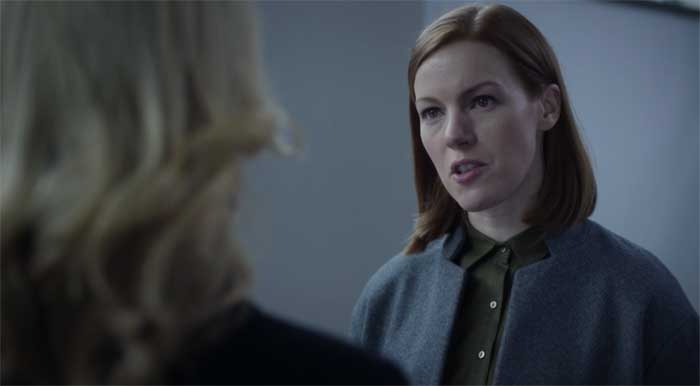 Remember PC Ferrington (Niamh McGrady), the young officer who shot a guy last season (in The Perilous Edge of Battle)? She gets put on a desk job, but Stella invites her to join the team working to amass evidence against Spector. Is this another act of kindness from Stella? Or is it foreshadowing another sexual misadventure on Stella's part? Quick review: we know Stella likes women because she invited Tanya Reed Smith into her bed (in Beauty Hath Strange Powers). McGrady admitted to Stella that she was a lesbian way back in season 1. It does make me wonder if Stella setting herself up for another within-the-department liaison.
Stella is awesome in her crusade to find the truth about the Belfast Strangler. But her sexual habits keep getting her in trouble. If she is less than perfect, this is her Achilles heel. Why would writer and director Allan Cubitt, who has created a brilliant character in Stella Gibson, make her worrisome flaw involve her sex life? It sets all my feminist nerves on edge.