The Horror of Dolores Roach stars Justina Machado as the demon masseuse of Washington Heights in a Sweeney Todd style story. It's set in an empanada shop rather than a barber shop. Justina Machado does a fantastic job making her character likeable, despite her one deadly habit.
The Horror of Dolores Roach is one of several cannibalism stories lately. (See my review of Fresh.) Is this some dystopian horror-now trend? What we have here is horror as black comedy. It works in mysterious, gruesome ways.
Dolores has been in prison for 16 years. She took the rap for her boyfriend Dominic – a man she desperately wants to find. She returns to her old neighborhood of Washington Heights to find it gentrified. One of the few recognizable places from before is the empanada shop.
Luis (Alejandro Hernandez) now runs the shop since his father's passing. Dolores goes inside asking about Dominic. Luis is happy to see her. He behaves in strange, red flag ways. When he offers to let Dolores stay in his basement apartment, she has little choice but to accept. She has no money, no place to go, and no Dominic.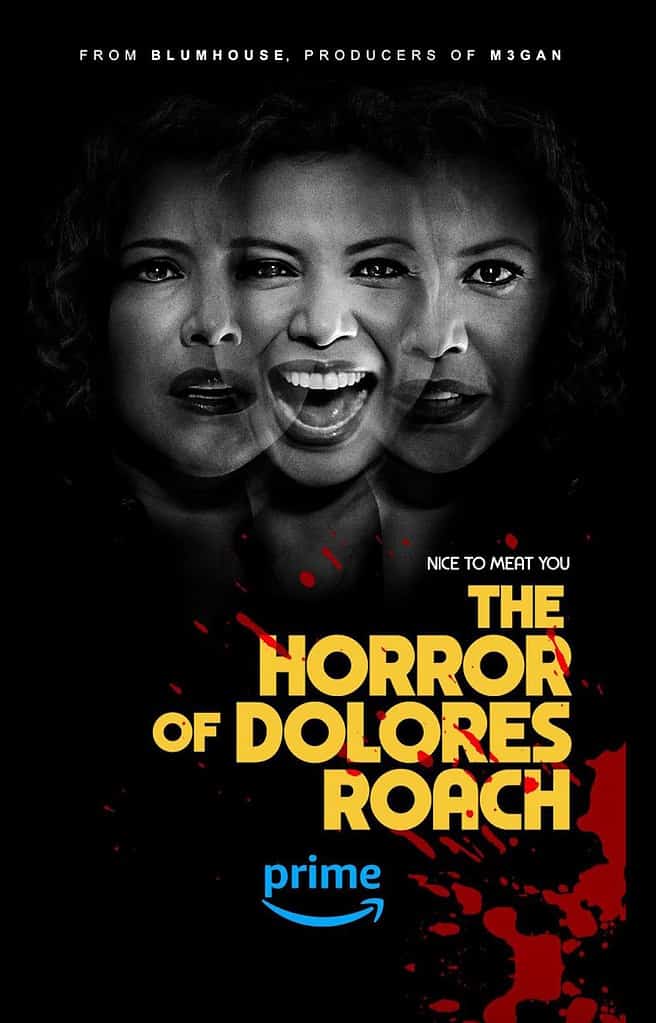 Dolores starts earning money in her basement bedroom as the "Magic Hands" masseuse. She learned how to give a massage in prison from her prison girlfriend Tabitha (Maureen Cassidy), a woman with no hands. Tabitha also taught her how to snap a neck just so – crack – you're dead.
Dolores didn't want to kill people. Circumstances kept forcing her hand. After the first one, Luis offered to help her. He helped her by serving up the body as empanada filling. Those empanadas were a big hit and revived the business in the shop.
Justina Machado and Alejandro Hernandez were both terrific in this. She was sympathetic when she wasn't in a deadly rage. He was full of crazy ideas that didn't get implemented very well. Sadly, he wasn't much of a lover.
They were surrounded by delightful secondary characters who added so much to the darkness and humor of this series. The entire tale was told as a flashback, with Dolores now a famous killer who had inspired podcasts and a Broadway show. The series begins with Dolores telling her life story to the actress playing her, Flora Frias (Jessica Pimentel). That carried through the episodes as voice over narration as Dolores' deadly habits were explained.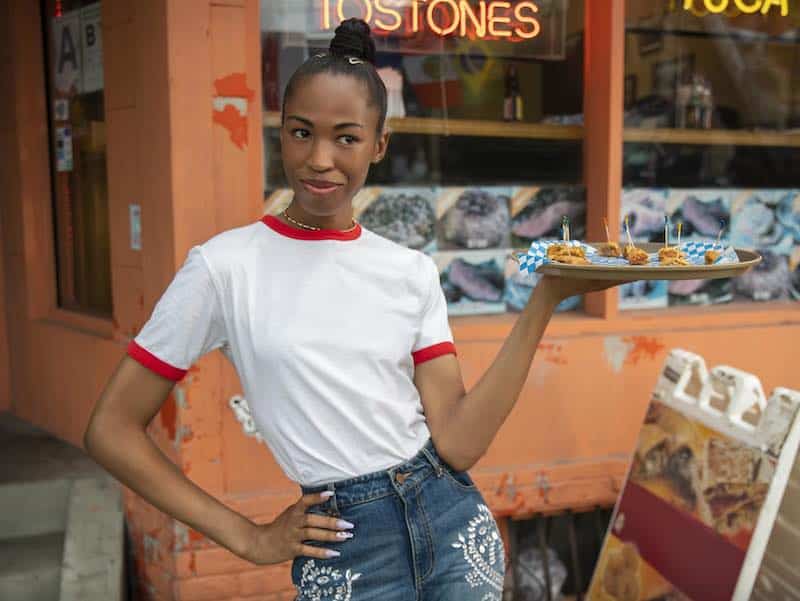 Nellie (Kita Updike) worked the counter in the shop. She fell for the landlord's son, Jonah Pearlman (Ilan Eskenazi). She thought his idea to franchise the shop all around the country was a great one. His father, Gideon Pearlman (Marc Maron), was mysteriously missing.
Ruthie (Cyndi Lauper) was a Broadway trivia buff who could find anyone. Dolores hired her to find Dominic.
Jeremiah (K. Todd Freeman) delivered meat. He thought it was suspicious when Luis stopped getting his regular meat order delivered.
Marcie (Judy Reyes) sold weed and knew Dolores and Dominic from the old days. She thought Dolores was trying to poach her weed business. (How many times have Justina Machado and Judy Reyes worked together? A lot!)
Joy (Jean Yoon) ran a nearby laundromat and sent massage customers to Dolores regularly.
Because this series was based on a podcast, there had to be a podcaster running about the scene. He was played by Jeffery Self.
All of them were people Dolores knew and liked. Yet some of them ended up in the empanadas. She wasn't happy about it. But there was always a blunt lying around, or a scented candle, to help her take her mind off the pile of bodies accumulating around her.
I thought the series was funny in a grotesque way. The performances were excellent. You don't often see a series where you're rooting for the killer, but this one managed to make me feel that way. (Okay, I always rooted for Villanelle, but this is no Killing Eve.)
Only 3 of the 8 episodes were directed by women: America Young and Roxann Dawson. Aaron Mark created the series based on his podcast of the same name. The final moments of the season weren't exactly a cliffhanger, but they were uncertain enough to leave the way open to more story with Dolores.
This gruesome and bloody story isn't for everyone. If it's the kind of thing you like, you're gonna love it. Otherwise, watch something less carnivore inclined.